DW CELEBRATES 50TH ANNIVERSARY WITH LIMITED EDITION DRUM SET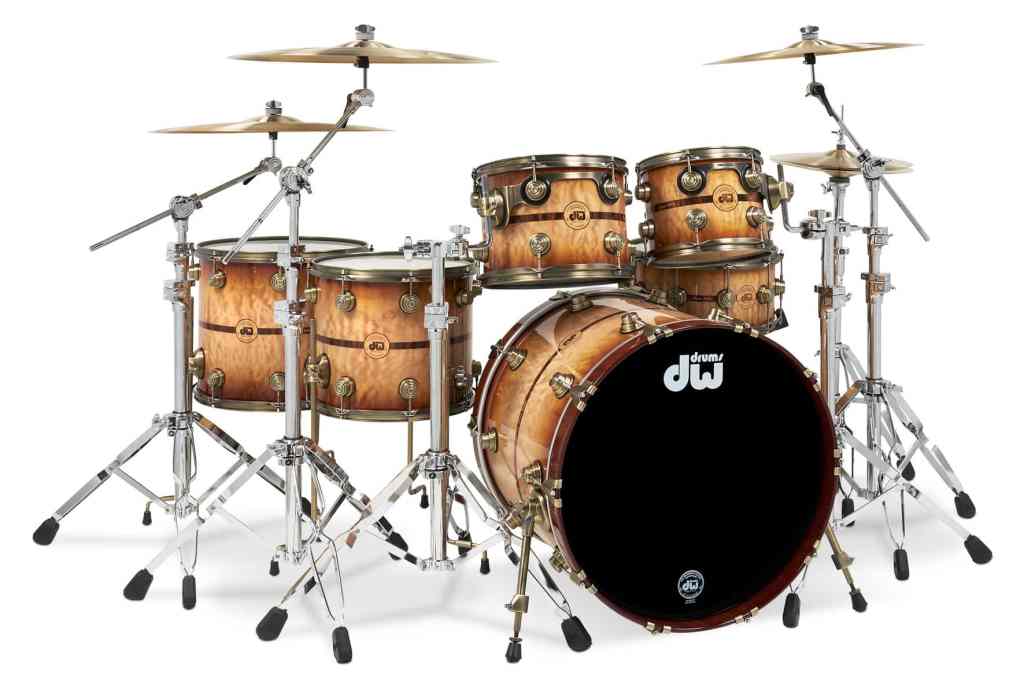 DW is proud to announce the launch of its Limited-Edition Collector's Series® 50th Anniversary drum set.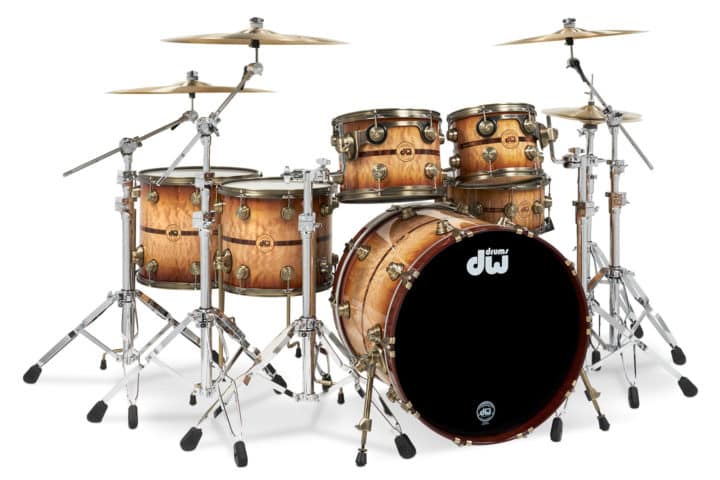 Inspired by John Good's memories of growing up in Northern Italy, the DW Collector's Series 50th Anniversary Limited Edition 6-Piece Drum Set features a core of persimmon, a hard tone wood similar to purpleheart that produces thick attack and projection, combined with spruce that boosts warmth and tonality. These 10 PLY HVLT™ shells, handcrafted in DW's California custom shop, feature a stunning outer veneer of rare, quilted maple, inlaid with a rosewood and maple 50th Anniversary badge and band. The drums are finished in a burnt toast burst lacquer and fitted with antique gold hardware, True-Hoops™, True-Pitch 50™ Tuning, S.T.M (Suspension Tom Mounts) and DW drumheads by Remo® USA.
This pre-configured shell pack includes 8 x 10" and 9 x 12" mounted toms, 12 x 14" and 14 x 16" floor toms, an 18 x 22" kick drum, complemented with a 6.5 x 14" matching 10-ply hybrid persimmon-spruce HVLT™ shell snare, fitted with DW Mag™ Throw-off.
Only 100 of these kits will ever be produced and each includes a certificate of authenticity signed by DW founders Don Lombardi and John Good. In addition, a further 200 à la carte 6.5 x 14" anniversary snare drums will be made for those adding to their snare collections. Advertisement
"DW's legacy is one of making and developing innovative drums and hardware. We are incredibly proud to mark DW's 50th Anniversary with these remarkable drums," said DW sr. executive vice president and co-founder, John Good. "These Limited Edition special drum sets are a celebration of the last fifty years and a taste of the future."
To find out all the exciting new products and events planned for the company's 50th anniversary, follow them on Facebook, Twitter, YouTube, Instagram, or go to https://www.DWDrums.com/