DRUM WORKSHOP PUTS INNOVATION ON DISPLAY AT 50TH ANNIVERSARY CELEBRATION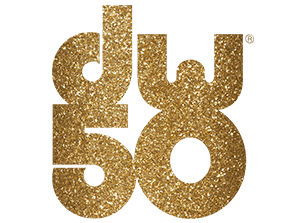 Multi-day program of talks and workshops celebrates drummers, the drumming community, and DW's heritage of innovation; opening night introduced new products that honor the past and excite for the future.
Kicking off a celebration open to the entire community, from the general public to artists, dealers, distributors and enthusiasts alike, Drum Workshop, Inc. (DW) highlighted its 50-year legacy of innovation, while demonstrating its continued commitment to inspire the next generation of drummers with the introduction of breakthrough technology solutions. Artists, celebrities and VIPs attended the company's celebration and DW artist Sheila E., best known for her longstanding collaboration with Prince, provided the entertainment.
The 50th Anniversary represents a significant milestone for the company which has built a reputation as the preferred brand of drums and hardware by both professionals and enthusiasts globally. With five decades of product innovations in acoustic drums, pedals and hardware to celebrate, the company is not resting on what's worked in the past. Advertisement
"We have always looked to improve the tools that drummers have at their disposal, and that is what we'll continue to do in the years ahead," said Don Lombardi, chief product officer and co-founder of Drum Workshop. "Looking back to 1972 when John and I started the company right here in Santa Monica, we could not be more proud of what the team has accomplished together and in close partnership with the entire drumming community."
Revealed at the event was DWe, a first-of-its-kind wireless acoustic electronic convertible drum set. Under development for several years, DWe is designed to blur the lines between acoustic and electronic drums and deliver a natural playing experience. Launching in 2023 and manufactured in DW's California custom shop, DWe will deliver industry advances in electronic drums with features including true acoustic to electronic convertibility, wireless connectivity, three zone metal cymbals and a premium sample library.
"DWe will deliver the most authentic playing experience in the market for drummers whether played acoustically or electronically," says John Good, senior executive vice president and co-founder of Drum Workshop. "Our focus has always been helping drummers elevate their craft by delivering new innovation, and DWe is no exception." Advertisement
Lombardi added, "Including technology in the drummer's toolkit will enable them to introduce new creative ways to express themselves. DWe solves the issue of having to choose between electronic or acoustic drums and gives drummers the ability to add new sounds to their setup."
In addition to the reveal of DWe and to celebrate the 50-year milestone, DW Drums is releasing a 50th Anniversary Limited-Edition suite of products available globally beginning November 4.
DW Collector's Series 50th Anniversary Limited Edition Drums are constructed from a combination of persimmon, a hard tone wood similar to purpleheart that produces thick attack and projection, combined with spruce that boosts warmth and tonality. Each drum comes with a veneer of rare, quilted maple fitted with inlaid maple and rosewood 50th Anniversary badges and are fitted with antique gold hardware. The Limited Edition drums are available in a 6-piece shell pack, a 6.5"x14" snare and a 6.5"x14" Edge® snare drum.
The iconic 5000 pedal has become the industry standard bass drum pedal after its launch in 1977. Five decades later, the company is celebrating its 50th anniversary with the release of a limited edition of the iconic 5000 pedal. Incorporating a DW50 signature logo carbon fiber footboard and heel plate, the Limited Edition 50th Anniversary DW 5050 Carbon Fiber Single and Double Pedals possess the same speed, precision and durability you expect — at a reduced weight.
Drum Workshop was also acquired by Roland Corporation earlier this fall. DW will continue to operate as a wholly owned subsidiary, with both organizations benefiting from their shared areas of expertise. Masahiro Minowa, chief innovation officer of Roland added, "We are excited for DW to reveal this breakthrough innovation and support DW in blending the worlds of acoustic and electronic drums into one seamless package that benefits all drummers."