Richard Bravo – End of Tour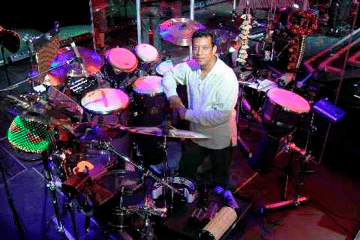 International Drum and Percussion Artist and 4-time GRAMMY AWARD Recipient Richard Bravo has just returned from a successful SOLD OUT EUROPEAN TOUR with International Superstar JUANES!
Touring behind the worldwide success of his Twice GRAMMY Award Winning Album entitled "ORIGEN" which won BEST POP/ROCK ALBUM & BEST LATIN ROCK or ALTERNATIVE ALBUM for 2021 JUANES captivated audiences with his electrifying performances.
Having recorded all the Percussion Tracks for this Album Richard once again joined his Touring Band as requested by JUANES to ensure that his presentations would capture RICHARD's integral Percussive parts that were essential to the success of the recorded Songs on the Album.
The Month long Tour traveled extensively thru EUROPE performing in prestigious Venues that included dates in BARCELONA,LONDON,MADRID & ZURICH with rave critical acclaim awarded at the MONTREUX JAZZ & MUSILAC MUSIC FESTIVALS! Advertisement
RICHARD BRAVO is set to resume touring with JUANES soon as the Tour will begin to perform Concerts all over LATIN AMERICA and the CARIBBEAN to the end of the Year.