On The Beat with Cherisse Osei of Simple Minds: Talks Touring, Creating, and Gear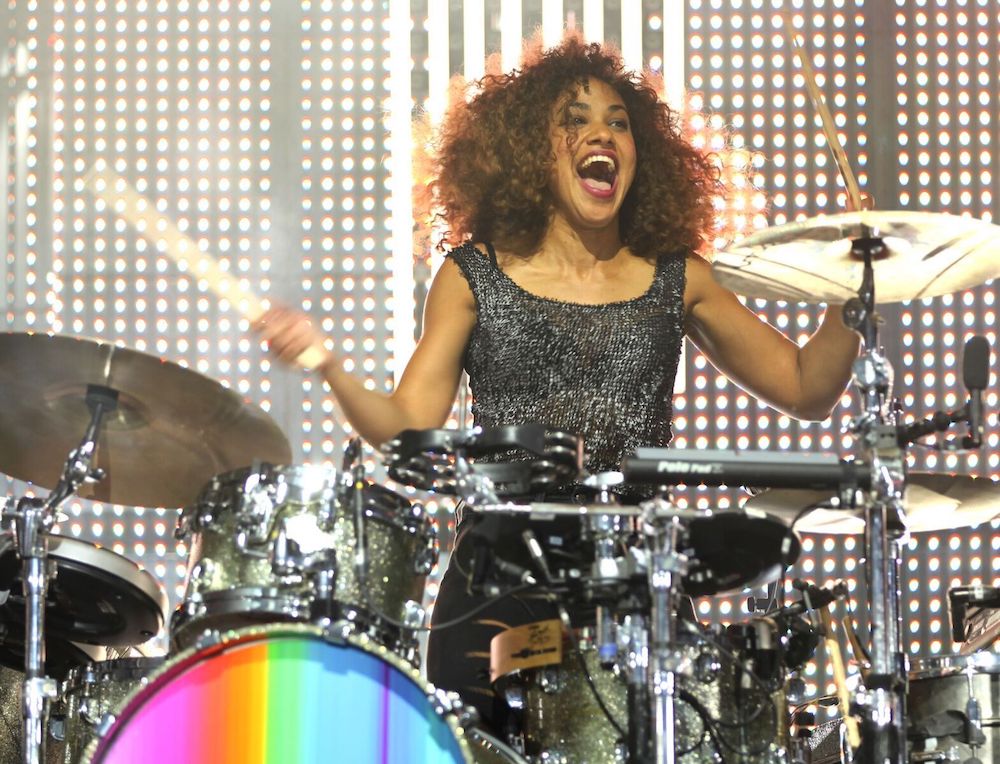 Hello Modern Drummer! My name is Cherisse Osei and I am the drummer for Simple Minds. I have been working with the band since July 2016, playing on their albums Simple Minds Acoustic and Walk Between Worlds, touring with them on their European and UK tours, and currently touring in the US and Canada.
I have been a touring drummer for fifteen years now, which all began when I was seventeen. It has always been an exciting and challenging way of life, offering great opportunities to learn from and share ideas with incredible musicians. Before Simple Minds, my touring/recording experiences have been with Mika, Bryan Ferry, and Paloma Faith. Playing with these artists I have performed at some of the world's most amazing music festivals (Coachella, Glastonbury, Isle of Wight, South by Southwest, Fuji Rock, Roskilde) and have been featured on major US, UK, and European TV shows. It has been extraordinary!
My journey with Simple Minds began in 2016 with the recording of the Simple Minds Acoustic album. We recorded it in four days and they wanted me to use an unusual percussion setup with a range of different sounds. With that in mind, I designed a unique setup that was a combination of congas, bongos, bass drums, snares, African drums, and chimes. Once given the eighteen songs, I created percussion/drum parts for each song and when I presented the ideas for each track to the guys, they thankfully really dug it! I was given the freedom to write the drum parts to their classic songs in an acoustic style, and the way we musically clicked gave a very organic feel to the sessions. Simple Minds loves to push boundaries and keep innovating, so to develop drum parts that were acoustic, and also creative, unusual, and powerful, really worked for me. Advertisement
Following this album release Simple Minds began the extensive acoustic European tour, traveling with KT Tunstall, which gave me the opportunity to play in amazing shows and to get to know (at very close quarters!) how Simple Minds works.
I also recorded and toured with the band for their latest album Walk Between Worlds (released Feb 2018). That album charted at number four on the UK charts. Through June and July we toured through Europe and then in August and September we played "Grandslam" UK dates with the iconic Pretenders and KT Tunstall, which was a total blast!
I am a proud endorser of Tama, Zildjian, Vic Firth, Remo, Yamaha Electronics, LP, Protection Racket, Porter & Davies, and Provenance snare drums. My kit is a Starclassic Bubbinga that I've had for more than ten years. It consists of an 18×20 kick, 7×12 rack, 16×16 floor, and a 20″ maple gong drum (which sounds amazing through the PA). I have coated Remo Ambassadors across the toms, Clear Powerstroke 3 on the kick, Clear Ambassador on the gong drum, and Remo reverse control dots on my snares. Advertisement
My snares are a Tama G Maple 8×14 snare and a '70s 6.5×14 Ludwig Black Beauty. My cymbals consist of '70s 14″ A hats, 16″ and 18″ A Custom crashes, 17″ K Dark Crash Medium Thin, '60s 20″ A ride, with my favorite being my 18″ A Custom Sizzle crash (in the right moment you can't beat the sound of a sizzle!). I always have some LP 626 Double Bar Chinese chimes as part of my setup, and for percussion elements I have an LP tambourine, LP Salsa Bell, and a Rhythm Tech shaker on an LP Percussion tray.
I use Vic Firth Extreme 5A sticks and find the extra length enables me to reach my kit with more ease. As the songs in the set vary in dynamic, I also use T1 mallets, SD6 swizzle, hot rods (Rute 202, Rute 505, Rute 606), and brushes (WB wire).
For my electronics I use a Yamaha DTX Multi 12 in conjunction with a Yamaha DTX 900. I'm triggering some Ableton/loops with my Multi 12 (a pole pad comes out of one of the outputs on my Multi 12) and use the DTX900 for playing drum samples. To play these samples I use two Yamaha TP65 pads, two XP-80 pads, two Dauz pads, one FatKat Kick pedal, three two-box Trigit acoustic triggers on my two acoustic snares and acoustic kick. I have placed all these external triggers around my kit to make a hybrid setup so I can emulate the sounds from the records with a live drumkit. Advertisement
For my drum throne I use a BC2 Gigster by Porter and Davies, which is an essential bit of gear when playing with in-ear monitors. I use Tama hardware apart from a DW 9000 hi-hat stand and DW 9000 kick pedal.
I feel very honored to share the stage with musicians and people who continually inspire me, and with Simple Minds, to be part of such a warm and supportive touring family. I'd like to give a huge thanks to Modern Drummer for the opportunity to share all of this with you. Thanks for reading!
For more information and for upcoming show dates, visit http://www.cherisseosei.com/cherisse-osei-dates.html.
Check out Osei's Simple Minds tour diary at:
For more, visit Osei's social pages at https://www.facebook.com/cherissedrums/, https://www.youtube.com/c/CherisseOsei, https://www.instagram.com/cherissedrums/, and https://twitter.com/Cherissedrums. Advertisement
In this Article