On The Beat with Alister Score of A Flock of Seagulls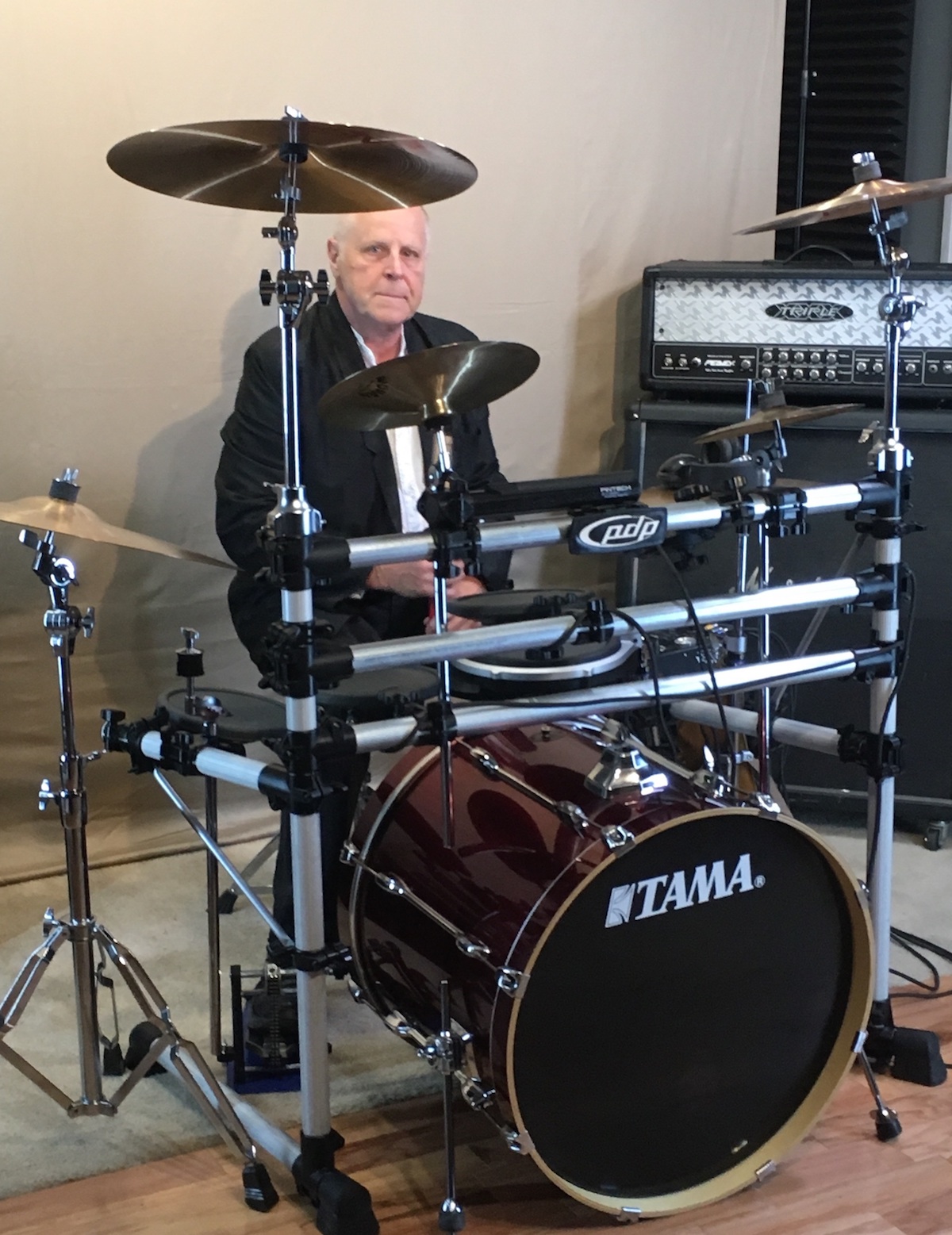 For the first time since 1984, all four original members of A Flock of Seagulls appear together for their new album Ascension. The recording puts a new and unique spin on their greatest hits by performing orchestral versions with the Prague Philharmonic providing the backing. Drummer Ali tells us about getting back together, his gear, and recording the new album.
Hi MD readers! After being out of the limelight for such a long time it was an unexpected surprise to be called upon to work with my old Flock of Seagulls bandmates and put out another CD (Ascension). It wasn't a difficult decision to participate. In fact, as unexpected as it was, there was never any doubt that this should go ahead and we should do it.
Since all the band members were fairly scattered we had to work together remotely. Luckily, I mainly play electronic kits these days. Despite having a couple of beautiful acoustic sets that I love—an old Yamaha jazz kit with a 26″ bass drum and huge toms used on tour in the early days and a backup Ludwig kit that is smaller but plenty punchy—I decided to go to my Roland TD-30 and use MIDI. I am always amazed at how electronic drums have progressed from the early days. Back when AFOS was at its peak we used Simmons and that worked for us, then Roland DDR 30 for several tours mixed with Paiste 2002 cymbals. I've had the TD-30 for a couple of years and enjoy its versatility and flexibility. Advertisement
Playing electronic does require a style shift, but for me it suited what I was doing as well as the band image. Some drummer friends of mine don't like the feel but it never bothered me at all. And playing with headphones—well that just sounds amazing to me!
I play both electronic and acoustic of course, sometimes mixed together but always with Paiste cymbals. The sound of the 2002s mixes well and is crisp enough to cut through in any situation. I've found them to be rugged as well; in fact I still use the same ones from the '80s. My kit usually has a set of original 14″ Sound Edge hi-hats, as well as 16″ and 18″ 2002 crashes, a 22″ 2002 flat ride, and a 22″ 2002 China.
I'm currently using an "offset" bass drum pedal. It's a double pedal that really centers you on your kit. Originally, I used a different no-name brand double pedal, but found myself twisted to the side more than I liked and the offset corrects that. It is sturdy and quite responsive enough for me and so it's been adopted! Advertisement
The new album Ascension will be released on June 29, 2018 and we recorded it in multiple studios. We think the results are amazing—fresh feel, still melodic, perhaps more so with the Prague Philharmonic Orchestra working with us, and all updated. It is still AFOS unmistakably though, and after thirty years the originals are back!
Thanks to all who helped get it on track as well as all who continue to amaze and inspire. And thank you for reading!
Check out the new video for "Space Age Love Song" here: 
Watch A Flock Of Seagulls flashback music video for "I Ran" here: