Web Exclusive! Miles Arntzen on Antibalas, Will Butler, and His New Solo Vehicle, Miles Francis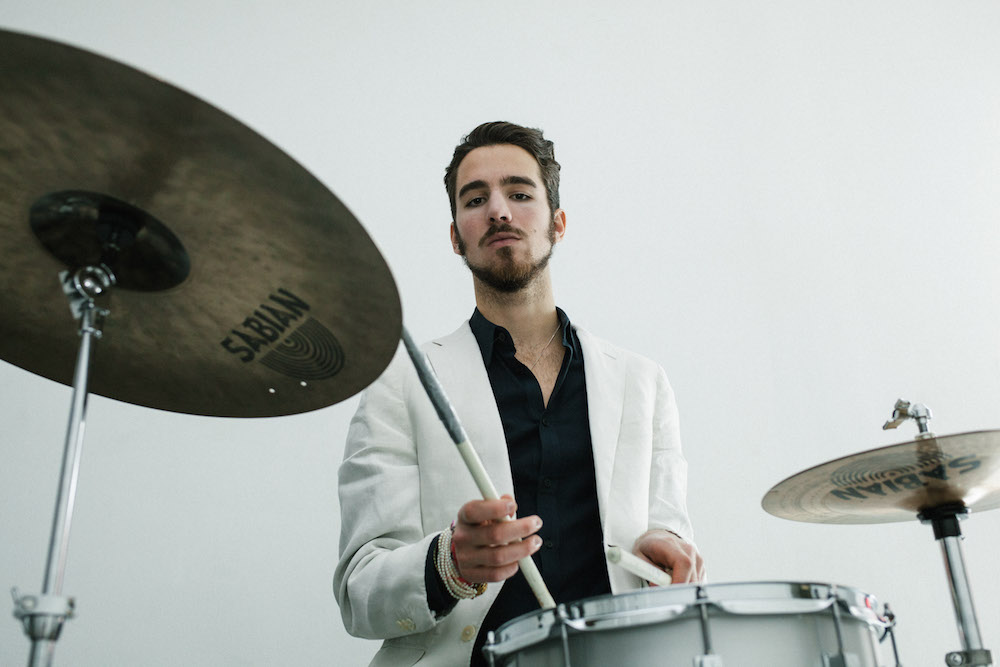 story by Stephen Bidwell
photos by Charles Billot
The Brooklyn-based collective Antibalas released When the Gods Are in Peace last September, and as has been their method for almost twenty years, the work treats the influence of Afrobeat pioneer Fela Kuti with due reverence while innovating and providing timely commentary on the state of the world.
While lead single "Gold Rush" is "an imagining of what possibilities for equality and justice exist beyond conquest, domination, and exploitation of natural resources," according to co-founder Martin Perna, it's also an eleven-minute dancefloor inducement anchored by the drumming of Miles Arntzen.
Miles had the good fortune to connect with Antibalas at age nineteen and was a full-time member between 2012 and 2017, but has since passed the Antibalas drum chair to Kevin Raczka (Valeria June, Charles Bradley). We spoke with Miles about the making of Where the Gods Are in Peace, the importance of Afrobeat drumming in his journey as a musician, and his current one-man band project, Miles Francis. Advertisement
MD: Where did Antibalas record Where the Gods Are in Peace, and what was the process like this time?
Miles: We recorded it at Thump Studios in Greenpoint, Brooklyn, and I used their house Slingerland kit. I'm not too particular about the drums I use for sessions, as long as they feel good for the songs. I always use my Sabian cymbals, though, specifically my 21″ HHX Groove ride, which is my lone go-to cymbal since my first shows with Antibalas in 2010. It has an amazing range between crashing and riding, so I like to use it alone and maximize its expression.
Like most other Antibalas records, the songs on this record had been played on the road for at least a year prior to recording. As usual, we tracked it all together in the room, with minimal overdubbing. When recording long-form songs like in Antibalas, the goal is to achieve the best arc possible. The groove and the individual performances are easier to get because it's been ironed out on the road, but if the dynamics aren't breathing in the studio take, the song begins to lose its character. A ten-plus-minute song should feel exciting as if it is a journey.
MD: Antibalas had been around for a few years when you joined. How did you hook up with them?
Miles: In October of 2009, a month into my freshman year at NYU, I found Stuart Bogie on Facebook and Victor Axelrod on Myspace and sent them both a YouTube video of me playing Antibalas songs. Victor told me I was playing "way too over the top" and that I needed to "unlearn" my vocabulary of fills. He then proceeded to teach me about the role of Afrobeat drums, and the importance of being a thoughtful drummer in general. Advertisement
Stuart first had me transcribe the "parameters" of Tony Allen's playing on Fela's "Fear Not for Man," describing what role each element played in the beat. What was the hi-hat's character? The snare's attitude? Stuart and Victor took a chance on me as a nineteen-year-old drummer and brought me into the sacred Antibalas fold, and that changed my life. Antibalas then opened the door for me to meet Will Butler while we toured with Arcade Fire in 2014, and I ended up touring with Will in 2015 and 2016. Will opened the door for me to pursue my solo music, and here I am today, on the verge of releasing my debut EP under the name Miles Francis, Swimmers.
MD: How do you perceive form and the role of the drums in Afrobeat music?
Miles: Most of Fela's songs adhered to a general form, and Antibalas frequently follows this blueprint as well: introduction, opening keyboard solo, horn melody, solos, vocal section, horn melody repeated, and outro. Besides Fela leading the band through all of the changes, it was Tony Allen's job to maneuver the momentum through all of those ups and downs.
In an Afrobeat song, there are always at least two arcs at work, which the drummer leads and accentuates—micro and macro. There's the smaller arc within a section, usually accented with a loud snare hit, and the big arc over the entire piece, which is a much more abstract job, leading a compositional journey up, down, and up again. Contrary to the usual role of the drummer, in Afrobeat the drummer is the primary improviser in the band underneath the soloist. Though the drums must maintain a certain pattern to keep the band rooted and the dance floor cooking, they are always subtly reacting and dancing to whatever is happening in the moment. Advertisement
MD: Do you have any favorite Tony Allen performances?
Miles: Tony Allen's "Asiko" is one of my favorite drum performances on record, period. His feel in that song has the meaning of life in it. It's hard to explain. Fela Kuti's "Upside Down" is the holy grail of Afrobeat drumming. It's one of Fela's most famous songs, and many try to play it, but I don't think anybody can play that song with the lightness and subtlety that Tony does. Speaking of lightness and subtlety, Fela Kuti's "J.J.D." and Antibalas's "Filibuster X" are two otherworldly drum performances that should be taught in every music school in the world. Tony Allen is the king of Afrobeat, but Chris Vatalaro (former Antibalas drummer) is the ambassador who brought the drumming style to the next generation. I hope to do the same.
MD: As Antibalas doesn't use many charts, who acts as the conductor?
Miles: Just as Tony was for Fela, the drummer is the conductor in Antibalas. From the drum chair, I would cue the horns, lead dynamic shifts, and usher in new sections. The drums are the most important part of the band, because if they are out of place, it makes it impossible for the rest of the band to lock.
Regardless of genre, it is imperative that drummers always know the arrangement of a song like the back of their hand, because it is up to them to heighten the drama and momentum from start to finish. For example, in a pop song when you're in the second chorus, save a little energy for the bridge, and it will elevate it that much more. In an Afrobeat song, the first majestic horn melody feels like it is the top of the mountain, but in reality you are not even halfway there. Save it for the final horn melody, and the whole song gets the payoff it needs. Advertisement
MD: You studied dance drumming in Ghana at some point. Was there any discussion of dance as it relates to the music within Antibalas?
Miles: In 2012, I traveled to Kopeyia Village in Ghana for a weeklong crash course in Gahu, a recreational drum-and-dance style of the Ewe people. Upon joining Antibalas, I was told to always follow the dancers when I'm playing. They communicate the heart of the music in the most direct way possible. I think of the Afrobeat drummer as the dancer of the ensemble.
MD: So you met Will Butler when Antibalas toured with Arcade Fire and then worked with him. What was that change like?
Miles: Will Butler encouraged me to let go of my identity as a "musician" and think more like a songwriter. Will puts his performance and heart first, above technique, and I identified with that. This reminded me of what I loved about Antibalas—they seemed to soar above technique and exist in this heartfelt higher place once the song started. As with Antibalas, my job with Will was to keep the foundation steady while maintaining excitement on top and propelling him forward.
The same core principles can apply to many kinds of music. There is the focus element, the foundation bubbling underneath, and the active responder jumping towards the focus. What can change is what instrument acts in each role, and therein lies the opportunity to take music in your own unique direction. Advertisement
MD: So you're currently focused on your own project, Miles Francis. You're not sitting behind a kit, but you're out front drumming as well as singing.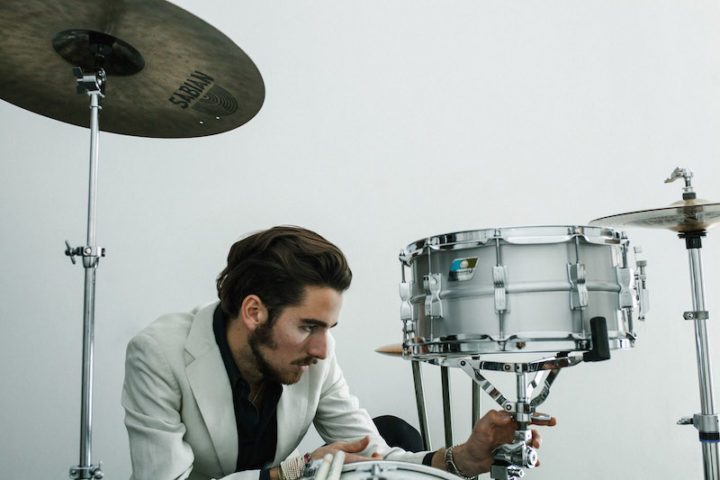 Miles: Miles Francis came about as an organic result of my experiences with the groups I was playing with. Identifying what drove me to make the music and the concept behind it all has to come after for me, otherwise it completely clouds up the creative process.
In my touring band, I sing, play guitar, and play two toms and two 9″ Simmons Pads hooked up to a Roland SPD-SX, triggering vocal samples or electronic drum sounds, depending on the song. There is a sit-down drummer and synth bassist to round out the live band. This setup allows me to both be the frontman, on vocals and guitar, but also play drums in focused, acrobatic bursts throughout the set.
My whole life I sat behind a drumset at the back of the stage, and I started getting antsy, so I decided to switch things up, and it opened a world of possibilities. With Will Butler and EMEFE [another large ensemble that Miles co-led] throughout 2015 and 2016, I played a standing-drums setup at the front of the stage, which allowed me to dance as I was playing and engage with the audience directly. I loved the feeling of playing the drums up close with an audience, feeding off their energy. I wanted to bring that energy to Miles Francis, so I have the standing toms and triggers set up for me to jump around and play. If I decide to veer off the stage and start smacking my sticks against the walls, the sit-down drummer is there to hold the beat down. Advertisement
MD: It sounds like you've given a lot of thought to your role in the music.
Miles: I think a lot about the standard roles we assign to each instrument in a band, and this is rooted in my advocacy for the importance of rhythm in music. In Afrobeat music, the non-percussion instruments in the band must set aside their root in harmony and explore different ways of generating musical excitement through the medium of rhythm. Dynamics, pushing or dragging, intention, attitude—these all come into play when you deal with rhythm, something that drummers understand inherently.
My advice to any musician: Think in rhythm. I don't mean just rhythmic patterns, I don't have a disregard for melody and harmony. "Rhythm" is timing, and includes melodic and harmonic rhythm, a syncopated beat, a repeated pattern, an ostinato, all of that. In rock or pop music, we hear the drummer keep a steady beat and the guitar player solo freely; that works beautifully, but I'm interested in switching roles. Why not have the guitars maintain the rhythm and let the drums drive the song's excitement? Afrobeat opened my mind to the idea of switching roles and putting rhythm first, and I have been digging deeper and deeper into that notion.
MD: Outside of your performance experience and day-to-day listening, did you read or study anything that brought you to your current conception of rhythm and a drummer's role?
Miles: After years of being obsessed with Afrobeat, I next turned to Prince. Prince changed my conception of what a drummer can do for a song, through his use of drum machines. Every musician should approach his or her instrument the way Prince used his LinnDrum. To me, Prince's deepest sense of musicality manifested through his drum machine programming. His attention to each element of a beat, like Tony Allen, made every note serve the song. Advertisement
Tony Allen's drumming changed my life. He has said that each of his limbs are like their own musician, but it is so much more than that. When he plays a beat, he is listening to each of his limbs' roles, harnessing the subtle power each element of a beat can have. He understands how a drum fill can move mountains when employed with care.
It's simple in theory, but this understanding of the drums that Prince and Tony Allen possess takes major breaking down and unlearning of the tendencies that professional drummers build up, and it results in a deeper relationship with the song. Line up Prince's "Erotic City" next to Fela's "Fear Not for Man," and you'll find my drumming philosophy.
Improvised comedy is also a huge influence on my approach to music. In college, Stuart Bogie gave me the book Truth in Comedy [by Charna Halpern, Del Close, and Kim "Howard" Johnson], which opened me up to many lessons about ego in art, and the idea of the group mind. Improv comedy groups work together to create one organism, and that directly correlates to making music on a stage or in the studio. There can be no ego involved in a group improv, if one member starts telling "jokes"—like a drummer playing unnecessarily busy—the success of the improv group, or the song, is abandoned for the glory of one voice. Advertisement
In this Article