On The Beat with Ben Anderson of Nothing More: Talks New Record and Challenging Expectations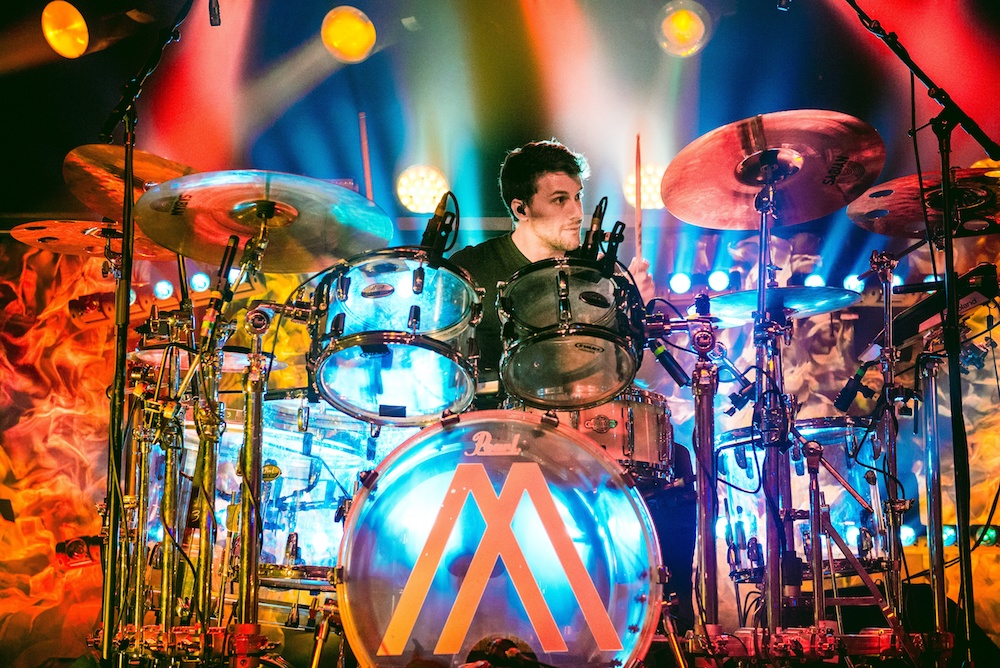 What's up, Modern Drummer! It's Ben Anderson from Nothing More here. I've been a part of various touring and non-touring groups over my eighteen years of drumming, but the last two years I've been with the NoMo family, which has taken me all over the world.
I came in at the end of the band's touring cycle for their self-titled album, doing a full US run as well as going to the UK, EU, and then Japan. Following that, I moved to San Antonio and began writing the new record with the guys that a year and a half later would become The Stories We Tell Ourselves.
We approached this record wanting the drums to have a much darker tone than previous albums. I also tried to stay away from the normal "go-to" for parts or fills that might put the song in more of a genre box. For example, there is not much double bass on the new record. We felt like there is already a lot of rock music out there with the usual tones, fills, and mix, etc. Those sound good, but it's just not something we wanted to put more of out into the world. We wanted to make something that would still be recognizable as the band, but would also challenge the expectations of what a rock band "should" sound like, and in that, we feel strongly we succeeded. Advertisement
For my live setup I use a Pearl Crystal Beat kit, with all Pearl hardware and Direct Demon Driver double pedal. I also use Sabian cymbals, Vic Firth sticks, Evans heads, Ultimate Ears, and the Carmichael throne—which saves my back during long playing sessions. I've recently implemented a Roland SPD-SX pad with a foot pedal and two Bar Trigger inputs. We run Ableton Live for real-time vocal, and sometimes Guitar efx processing, so my Roland pad also doubles as a MIDI controller for me to run and operate our show.
We are currently finishing up a European headlining tour, and found out that we have been nominated for three Grammy awards! It's a massive honor that none of us saw coming. It seems like just yesterday we were in my living room in Texas working on this record every day, putting our all into it.
Check out the record if you haven't, and if you like what you hear I hope to see you at a show sometime soon! Our lead singer (and also a drummer) Jonny Hawkins would like to say a few words. Advertisement
Jonny: Having Ben on drums is like having a designated driver who happened to race a Formula One car in his younger years. You know the show is going get there safe and sound, but not without some insane displays of technical skill and full throttle intensity. I used to play drums on our records and also write from the drumkit, but now I get to breathe a little more and focus my energy on singing, writing, and producing. I know my designated drummer Ben will get the job done with perfection and can just focus on creating a connection with the audience. Come see us when we're in a town near you!
Follow Nothing More at http://www.nothingmore.net/, Facebook , Instagram, and Twitter.
Watch Nothing More's "Do You Really Want It?" here: