On The Beat with Gene Hoglan: Talks Recording, Tracking, and Gear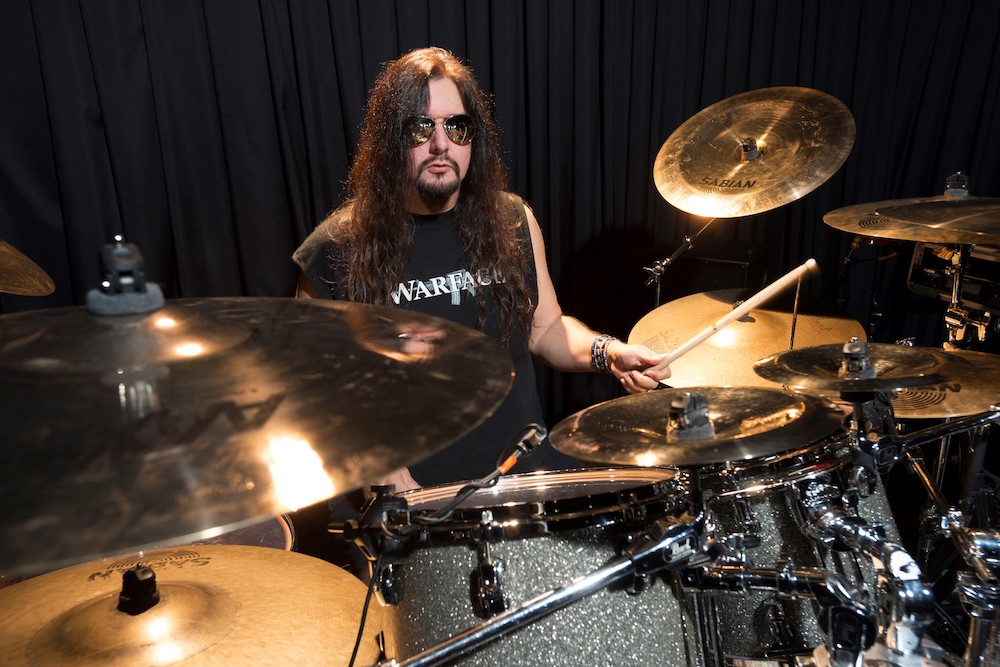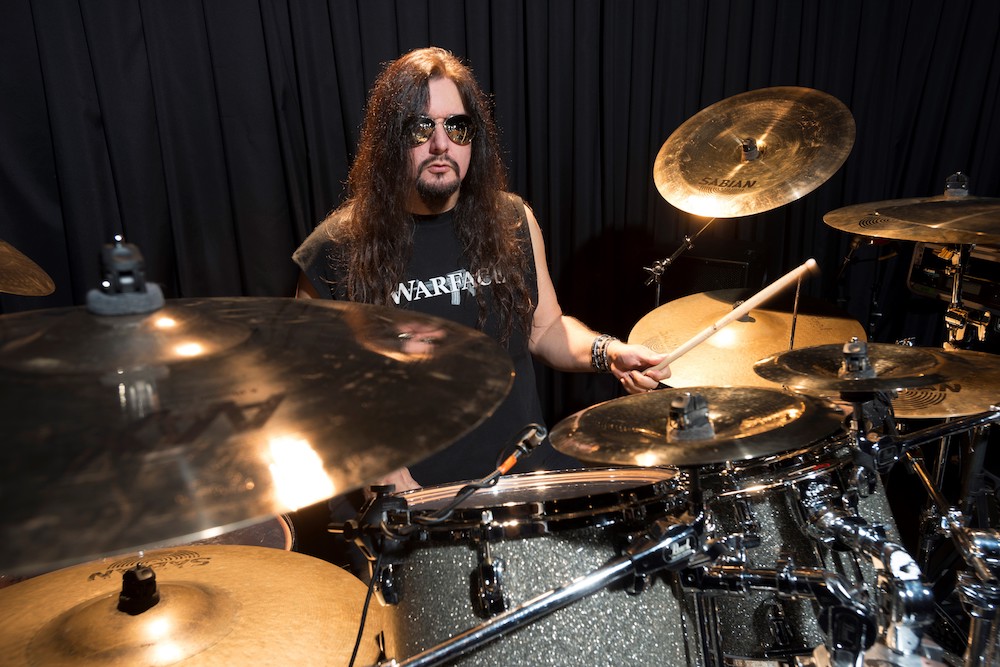 Greetings everyone, it's your buddy Gene here. The fine folks at Modern Drummer have graciously allowed me to write a few words (even though, as many of you already know, the terms "Gene" and "a few words" rarely go together) about the recording of the latest Brendon Small opus, Galaktikon II-Become the Storm.
In the middle of a four-and-a-half month stretch away from home, handling live and recording duties for Testament, Death, and Zimmers Hole, May of 2016 found me in the cozily familiar presence of Brendon and co-producer/engineer Ulrich Wild at Ulrich's home studio to tackle the newest batch of Brendon's tunes. The day before I started tracking with my two good pals, I'd finished laying down my tracks for Testament's Brotherhood of the Snake (an arduous undertaking worthy of a few blogs of its own).
My wonderful tech Geoff Bruce got my then-latest kit ready to go at Ulrich's, a blonde, naturally-finished Pearl Masters Session, with the configuration of 10″, 12″, 14″ rack toms, an 18″ floor, two 24″ kicks, along with my trusty 8×14 Pearl brass free-floater snare. For those of you out there who have tried the latest Pearl hardware with the kinda-360-degree swiveling ends, you know they are the greatest cymbal stands ever! Advertisement
My great bro Chris Stankee from Sabian set me up with a fresh round of pies, two 18″ and one 19″ AAX crashes, two Holy Chinas (the only China for me anymore), my usual 15″ AAX hi-hats, 8″ and 10″ China Kangs (ever try those? A truly unique and signature tone indeed), and my ever-present pair of 21″ Power Bell rides. If I can help it, I do not leave home for a session without them.
I had eleven tunes to track in five days. Brendon had all of the tracks written, programmed, and demoed well in advance, which is an ideal circumstance for me. All I had to do is pretty much come in and "Hoglanize" the existing drum arrangements, which I feel is a forte of mine. After the tooth-pulling session I had just come from, juxtaposed against Brendon's relaxed studio demeanor and his confidence in my ability to bring some shining stuff to his already well-thought out drum arrangements, these five days were a welcome 180-degree lesson in how I like to work.
In sessions such as this, there's no real template of how I like to track, but I do like to start with an easy one, just to get my feet firmly planted. I'm pretty sure my first track was the opening number, "Some Days Are For Dying." It's chock full of double bass, but the BPMs were really manageable. It went quickly and easily, allowing me to segue into "The Agenda," a mid-paced number that has plenty of double bass as well, but is more of a "hand song." I've included a link to a play-through of it (see below), but be forewarned, this link could very well have been my first crack at it on that first day of tracking. I came back on my last day and re-tracked it, only with no cameras present on that day, so certain fills and whatnot may not line up visually. Advertisement
Still feeling good on day one, my third tune if I recall correctly, was the challenging "Icarus Six Sixty-Six"—the working title at the time was merely "Spaceflight." This is a pretty rip-roaring double bass number with sizable BPMs and features one of Brendon's trademark glorious outros, of which he is a master at writing. I couldn't wait to have a good go at this one and do it justice.
One way I like to work with Brendon and Ulrich, and every session I can for that matter, is that after tracking all the tunes, I like to come in for one last day to take a few passes at some spots that need a little more creative love, and time-willing, even re-track a song or two after I've been able to live with them at the hotel for a few nights. That's the thing, after I've spent a full ten hours or so tracking, I go back to my room and spend a few hours a night going over each song to mentally perfect them for that final day, as well as massively review the next day's tunes. I track every single album on the barest minimum of sleep, seriously. But, since my schedule was so chaotic, with me having to leave directly to Canada for a Zimmers Hole tour the day after finishing, this meant having to track these eleven songs in four days, leaving that fifth day open for the final touch-ups.
All went according to plan, and I left the studio relieved and proud of my performances, with album number six (or seven?) as well as a ten-year working relationship/friendship with two of my favorite studio partners left to posterity, bringing to you the amazing (in my opinion), Brendon Small's Galaktikon II-Become The Storm. Musically, it's an amalgamation of and incredible representation of all things that are awesomely Brendon (and me!) and intended for all those who like their metal intense, intelligent, refreshing, and most importantly, fun! The way true metal is supposed to be. Advertisement
Watch Galaktikon "The Agenda" video play-through here: