On The Beat with Chris Ralles of Pat Benatar: An Invaluable Education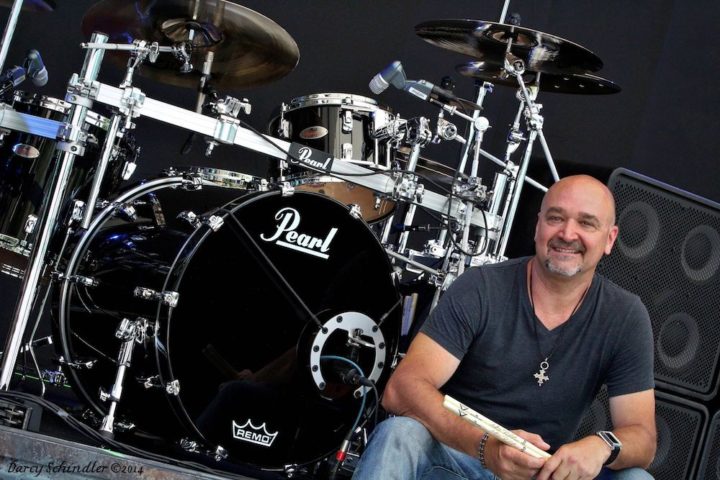 Greetings MD, my name is Chris Ralles and I am a drummer in the Los Angeles, CA area. Rather than bore you with a superfluous list of credentials, I thought it more pertinent to highlight the often-considered, not-so-glamorous experiences and lessons that helped make me the ever-grateful, working musician that I am today.
I started playing drums in my teenage years. Completely self-taught, I played in bands in high school which led me to connect with other great musicians—greatly broadening my musical horizons both conceptually and stylistically.
In 1984, I became fascinated with electronic drums and bought a Simmons SDSV drumkit. Playing that kit exclusively five-nights a week in bars would often necessitate repairs. With the Simmons US distributer close by, I was able to personally bring in the pads, armed with many of my own suggestions on how to best solve certain problems. My recurring visits led to me being offered a job as a technician. I took it, but deep down it wasn't what I wanted to do. I wanted to play drums, not repair them.
Over my three years at Simmons, I met many touring musicians. One day I received a call that Mike Baird was in need of drum tech on his upcoming tour with Kenny Loggins and the main requirement was triggering electronics from acoustic drums—my specialty! I remained with Loggins for several years as a tech for such drummers as Tris Imboden, Herman Matthews, Moyes Lucas, Jimmy Keegan, and Alvino Bennett. I also worked on Madonna's Blond Ambition and Girlie tours as percussion tech for Luis Conte, with Jonathan Moffett and Omar Hakim on drums. While in my heart I wanted badly to be playing, I was actually receiving the best drum education in observing these gifted drummers and the nuances they each brought to a performance. Later I was to realize just how invaluable that education would be.
In 1994, I met Shem von Schroeck (currently the bassist with Toto) who had joined Kenny Loggins' band. Our ensuing friendship led to me being invited to play for artists he was producing, spawning many gigs around Los Angeles. Shem also recommended me to both Christopher Cross and Kenny Loggins, the latter to which he had become musical director. Suddenly those "unglamorous" years as a tech—observing all those previous drummers—were quickly paying off. Through the years my budding reputation and fortuitous connections led to an audition for Pat Benatar and Neil Giraldo, with whom I have been steadily working with now for twelve years.
While I am honored to have played for a list of Grammy award-winning artists, looking back on my career, the thing for which I am most grateful is that I never considered any job as being beneath me and never allowed my pride to deny myself to what would lead to incredible opportunities and accomplishments. In a life full of rewarding experiences, these have been the greatest lessons of all. Always be prepared and seize the day. Thanks for reading!
Watch Chris performing on Pat Benatar 35th Anniversary Tour DVD here: "Love is a Battlefield" 
 "Heartbreaker" 
 For more on what Chris is up to, visit his website at: http://chrisralles.com.