On The Beat with Nigel Dupree of Wayland: Shares Influences, Gear, and Memorable Moments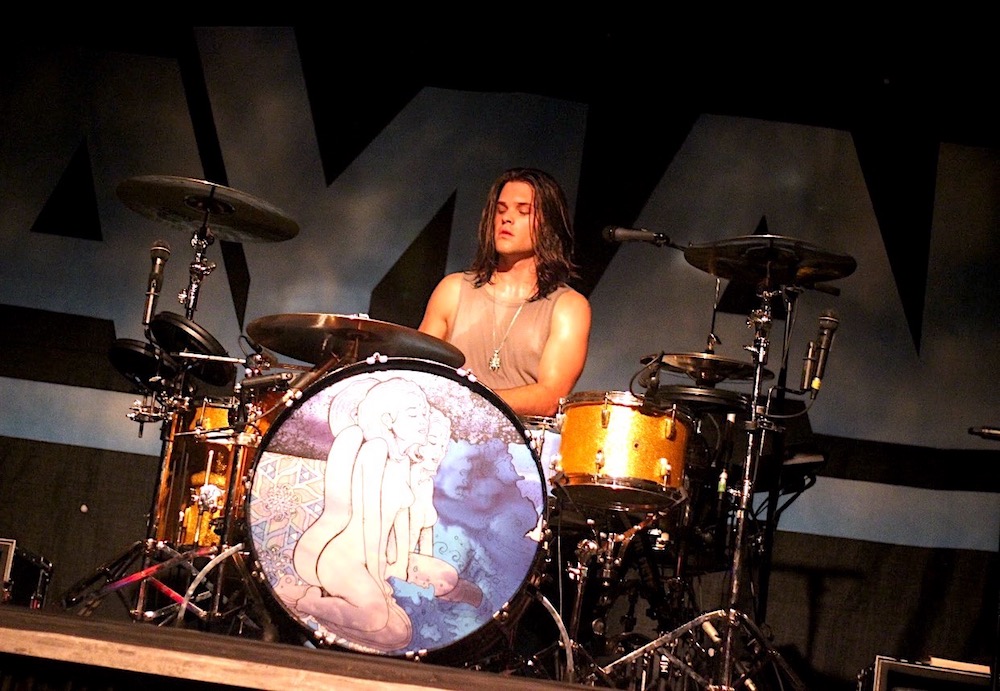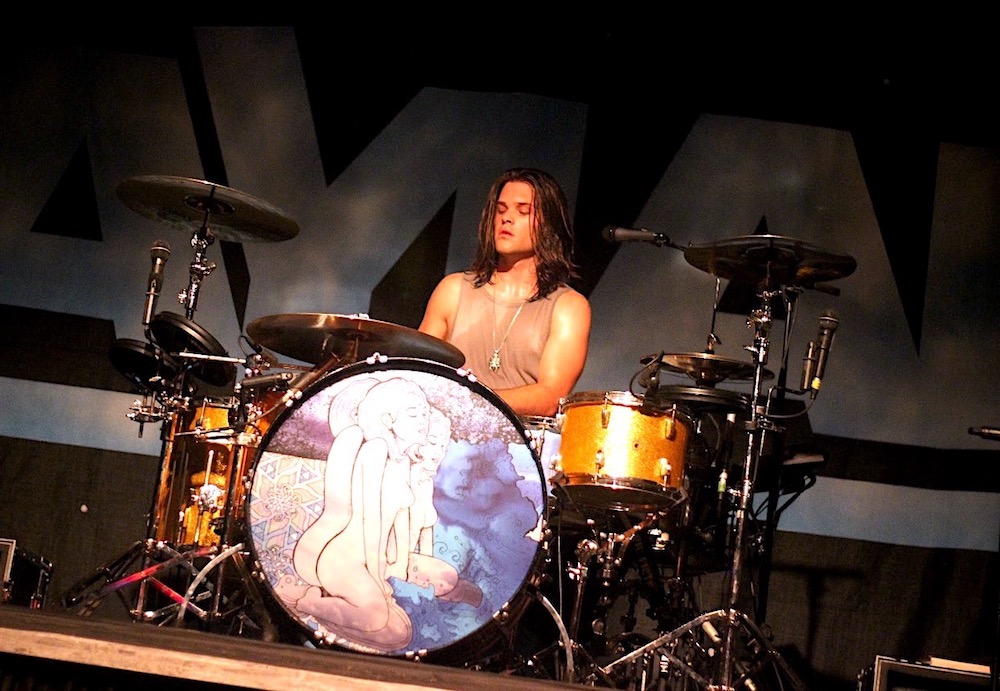 Hello my fellow Modern Drummer's! My name is Nigel Dupree and I play drums for the rock band Wayland.
When I was five, my parents got me a drumset for Christmas. I spent the next years into my teens playing along to every drummer from Grand Funk Railroad's Don Brewer to Blink-182's Travis Barker. By age eleven I was in my first band. I switched over to guitar and began touring by seventeen. That's the road that led me to where I am today.
In January 2017, I became a drummer. Wayland had just finished recording what would become Rinse & Repeat. The album was ready to go to mixing when the guys decided to have me recut the drums. So in March, I recorded fifteen songs in four days, and by July we broke Billboard Top 40 Mainstream Rock with our single "Through The Fire." Most of the album was recorded in Memphis, TN with producer Justin Rimer. Drums were recorded in Kennesaw, GA with master engineer Jeff Tomei, who ended up mixing the album as well.
When it came time to become a band we decided to hit the road rather than sit in a rehearsal space. Exposing and embarrassing at times, we've been able to find an amazing synergy and develop a great live show filled with epic musical moments. I'm far from technically trained. I take the approach of playing for the song and delivering a performance, both visual and parts played. It's important to me that fans of the music/band receive a full experience of not only the songs but also feel the energy and emotion. Advertisement
I'm currently playing a hybrid kit in a few ways. The shells are late-'60s/early-'70s Ludwig gold sparkle. Sizes are 16×26, 12×12, 14×14, 16×16, with a custom 8×14 steel snare from White Beast Percussion. I also run four sample pads controlled by an Alesis unit. We do not play to click but I fire off some samples (no vocals) and we go for it. It's not rock 'n' roll if it isn't dangerous. All Sabian cymbals; 14″ AAX hats, 16″ AAX crash, 18″ AAX-plosion crash, Remo Ebony Pinstripe heads, and DW 9000 hardware. I also use a Korg midi keyboard for some effect sounds and piano parts.
A couple of my favorite moments being behind the kit before Wayland include recording a track with legendary Rock and Roll Hall of Famer DMC of Run DMC and playing drums with punk rock icons Green Day at Gwinnett Arena in Atlanta, GA on the American Idiot tour. They had a section of the show where Billy Joe would pull people from the crowd and "start a band." The first thing he called for was a drummer. I must of have been losing my mind pretty well because he called me up. Until he finished his banter for the next position I was filling Tre Cool's spot with him right over my shoulder giving me the do's and don'ts of the gig, Mike Dirnt on bass and Jason White on guitar. Thanks to my adrenaline it's almost all a blur, but I will always remember sitting behind that kit looking out into an arena and hearing Tre's voice when I tried to get fancy and do a big fill.
The biggest influence to my playing has come from my time as a guitarist and getting to work with amazing monster-house drummers such as Mike Froedge (Double Drive, Black Label Society) and Garrett Whitlock (Submersed, Tremonti). It was during the process of working out sections or transitions that I'd make mental notes of what they'd do and practice it later. Mike was even kind enough to loan me a few snares for the recording of Rinse & Repeat. Good mojo is always welcomed. Advertisement
I appreciate everyone taking the time to read a little bit about the band and myself—and a big thanks to everyone at MD for this opportunity. You can find me on Instagram: Nigelplaysdrums for all things rock 'n' roll and drums.
Rinse & Repeat is due out on 9/22.
Check out the lyric video of "Through The Fire" at
and "Shopping For A Savior" at https://www.vevo.com/
For more on the band, visit www.waylandtheband.com.