Yes Kicks Off Yestival Tour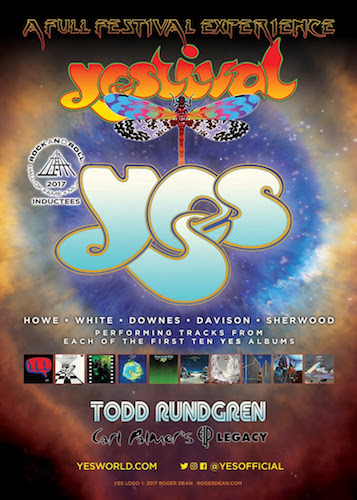 Rock and Roll Hall of Fame inductees Yes and drummer Alan White announce that Dylan Howe, son of guitarist Steve Howe, will be joining the band's rhythm section on this summer's North American Yestival tour.
"It's a pleasure for me to welcome Dylan Howe to the Yes stage," shares White. "I've known Dylan for most of his life and I'm proud to think I've helped to be an inspiration in his musical journey. I'm very much looking forward to performing with him this summer for the upcoming Yes tour."
"I feel very honored and fortunate to have got the call to join Yes this summer," adds Dylan. "This to me is, quite possibly, the musical zenith of my career; my love for this music and the great musicianship that runs through it has always been a massive inspiration to me. Bill and Alan's drumming is why I started playing the drums in the first place, and to have the opportunity to honor their great contribution to drumming whilst playing alongside Alan with my brilliant father and this outstanding lineup is a dream come true for me." Advertisement
Yestival features special guest Todd Rundgren and an opening set from Carl Palmer's ELP Legacy honoring the magic of Keith Emerson and Greg Lake, as well as a few special "Evening with Yes" shows. The tour kicks off August 4 in Greensboro, NC and will travel throughout the US and Canada until September 19 with stops in Baltimore, Philadelphia, Brooklyn, Pittsburgh, Detroit, Cleveland, Phoenix, Las Vegas, San Diego, Los Angeles, San Francisco, Vancouver, Calgary, Boston, and many more.
In addition, as part of the Cleveland Yestival date, the Rock and Roll Hall of Fame will celebrate the 2017 inductees with a weeklong series of events August 15-20. Fans are invited to the Rock Hall to celebrate the music and influence of Yes with a week of live music, programs, films, and a dedication for the 2017 inductee exhibit with members of the band. Visit www.rockhall.com for more details.
"Yes is an immensely talented band whose fans tirelessly pursued recognition for them into the Rock and Roll Hall of Fame," said Greg Harris, president and CEO, Rock and Roll Hall of Fame. "We're celebrating the sounds and legacy of the prog-rock giants and 2017 inductees with a week of events at the Rock Hall with fans around the globe." Advertisement
For a full list of Yestival tour dates and ticketing information, go to www.yesworld.com.