On the Beat with Ralph Rolle of Chic: Passion and Persistence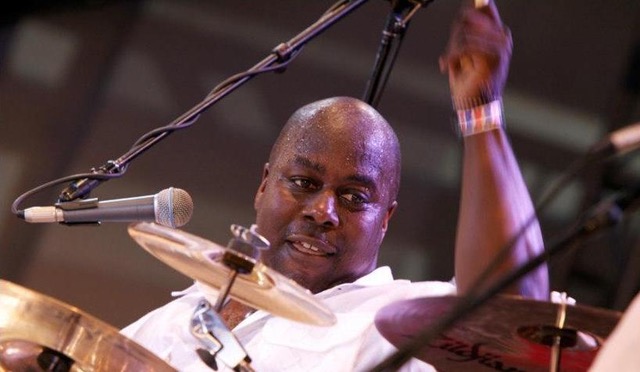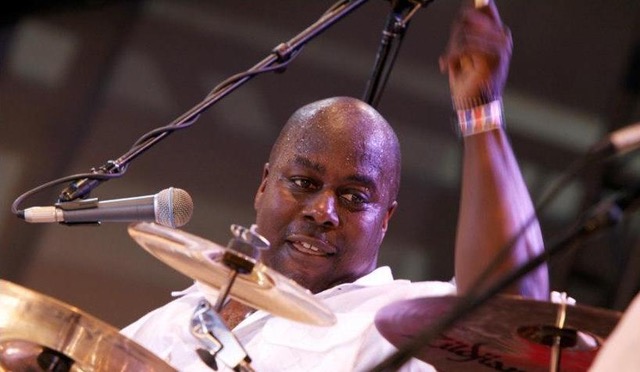 Hello Modern Drummer family. One of the birthplaces of hip-hop, the Bronx River Houses, East 174th Street, Bronx, New York, is where I grew up. Why would I start an article with this? When I was eighteen years old and growing up in the projects, I dreamt of being on the cover of Modern Drummer. This magazine is and has always been the Rolls Royce of drum magazines. The covers and articles would always jump out at you and get your adrenalin pumping. You could almost hear the players. I'm truly honored to be mentioned amongst the greatest players in the world. Thank you!
As far back as I can remember I've always marched to the beat of a different drum. I grew up listening to anything and everything. In the '60s and '70s, radio wasn't formatted like radio is today and there were fewer stations to choose from. Because of this, my formidable years and learning came from listening to the radio, watching Soul, hosted by Alvin Poussaint on PBS, The Ed Sullivan Show, Don Kirshner's Rock Concert, The Midnight Special, Soul Train, and TV show themes. My brother Howie had a reel-to-reel tape machine and would record songs on the radio. Motown was my favorite. The bathroom hamper was my drumset. I didn't get my own set of drums until I was seventeen. My brother was the drummer in our house and I did everything he did. Around the age of nine, the drums that were in our room and sat in between our beds for about a year disappeared. My brother got kicked out of the house and needed the money to take care of his soon-to-be wife and new child so he sold the drums.
Heartbroken, but not beaten, I didn't give up playing. The drum bug had bitten me and I needed my fix. My mother, being a single parent of four, couldn't afford to buy me a set of drums but I knew every single drummer in my neighborhood. I would stalk them like a tiger just so I could play for a little while. The neighborhood drum stalking went on for about seven years. It got to the point that some of my friend's parents would just let me stay for dinner. Artie Durant got so sick and tired of me coming over that he let me borrow the drums. He allowed me to hold on to his kit for a few weeks and when he came to get them I pretended not to be home. That was stupid because he could hear me playing from outside. I lived on the third floor in the front. "Yo…I can hear you Ralph! Open the door!" Advertisement
Why am I telling you this story about my life? I want to let those who are reading this to know that the only person who can get in your way is yourself. Your lack of equipment or your economic situation should never be the reason why you're not following your passions. Passion is all the wealth you need. Persistence Overcomes Resistance! Wear that like a tattoo on your heart. I am living proof that if really works.
The tools that are available now were futuristic to my boys and me. When we were kids, we would dream about having a wristwatch that you could speak into or having a TV-like thing that would give you access to the universe. Do the math—that was only forty years ago. We all now hold the keys to the castle. No limits on access and learning—it's all out there and it's 95% free. I taught myself how to read music by going to Lincoln Center library and taking out scores and albums, reading books. and asking tons of questions. Everything you need as far as information is just a click away and literally in the palm of your hand. No excuses.
I volunteered at the local music store, sweeping up, doing whatever I could just so I could be closer to the drums. My first kit was a Ludwig Vistalite clear 5-piece kit that someone ordered and didn't pick up at the store. I asked the owner, "Are those drums for sale?" He told that he would sell them to me at cost. I went home and told my mother. "Two hundred dollars?!?! Boy, are you out of your mind?" My mother was the sweetest person until you got her angry. She finally calmed down and told me, "If you save up enough money to buy the drums, I will buy you the cymbals and the drum pads because I don't want to hear them drums when I come home from work boy!! You hear me?" "Yes!" Advertisement
I didn't have a job so I started packing bags at the local grocery store for change. I would go every Saturday and Sunday morning. You had to get there before the store opened because there were other kids who wanted to make money and there were limited registers. At the end of an eight-hour day, I would make about fifteen dollars. I packed bags for about two months and I got the drums. And my mother, as promised, got me cymbals and pads. For a solid year, I played every single day. I would record myself playing to songs on the radio or cassettes.
The best drummer in my neighborhood was a six-foot-five blind guy named Ricky Williams. I wanted to play and have a pocket like his. He would let me watch him play. I'd stand behind him, close my eyes and put my hands on his shoulders because I wanted to feel what he was feeling and see what he was and wasn't seeing. I use the technique of closing your eyes at my drum clinics. I ask everyone to tell me what he or she hears. They learn that by closing your eyes, your sense of hearing is heightened. This is important to finding your place inside of the music and inside of the groove. Try it. It works big time.
I got my first professional gig at the age of eighteen with a group called Musique. Before that, I marched in drum corps. Those drum corps years, especially my years in the New York Lancers, made all the difference in my drumming. Bobby Craig and Rickey Mangum were the instructors who mentored me. Bobby still teaches and has taught some of the best drummers on the East Coast how to play, the great Tim Greene being one of them. I owe so much to both of them. Mangum got a call to play a drum corps piece on side B of a record that was being arranged by the legendary writer and arranger Harold Wheeler and produced by Meco. Meco produced the disco version of Stars Wars, which was a platinum seller. The next record Meco and Harold worked on together was the disco version of Superman. Advertisement
At the age of seventeen, I was recording at Power Station studios with Rickey. Next door was Eric Gale, Richard Tee, and Steve Gadd. WTF?! Steve Gadd! I'd met him a few months before at his loft on 30th Street. We knew exactly where he lived. The plan was to knock on his door and pretend we're looking for a rehearsal studio. When he opens the door we'll say, "Hi Steve, sorry to bother you but we heard you weren't feeling well and we wanted to say get well." When we get there, we knock. Someone opens the door but it's not Steve. "Hi, is this a rehearsal studio?" "No. Sorry." As the door begins to close, I say, "Sorry but does Steve Gadd live here? "Yes. I'm his doctor. Wait here and I'll see if he'll come to the door." Steve comes to the door and the four of us just freeze. Eyes wide, mouths hanging open, Steve God…I mean Steve Gadd is standing in front of us. "Hello." No one spoke for what felt like hours. The silence was deafening. He asked all of us our names. He thanked us for coming and said he's feeling much better. As we left (or did we float?), none of us could speak. We stayed that way for the ride back to the Bronx.
OK, back to Power Station. I go outside of the big room where we're recording to the coffee machine and who comes out and stands right next to me? Steve Gadd! He's to my left. I kept slowly turning my head looking at him. Finally, we make eye contact. I say, "Do you remember me?" "Yeah," he says. "Aren't you one of the kids that came to my loft?" "Yes." He didn't remember my name but he remembered my face. I reintroduced myself to him and we began to talk. I told him what I was doing. He told me that he marched in drum corps and the bromance begins. Well, at least for me it did. Like many, I've been a fan of Steve Gadd for what seems like my whole life.
Many years later, I run into Steve at SIR where he's rehearsing with Paul Simon. A few of my buddies are in the horn section. I'm next door with Japanese super star Toshi Kubota. We happen to go on break at the same time. I say hello to my friends and to Steve. I remind him of the 30th Street and Power Station stories. He laughs and asked me, "What drums do you play?" I say, "Anything that anyone puts in front of me but I really like Yamaha and Pearl." "Give me your number. Someone from Yamaha will call you tomorrow." I thank him and go back into rehearsal. I felt the gesture was nice but wasn't expecting anything to happen. The next day, I get a call from a Yamaha rep saying, "Steve Gadd told us about you and really likes your playing. Welcome to the family!" I'm blown away! Thanks to Steve Gadd, I endorse some of the greatest drums in the world. Advertisement
I've been blessed to perform and or record with Nile Rodgers and Chic, Sting, Bono, Bette Midler, Lady Gaga, Biggie Smalls, Aretha Franklin, Queen Latifah, Larry Carlton, John Pizzarelli Jr., Slash, Eric Benet, Erykah Badu, Toshinobu Kubota, D'Angelo, John Legend, Paul Simon, India Arie, Lillias White, Pheobe Snow, and many more.
NYU and Trinity College Dublin, Athlone Institute of Technology, Ireland, invited me to be guest speaker to motivate and hopefully inspire. My drum clinics (How to Get and Keep a Gig) are sessions in drumming, music, and life, and attract not only drummers but all types of musicians, singers, administrators, and those who are interested growing in a positive way. I've also lent my talent and support via Bob Power (Google him) at the Clive Davis Institute to students recording department.
For fourteen seasons, I was the drummer for NBC's It's Showtime at the Apollo with Ray Chew and the Crew. And I was asked to be a substitute drummer for Anton Fig on The David Letterman Show. I've played for some of the top Gospel artists on BET's Celebration of Gospel 2005 and 2006 and the BET Music Awards 2007 and 2008. Advertisement
In 1990 I founded Phat Kat Productions, Inc., a music production company. For more than twenty-five years, Phat Kat Productions has produced and arranged both orchestral and vocal musical segments for commercials such as Nike, Burger King, Miller Genuine Draft, and Dark and Lovely.
Working on many projects as a writer, re-mixer, and editor is something I really love. An eclectic roster of recording artists have benefitted from what I deliver. Toshinobu Kubota, Hi Five, Waymon Tisdale, Najee, Glenn Jones, Johnathan Butler, Al Green, and many others have utilized my diverse skills. I was A&R manager at Jive Records and I sit on the board of the National Center for the Prevention of Community Violence. I am also the CEO of the Soul Snacks Cookie Company, located in the South Bronx, which is sold both locally and internationally.
I've been seen and heard performing live on many television shows: The David Letterman Show, The Chris Rock Show, Vibe, Planet Groove, The Keenan Ivory Wayans Show, The Cosby Show, A Different World, New York Under Cover, One Life To Live, Good Day New York, Maury, Good Morning America, Fox After Breakfast, the Today Show, Top Of The Pops (London), Songs on NHK TV (Japan), Siempre En Domingo (Mexico), Jon Stewert, Pat Sajack, Regis and Kathie Lee, Music Fair (TV Asahi, Japan), The Late Late Show (Ireland), The Anton Savage Show (Today FM, Dublin), WOWOW (Japan), and The Caroline Rhea Show. Movie soundtracks include Beat Street, High School High, and On the Ropes, which was nominated for an Academy Award. Advertisement
So, anyway…here's the moral to my story. It doesn't matter where you come from of how much money you do or don't have. What matters is your passion. Your Plan A. Not Plan B. Plan B gets in the way of Plan A. Success is not measured by how much money you make but in finishing the thought. You don't want to say while watching the movie of your life that you have many regrets. You can't put your epic movie on pause and believe me, it is epic. The credits will roll one day for all of us and what will you ask yourself? Hopefully it's not, "Damn, I didn't follow my passions. What if I would've seen it through?" I'm telling you these stories about my life and my journey because if I can do it, I believe we all can, health permitted.
When you go to my website, there's a ton of information, ideas, and music that could be helpful in your forward motion in life and drumming. I hope to see you at one of my gigs or one of my clinics. I email everyone that attends my clinics.
Thank you all so much!
For more on Ralph, visit www.ralphrolle.com.
---