Exclusive Premiere: Oceans Ate Alaska's "Ukiyo" Drum Play Through With Chris Turner Featuring Issues' Josh Manuel
Modern Drummer presents the exclusive premiere of technical metalcore group Oceans Ate Alaska's "Ukiyo," from the band's upcoming July 28 release, Hikari. The killer duet features the group's primary composer and drummer, Chris Turner, along with guest drummer Josh Manuel from the band Issues. Check out the full transcription and an interview about the track with both drummers below.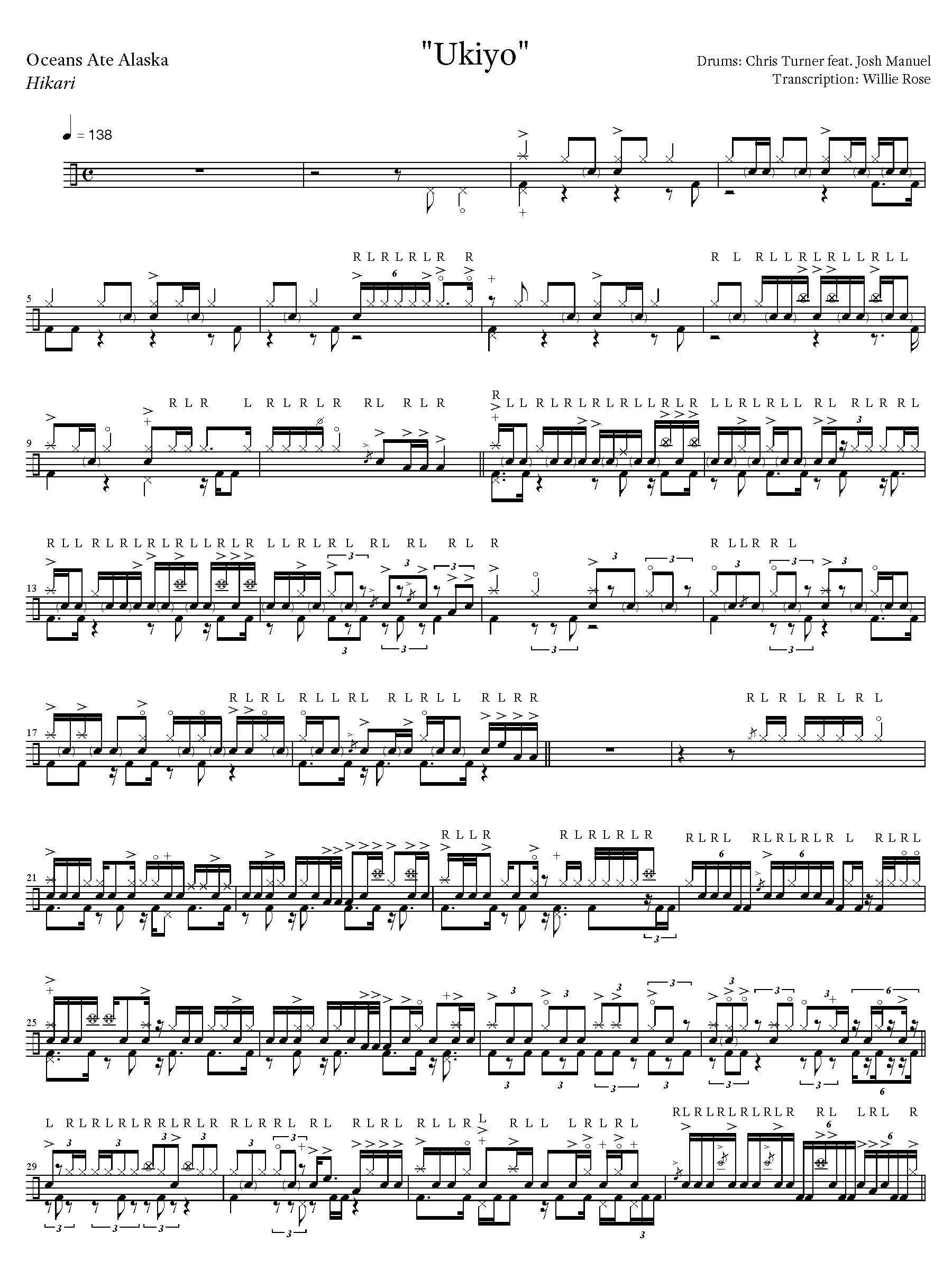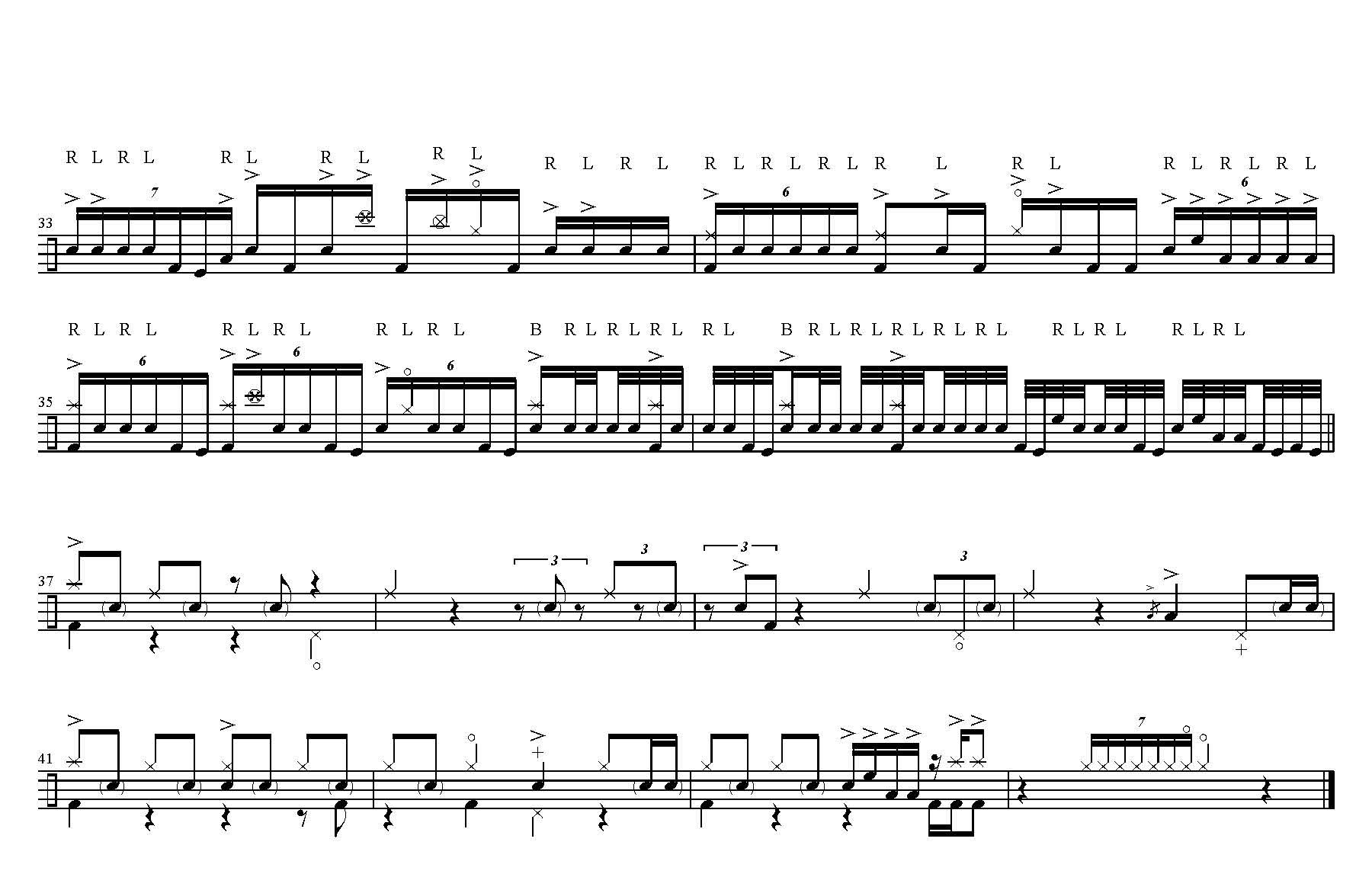 MD: Josh, how did you approach this song?
Josh: I ended up tracking the drums first. Chris and I had sent ideas back and forth for a few weeks before I tracked in the studio. Our main goal was to make it feel like one cohesive track even with two drummers playing. We wanted it to have dynamics and groove while still shredding toward the end.
MD: What's the inspiration for the syncopated groove that starts in measure 11? The pattern seems like it has its own melody or cadence.
Josh: I wanted to foreshadow the triplet-based modulation we play later in the track. I thought it'd be cool to break into an open shuffle feel—who doesn't love a good shuffle? We wanted all the sections of this track to weave into each other, and I saw this section as another way to accomplish that goal. Advertisement
MD: Chris, can you explain the offbeat accented pattern that starts around 00:44 [measure 21]? It sounds like its own jagged melody.
Chris: My main inspiration for this part came from Bill Stewart. I know he's in a pretty different genre of drumming from me, but I love how he can take a motif, build on it, and create a suitable solo around a groove.
The main idea I wanted to carry over and develop from Josh's part was the offbeat accents. When I started experimenting with some ideas myself, I discovered that riding the kick on the dotted 8th note fit really well and gave the groove more of a driving force. So that motif, combined with Stewart's influence, is how the rest of this part was created. Plus it makes me smile and nod my head. What more could I want?
MD: How did the triplet-based modulation come together at 00:54?
Chris: Josh and I met on Warped tour and were fans of each other's work. One of the first things Josh asked me was how to play metric modulations. We spent a lot of the summer hanging out and playing together, and by the end of it, Josh was fairly comfortable dropping a modulated fill into a groove. Advertisement
When I was writing my parts for this piece, I wanted to include some modulation, as that's kind of where our friendship started. Obviously that's not a valid enough reason to force it into the track, though, so I was very happy when I discovered that it actually worked perfectly in the song. And it's awesome that Josh continues it on as well. Proof of a summer well spent.
MD: Josh, at measure 33, it sounds like you open that figure with a septuplet. What do you work on to smoothly incorporate septuplets or other odd figures into your playing?
Josh: I chose to open that section with a septuplet because it felt a little odd and had lots of energy. In high school I marched in drumline, which helped a lot with rudiments and understanding how to practically apply them to a drumset. The book Stick Control helps with that as well. I always travel with it and refer back to it for sticking ideas and concepts.
MD: What's the general motivation for the offbeat, syncopated splash or China accents? You both seem to incorporate these ideas into your playing, and it almost has a gospel vibe.
Chris: I always try to use my kit in the most melodic and tonal way possible, and I chose to accent certain effect cymbals to help the fill build tension before resolving. I can see what you mean about the gospel vibe, and there's a good chance I was influenced by Chris Coleman for that—he's my hero! Advertisement
Josh: I've always been a fan of Gavin Harrison's playing and his unique use of effect cymbals. I grew up in Atlanta playing in church, so gospel drumming has always had a huge influence on my playing. Thomas Pridgen, Fred Boswell Jr., and Eric Moore are some of the gospel cats that have had a big influence on me.
MD: Chris, can you explain the outro's offbeat feel in measures 37–40?
Chris: Everything up until this point is chops heavy and organized. So I wanted to take a break from that and have the song end on something lighter. During that section, I gently play around triplets and slightly displace certain hits to give a freer time feel.
MD: Anything else you'd like to say about the track?
Chris: I'd like to give a massive thanks to Josh for being a part of this with me. I'm really happy that we managed to work on something together, and I couldn't be happier with how it turned out! Advertisement
In this Article