On the Beat with UK Drummer Steve "Smiley" Barnard of the Alarm and Archive: Talks Artists, Albums, and Tours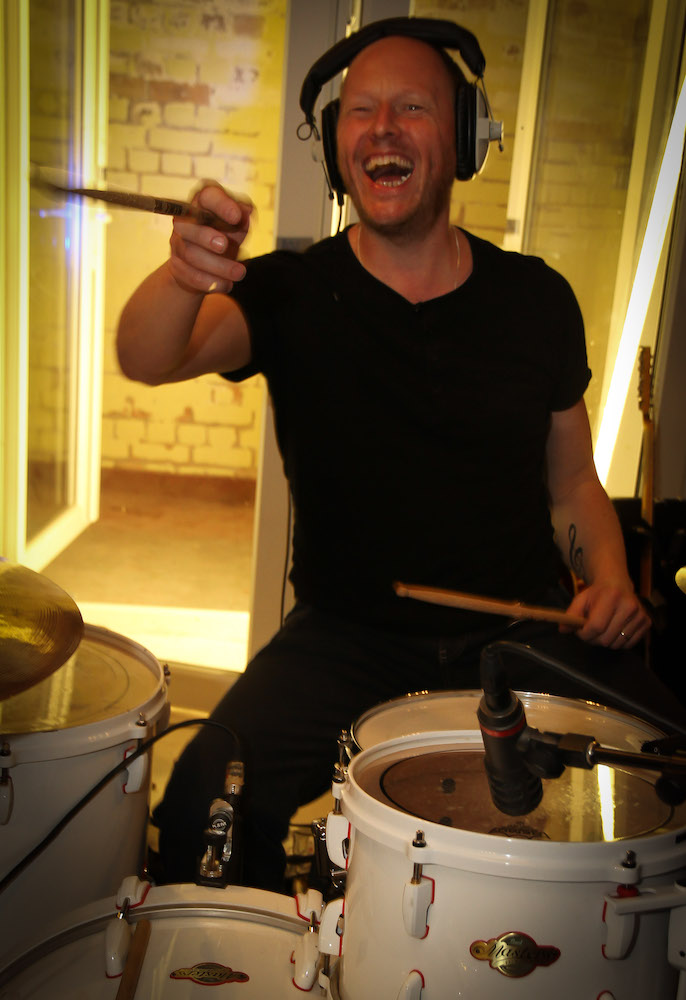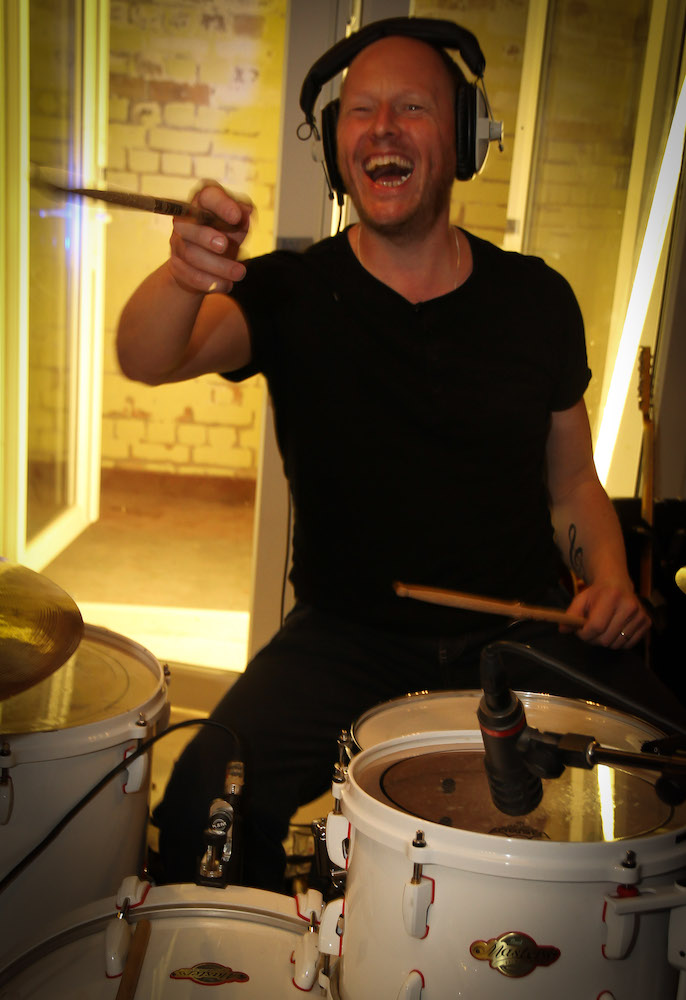 Hello, my name is Steve "Smiley" Barnard. I'm a UK-based drummer, and I am flattered to share some of my current movements and history with you lovely people at Modern Drummer.
I am currently balancing touring and recording duties with UK bands the Alarm and Archive. I began playing at a very young age and as I left school and started working in various jobs, I soon realized that drumming was going to be my life.
My first major act was the Mock Turtles ("Can You Dig It?"). I continued to record and tour with them for ten years. It was then on to Robbie Williams. I had the pleasure to record and tour the UK and Europe with Robbie in1997/98. He is an amazing talent and lovely man. He totally deserved the worldwide success he became.
I then had the privilege of joining the legendary Joe Strummer and the Mescalero's for two years. I recorded and toured the world with Joe and the band. It was an incredible eye opener to be with a living legend, and everywhere we went Joe was treated like a messiah. Those were great times and I made fabulous memories. Advertisement
I then joined the UK rock/electronica band Archive—an incredible collective whose history spans back twenty years. I've been with them for thirteen years, recording eleven albums and two film soundtracks, and consistently touring Europe for the last twelve years. Their back catalogue is astonishing, and they will be releasing a retrospective in 2018. It's well worth checking out.
I joined the Alarm in 2010. Still fronted by the enigmatic Mike Peters, we have since recorded five studio albums, two live albums, and two film soundtracks, as well as extensively toured the UK, Europe, and US.
During the last twenty years I've been lucky enough to work with such varied and fantastic acts including Bad Company, Spear of Destiny, From the Jam, Hard Fi, Four Good Men, Lily Allen, Tracey Ullmann, Newton Fawlkner, Roy Harper, Sia, Squeeze, Noel Redding, the Charlatans, Mylene Farmer, Billy Bragg, Mick Jones, Alexandra Burke, Hero Fisher, Phil Daniels, Larry Page, Chesney Hawkes and Ian Mcnabb, amongst others. I am slightly jet lagged while writing this. Hope I haven't missed anyone too important. Advertisement
I have been using Pearl drums for twenty years, primarily the Masters and Reference series, as well as Zildjian cymbals for the same period (currently using the Rezo series). Both companies have been incredibly generous and supportive, and it's nice to have the chance to say thank you via the platform of Modern Drummer! Also, a big thanks to the lovely people at Vic Firth (3a's) and Protection Racket cases.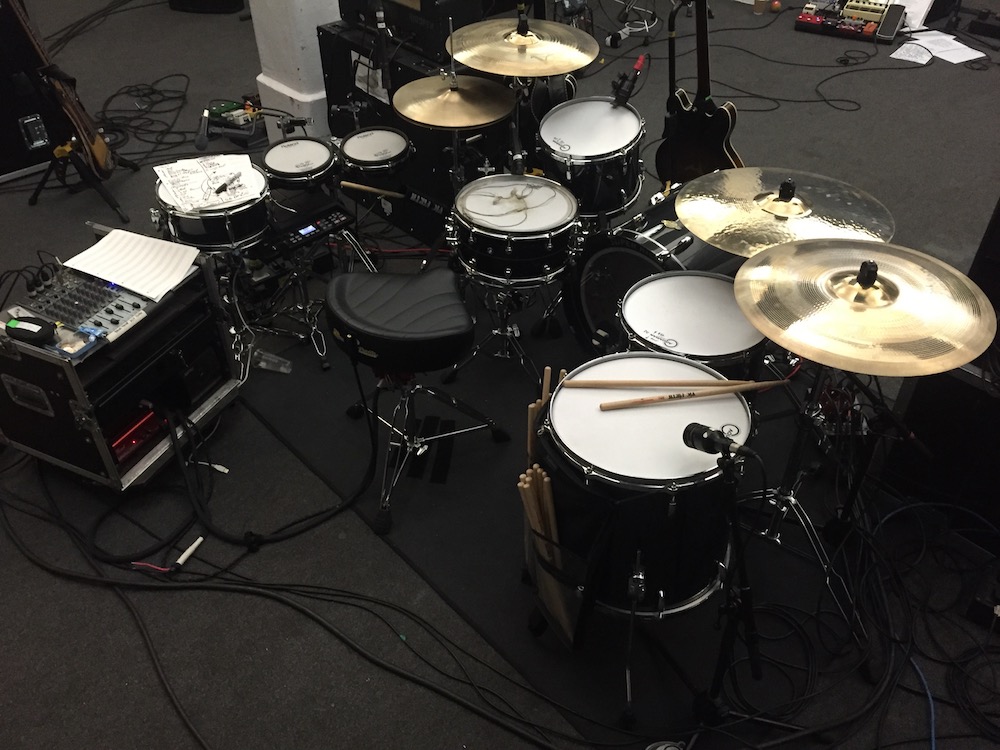 I also own Sunshine Corner studios in Hampshire, UK. I've learned so much as a drummer from producing and engineering all types of music. It's a constant learning curve and has had a massive influence on my drumming style over the past ten years.
I've also written and produced four albums in the last five years. They are available from the studio website as well as iTunes: Smiley's Friends In High Places, Smiley's Friends In Far Out Places, Smiley's Friends On Sunshine Corner, and Smiley's Friends Eclectic. Advertisement
The rest of 2017 is looking wonderfully busy. Archive will be performing at twenty European festivals this summer followed by a full European tour in November/December to promote the current album The False Foundation. The Alarm is doing a forty date USA tour in July/August as well as two full UK tours in May and October to promote two new albums, Blood Red and Viral Black, which are out in May and October, respectively—so if any Modern Drummer readers are coming to any of these shows please come and say hello.
For more on Smiley and his projects and bands, please visit www.archiveofficial.uk, www.thealarm.com, www.sunshinecornerstudios.co.uk, twitter.com/smileydrums, and facebook.com/stevesmiley.barnard.