On the Beat with Pete Nappi of Ocean Park Standoff: Talks Producing and Drumming Roots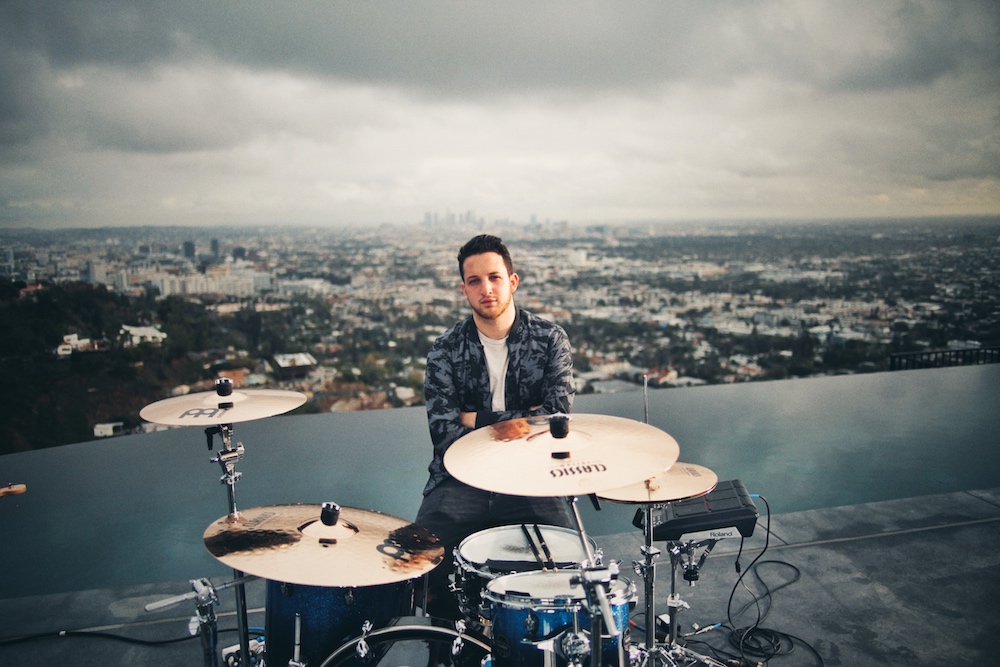 Hello Modern Drummers, I'm Pete Nappi, drummer and producer of the LA-based band Ocean Park Standoff. We recently just released our first self-titled EP in March on Hollywood Records, and are hitting the road this summer with Third Eye Blind and Silversun Pickups.
I'm originally from Long Island, New York, and started playing the drums when I was eight years old. I grew up playing in local pop/rock bands and percussion in various orchestras around the area. I found an interest in recording around the age of twelve and started using Pro Tools by the age of fourteen. In high school I spent my time recording/producing myself, and playing/touring as much as possible.
I went to Berklee College of Music in 2010 to study film scoring and total percussion with a minor in conducting, while always working on my production skills in my spare time. It was there I met my current publisher Kara DioGuardi, and signed to her publishing company Arthouse and Universal publishing. I left Berklee a few classes early to move to LA to pursue a career in producing pop music when I finalized my publishing deal.
While living in Los Angeles, I have been fortunate to have worked with 30 Seconds to Mars, Stanaj, Delta Goodrem, Shinedown, Kesha, Santigold, Lady Gaga, Mark Ronson, Meghan Trainor, James TW, Lindsey Stirling, R5, Shawn Hook, Hedley, Hayley Kiyoko, the Chainsmokers, and many more. If you want to hear some of my releases, check out my Soundcloud link below.
Having my roots in drumming has helped my career in so many ways. Beyond performing, it helped me form my style and skills as a producer. In Pro Tools, I mostly use the grid to program my drums and any other rhythmic instruments. Producing strictly on a grid can lead to a very robotic feel in the music and being a drummer helped me realize where I could stray off the grid to make a more human-like rhythm in my productions.
It's been great to finally be performing again with Ocean Park Standoff. Since I moved to LA, I haven't had as many opportunities to play the drums since I focused on producing. Now that I am playing in my own band, it's honestly the best scenario to be in. I get to play the music that I produced and wrote with my best friends. We have a blast at all of our shows, and recently did a few TV shows, which was an awesome experience. Since we are performing so much, I've now been more conscious about the percussion and beats I use, and how I am going to translate that live. The whole process has been amazing; there is always something new to learn.
Thanks for reading everyone! If you want to check out our single "Good News," and our EP, both are out now (Spotify, Apple Music etc.). I've included some links if you want to check out any of my music, and I have a playlist on my Spotify page if you'd like to check out some of my favorite songs.
For more on the band, visit www.oceanparkstandoff.com.
Watch "Good News" here: 
Check out Nappi's Soundcloud link here: soundcloud.com/petenappi and his personal Spotify list here: open.spotify.com/artist/1qGohIp3a4kh1Euymx0pyL