On the Beat with Jimmy Meier of the Dives: Putting the Band Together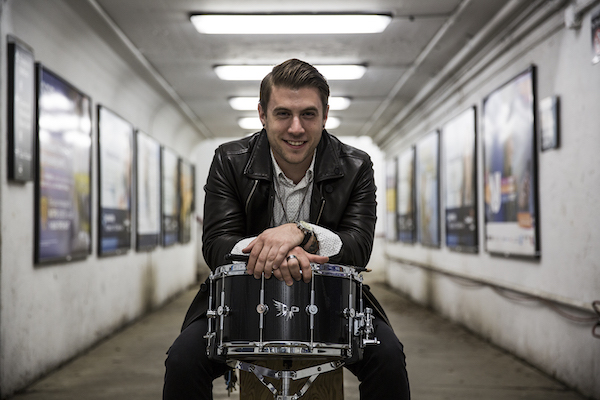 Hello MD Readers! My name is Jimmy Meier and I'm the drummer of the New York City band the Dives. It's truly an honor to be writing this for On The Beat!
I've known since I was in middle school that I wanted to be a musician. Since there were too many drummers in the percussion section, my first instrument was actually the saxophone. I liked playing the saxophone, but switched as soon as there was an opportunity to get behind the drums.
Fast forward a decade or so and I was out in the real world. I graduated with a bachelor's degree in Music Technology from Bloomfield College in New Jersey. I was hired to play drums in a few different bands and was recording music and doing live sound to pay my bills.
I started a weekly open jam that a phenomenal singer/guitarist, Mike Lefton, began to frequent. After a few weeks of playing the same songs a dozen times together, he told me I would be perfect for a new project he had joined. I'd told myself that I was done with original bands, but he was persistent. I told him no enough times that I figured he'd stop asking, but instead of taking no for an answer he brought his friend and bandmate Evan Stanley to the jam, so I had no choice but to play with them both. Advertisement
From that moment, it seemed as though we had captured lightning in a bottle—it was that feeling that you search for when playing with a band—and it doesn't happen very often. We knew we had found something special, but we needed to find a bass player. We asked Sergio Ortega to fill in on a few dates for us, and to our excitement he hasn't left yet!
The band has been together for a little over a year now. Throughout this time, we've been so fortunate to have had a lot of amazing opportunities—most notably, being asked to open for Kiss on the UK leg of their sold-out arena tour at the end of last May.
Since our formation, we have been hard at work rehearsing and playing as many live shows as possible, while simultaneously finishing up writing and recording our first EP, Everybody's Talkin', which was recently released. Advertisement
When we get back from the UK, we'll head out again and hit road with the Dead Daisies (Brian Tichy on drums) as a special guest on its Dirty Dozen tour. Also I'm proud to announce I have joined the Hendrix Drums artist roster.
Cheers! And thanks for reading!
For more on Jimmy, check out his Instagram @thedivesdrummer.
For more on the Dives, visit Facebook www.facebook.com/thedivesmusic or find them on your favorite social media platform @thedivesmusic
Stream their EP, Everybody's Talkin', at spotify: album:45f3LYl4JHTaUIpg7uJOCL.
Video for "Take It All"
https://youtu.be/2SnlnJJ444c
Photo by Jeremy Lebled