On the Beat with Gethin Davies of the Struts: Talks Touring and Influences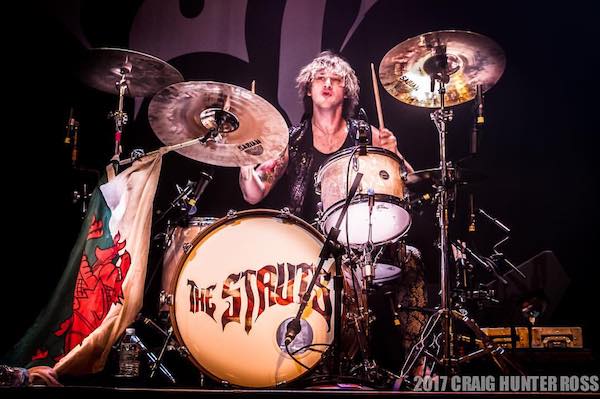 Hello MD! I'm Gethin Davies, drummer for British glam rock 'n' roll band the Struts. Thanks to Billy Amendola and Modern Drummer for having me write a few words for you all—it's an honor to be part of such a great publication.
I was recently back home in West Wales taking a few days off from recording our second album. I was happy to be reunited with my record collection, but eager to get back on tour!
We've been working hard the last two years, touring our debut album Everybody Wants around the world, sharing stages with the likes of the Rolling Stones, Mötley Crüe, Guns N' Roses, and the Killers. It was a long tour so it's been nice having a few months off the road. Between studio sessions, I've taken that time to get back into the rehearsal studio with my kit to work on some new techniques and keep progressing my style.
My interest in music started from a very young age. My first home was above a pub that my parents ran, and there was always live music going on. One of my earliest memories was hearing Stevie Wonder's "Sir Duke" blasting from the jukebox downstairs as I was being put to bed. Advertisement
I started drumming when I was fourteen years old. My uncle used to be the drummer in a local rock 'n' roll band and he let me borrow his old rickety drumkit, complete with rusting cymbals. My father built me a soundproof room in the shed outside and away I went! I'd say my main drumming influences are Matt Helders (Arctic Monkeys), Ringo Starr, Kenny Aronoff, Reni (Stone Roses), and Dave Grohl.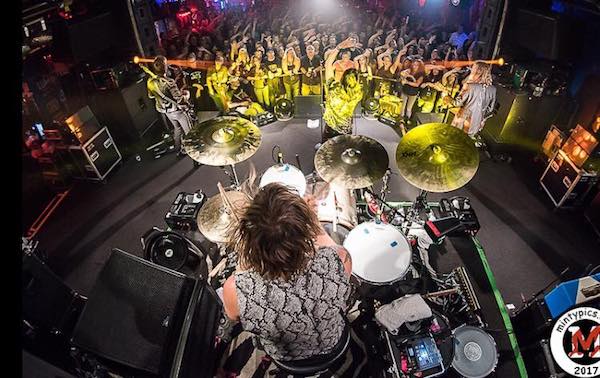 Dave actually attended our show last year at the 9:30 Club in Washington DC—he was watching from a balcony side stage which was located just above the drumkit. I have to admit that the first few songs were a bit nerve racking, having such a legend watching my every move! But I played a great show and over a few drinks he told us he loved the band's performance.
My current stage setup is a Gretsch Renown kit in Vintage White, with a 16×22″ kick, 12″ high tom, and 14″ floor tom. I switch between the Gretsch Brooklyn hammered chrome over brass snare and walnut snare. I've just recently started using Sabian cymbals—14″ HHX Evolution hats, 19″ AAX X-Plosion crash, 19″ HHX X-Plosion crash, and 20″ AAX Stage ride. I use Evans skins and Vic Firth 5A drumsticks, with JH audio in-ears. I'd like to take this time to thank Andrew from Gretsch, and Bob and Christian from Sabian for helping me out with gear for the last few tours! Advertisement
We will hopefully be releasing our second album later this year, and we are very excited at the prospect of putting out some new music and performing the new tracks live. Thank you all for reading, and I hope you go and check out our music. We will be back touring relentlessly in a few months in an effort to bring rock 'n' roll music back to the mainstream! See you on the road!
For more on the Struts, visit www.thestruts.com/home.
Watch the Struts video "Could Have Been Me" here: 
Watch the Struts "Kiss This" video here: