Rush to Release Limited-Edition Single for "Cygnus X-1" as Record Store Day Exclusive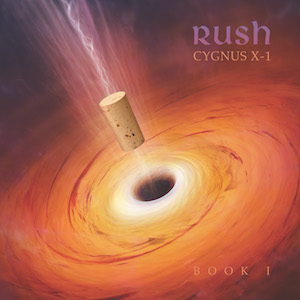 This year marks the fortieth anniversary of Rush's sixth studio album, A Farewell To Kings. To kick-start the celebration, on April 22, 2017, UMe/Anthem/ole will release a limited-edition, 12″ single for "Cygnus X-1" as an exclusive for Record Store Day, which celebrates its tenth anniversary this year.
Featuring "Book I: The Voyage" (side A) and "Book II: Hemispheres" (side B), this is the first time these tracks will be released as a single and the pressing will be limited to only 5,000 copies. "Cygnus X-1" is pressed on 180g vinyl and features brand new artwork by Hugh Syme, Rush's longtime artwork and creative director.
Released in 1977, A Farewell To Kings is the studio follow-up to 2112 and is a continuation of Rush's musical growth, as they continued to push traditional rock boundaries and explore new ground, both musically and lyrically. Recorded at Rockfield Studios in Wales, A Farewell To Kings was the band's first US gold-selling album, receiving the certification within two months of its release, and was later certified platinum. Advertisement
For more information, visit www.rush.com, facebook.com/rushtheband, instagram.com/rush, and twitter.com/rushtheband.