Dr. Dog drummer Eric Slick branches out on solo debut, <i>Palisades</i>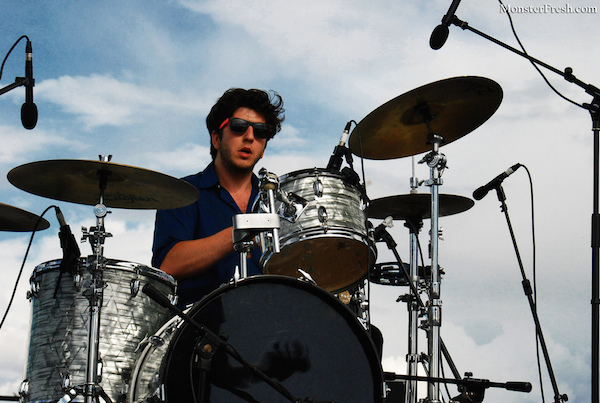 by Willie Rose
This past April 21, Eric Slick, the drummer for the '60s-influenced indie-rock band Dr. Dog, released his debut solo album, Palisades. Although he also recruited drummer Ricardo Lagomasino to contribute, Slick plays the majority of the huge, fluid drum grooves that brew beneath the record's distorted, melodic, and meditative tracks. Here Slick talks about stepping out from behind the kit to front his own project and more.
MD: How were the drumming duties divided on Palisades?
Eric: I played drums on the majority of the record. We recorded it very quickly—in three days! I barely thought about it at all. We had this incredible studio in an old church/Croatian club in Anacortes, Washington, and the natural room sound was massive. Ricardo Lagomasino played drums on "Evergreen," which is the second-to-last song. Ricardo has a real precision-minded approach to the kit, and it's something I've always admired. He was perfect for that particular song. It's very orchestral.
MD: Coming from a multi-instrumentalist's perspective, what do you look for in a drummer in your own band?
Eric: I'm very harsh and picky about drummers. I like drummers who are big-picture thinkers. It's not enough to be technically adept. There has to be feel, pocket, and most importantly, tone. Drummers don't talk about tone enough. Ricardo thinks about all of those things and executes them perfectly. He's also an incredible person and one of my favorite people to tour with. He's one of three drummers that I would trust with my own music, the others being Branden King [McRad] and Joe Russo [Benevento/Russo Duo]. Advertisement
MD: Is there anything you've learned drumming-wise that you've taken away after fronting your own band?
Eric: Oh my God, yes. Sometimes when I'm working with Dr. Dog, I try so hard to push the envelope about what I can get away with. I try to get a Jim Keltner or Glenn Kotche vibe by throwing up trash can lids and running contact microphones on my drums. But nowadays I'm just interested in being completely transparent. Sometimes playing something simple is exactly who you are in that moment. No one else can play like you. I would stress that to all young drummers, and I wish I'd learned it sooner.
MD: What was the recording process like for the new record, and what was it like working with Ricardo on drums? Was there any mutual feedback between the two of you?
Eric: It was a lengthy process. I recorded the initial tracks in 2014 and didn't finish them until August and September of 2016. I completely gave up on the record for a while. It just didn't feel right—like a permanent awkward phase. I'm so happy I finished it. I worked on drums with Ricardo, but most importantly, he [produced] all the vocals for the record. I'm very self-conscious about my voice, and he helped me navigate that and deliver the best possible takes. He's such a good producer. All drummers should be producers.
MD: The drumming on Palisades is tasty and has a great feel. How do you approach playing for the song?
Eric: I do what Ringo does—I listen to the vocals. They're the most important part of the song. I don't care what people think, it's true. When I work in the studio, I listen intently to what the rhythm and message of the vocal is, and then I try to respond intuitively to that. I think that's the fast track to learning how to play for the song. Advertisement
MD: There are some interesting, almost atmospheric drum tones on the song "Palisades." What process went into getting those sounds?
Eric: I'm so happy you asked about that! The original idea for that tune was to not have any drums at all. The song was dragging, so I thought we should go abstract and electronic. We initially used an old Chamberlin tape-loop drum machine to keep time, which is still in the track. Then I reversed the feel of the loop in Pro Tools. Then we ran that reversed tape loop through the fourth modular Moog ever made, which is in a studio at the University of the Arts in Philadelphia. We were triggering all kinds of oscillators. Then we recorded the drum take at Ricardo's place and opened up the studio door. The hallway to his studio is huge, and we basically used it as an echo chamber. One take and it was done.
MD: Who are your influences, either from a drumming perspective or musically in general?
Eric: Drumming-wise, it's Tony Williams, James Gadson, Bernard Purdie, Jim Keltner, Glenn Kotche, Chris Ward from Pattern is Movement, John French from Captain Beefheart, Joey Waronker, Chester Thompson, Bill Bruford, Zigaboo Modeliste, Chris Powell from Man Man, Claude Coleman from Ween, and Joe Russo. Musically, it's Frank Zappa, Captain Beefheart, Bjork, the Dirty Projectors, Scott Walker, Brian Eno, and Robert Wyatt.
MD: Are there any insights you've gained from meditation that you can apply to drumming or music?
Eric: Yes, and it also comes from my old boss Adrian Belew: "It doesn't mean you should, just because you can."
​