On the Beat with Tony Brock of the Babys: Talks Nostalgia and Walking to His Own Beat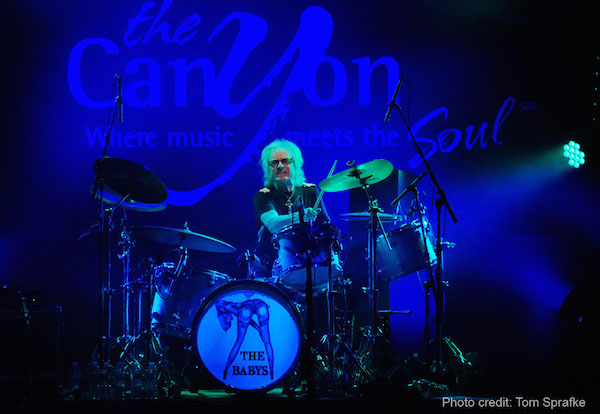 Hello MD! This is Tony Brock, and I am thrilled to be performing with the Babys after a thirty-one-year hiatus. And I'm also honored to be back in Modern Drummer (first go around was in 1989)!
For the past forty-plus years I've dedicated my time to drumming. I'm currently using a combination of Ludwig and DW drums, and am lucky to have sponsors Zildjian cymbals and Remo heads on board with me. Special thank you to Calato Regal Tip 5B sticks as well.
I've had the honor of working with Rod Stewart, Elton John, Keith Urban, Jimmy Barnes, and few others, both on the road and in the studio. I toured with Rod for twelve years, and during that time met legendary guitarist Jeff Beck, who eventually ended up playing on Rod's Camouflage album in 1984 and also joined us on tour. I will, however, always hold a special place in my heart for the Babys because it was with them that the world was formally introduced to me, and I to them.
When the Babys formed back in 1975, I couldn't have imagined what was about to happen. I was ecstatic to have guitarist Wally Stocker as part of the Babys. His distinct sound was perfect in helping us to develop our signature sound. Producer/engineer Ron Nevison was also pivotal in helping me achieve the sound that rivaled John Bonham of Led Zeppelin. Adding keyboardist Jonathan Cain and vocalist John Waite propelled us around the world with Alice Cooper, Styx, Journey, and Cheap Trick. Our legacy was undeniably solidified.
Re-launching the Babys has been both rewarding and challenging after all this time, but between Wally and myself, we felt we still had more in us to give, so back in 2013 we held a nationwide talent search to find a new lineup to preserve our signature sound while adding a twist to the plot. We found just that in stellar lead vocalist/bassist John Bisaha, whose vocals superseded even our own expectations. Sometimes you just know when it's right, and John's musicianship proved us right tenfold. We also welcomed guitarist Joey Sykes who contributed a fresh and invigorating flavor. Keyboardist Francesco Saglietti has brought our classic melodies to life once again and then there are the Babettes—Holly Bisaha and Elisa Chadbourne—without whom our sound simply wouldn't be quintessential babys!
With everything coming full circle, we are now back on the road, so be sure to come see us in a city near you. In addition, I've owned Silver Dreams Studios where I produced and engineered the Babys 2014 album I'll Have Some of That! I am in the process of relocating my studio and will announce the reopening very soon. Be sure to keep up with my news at silverdreamsstudios.com. Thanks for checking in!
For tour dates and more info on the Babys, visit www.thebabysofficial.com.
Photo by Tom Sprafke