Nick Zamora On Tour With the Suffers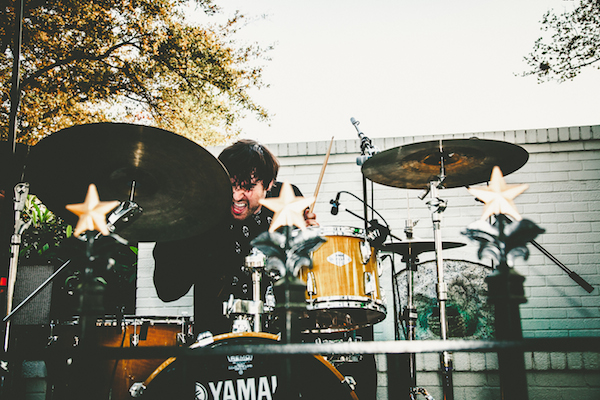 by Willie Rose
Drummer Nick Zamora's driving feel, blazing yet apt chops, and Motown-inspired grooves are supporting the Houston, Texas, soul collective the Suffers on their current March tour. Since forming in 2011, the ten-member group has enjoyed a steady rise in popularity, thanks in part to television appearances on such shows as Late Night With David Letterman and The Daily Show With Trevor Noah. Modern Drummer asked Zamora about backing the funk-infused group on the road, their 2016 self-titled full-length release, and much more.
MD: Your fills are tasty without seeming overbearing. How do you approach the concept of "playing for the song"?
Nick: I care more about staying on tempo than pushing too many boundaries in the chops department. Mainly what you hear from me is about the best I can manage without putting the groove at risk.
With the Suffers, we continually try to simplify our parts to respect the other instruments and the vocals. With so many musicians, the number of individual notes that can be played at any given time increases significantly. We find that the less disciplined we are, the less focused the song is. And leaving space opens up more opportunities for syncopation between instruments or, in the case of drums, to use a fill to support a vocal or instrumental line instead of being the centerpiece of a transition. The songs as a whole take on a much better feel when everyone cooperates.
We took plenty of time to write our first album, and a lot of that was spent writing songs, tearing them down, and then building them back up until we got the right balance. I think our next album will show this even more. Advertisement
MD: It also sounds like there are plenty of chops in your playing. What do you practice for technique?
Nick: First I'll try to play the drums as close to daily as possible. Touring non-stop for the last two years has significantly bumped up the amount of time I'm sitting behind the kit and, no surprise, playing more makes you better.
I'm also in a band with two other drummers. Pat [Kelly], our keyboard player, played drums full-time before the Suffers and taught percussion privately and in schools. We take books with us on the road to work on stick technique and go over different pages on pads or pillows in the hotel room. Currently I'm working out of Master Studies by Joe Morello. I use a metronome app on a phone when I'm warming up or working out whenever I can as well.
And I'll also just listen to a lot of music. When I'm listening, I absorb a lot of ideas and sort of prep my brain to approach things a certain way the next time I'm on a kit. It's not always about figuring out what fills or grooves a drummer is playing—it's more like picking up ideas for how to play as opposed to what to play. Advertisement
MD: You have a great sense of groove. Who are you favorite drummers to listen to for feel, and what do you take from them?
Nick: For me, Steve Gadd is the king of feel. Steve Jordan's feel is also impeccable. And Harvey Mason, J.J. Johnson, Franklin Vanderbilt, Bernard Purdie, Questlove—there are so many more. And that's not to say that those guys don't all have serious chops up their sleeves. But I aspire to have the discipline and pocket that they do. Instead of studying shredders and figuring out how to do singles around the kit as fast as I can, I'm trying to get to the point where I have the confidence to only play beats 2 and 4 for a whole song without hitting a crash cymbal, if that makes sense.
My favorite drumming recently has been Michael Lisenbe on Robert Ellis's new [self-titled] album, Donald Johnson Jr. on Khruangbin's The Universe Smiles Upon You, and Jack Stratton and Theo Katzman on Vulfpeck's albums. It's nearly impossible to find a note that those drummers play that doesn't belong in the song.
MD: How did Houston's environment affect your personal sound, or the sound of the band in general?
Nick: Houston has a program that will bus kids to schools outside of their zone to schools that have a special focus. It wasn't a music-focused program, but the high school I attended, Jesse H. Jones, was in one of the city's lower-income neighborhoods that experienced "white flight" after the baby boom. Going here exposed me to a completely different musical world that I would likely have missed had I attended my zoned high school. I was simultaneously marching in an HBCU-style band, playing punk and ska shows on weekends, and doing the occasional jazz gig. Advertisement
In terms of the band, Houston is the most racially and ethnically diverse city in the country, and our music definitely reflects a meeting point of influences. This is evident in the songs we play as well as the lyrical content. Also, the Houston rap scene that really broke out of the city and spread worldwide in the mid-'90s has been a big part of all of our musical upbringing—including the DIY ethic those artists had in their approach to releasing music and promoting themselves.
MD: Are there any challenges live when backing a group with nine other members? How do you keep the band tight?
Nick: There are definitely challenges to drumming in a large band, but they aren't so difficult to overcome if everyone is on the same page. My band trusts me to steer the ship when we're on stage, and that goes a long way toward tightening up our pocket. I try to stay out of my head and really listen. If I zone out for a second, I just listen for Adam [Castaneda], our bassist, and he's usually right there reinforcing the pocket for me.
MD: How did you start playing? What drew you to the drums?
Nick: I grew up with a bunch of musicians in the family. My dad plays guitar and always played songs for my brother and me at bedtime. My uncle had a career as a band director in Austin and still plays trumpet. Neither my parents nor other family members pushed me to start playing, but they certainly made the option available to me and really supported me in starting. I don't really know why I landed on the drums, although my mom would say that I'd bang on pots and pans on the kitchen floor when I was little. It just made sense to me that I'd play drums. I've never been drawn to them as a solo instrument, though. I think what has kept me interested for so long is the relationship you have with a band when playing—the dark matter that's connecting you that you can't see. Advertisement
MD: Can you describe your drumming education?
Nick: When I first started playing, I took private lessons with Steve Misamore, who I believe now plays with Dierks Bentley. He showed me how to swing and taught me a mean Texas shuffle. Also, when I was starting out I spread out all of my drums, which was ergonomically awful. He helped me understand how to place drums around my body to conserve motion and not have to contort my body to hit the instrument. Later I studied with Tim Solook, who is an incredible jazz drummer. He really taught me dynamics and introduced me to all sorts of Latin patterns.
The two biggest influences on my drumming were my high school band director, Ron Cole, and my brother, Alex Zamora. Ron exposed me to so much music and really shaped my taste and understanding of how to play thoughtfully and musically. I wouldn't be the drummer I am today without him. And my brother is a phenomenal bass player and songwriter who makes his own rules when it comes to music. I have no doubt that my pocket is decent because of the time that we spent playing music together in the back room of the house as kids.
MD: You've played with the Suffers on Late Night With David Letterman. Do you ever feel any pressure playing higher-profile gigs or television shows?
Nick: The experience of playing on Letterman was the first and maybe craziest of many incredible experiences I've had over the last couple of years that I never would've thought possible. There was certainly pressure to perform and a new level of nerves involved. But what are you going to do—not play? We just went out there and did it. None of us remember much of anything from those three minutes. But fortunately we got to watch the broadcast later as proof that we had actually played. Advertisement
Since that performance, I've discovered that it's possible to give in to the emotion I'm feeling in the hours before a higher-pressure performance and eventually the tension recedes. About a year after Letterman, I was sitting in the back building at Preservation Hall in New Orleans getting ready to rehearse a couple of tunes with the Preservation Hall Jazz Band before our Midnight Preserves show. I was really feeling the weight of performing in such a historical room with these other incredibly talented players. On top of that, Daru Jones, Patrick Hallahan and Jim James from My Morning Jacket, and some of the guys from Arcade Fire were hanging out there. It was really hard to wrap my brain around the fact that I was the drummer playing that night. But I saw how relaxed the Preservation Hall guys were about things and realized how lucky I was to be having this experience. When we walked on stage and started playing, I thought to myself, Well, they invited us, I shouldn't miss this. And I just enjoyed the moment. It was magic.
MD: What's it like travelling on the road with the Suffers, considering how many members there are in the band?
Nick: Snug. Intimate. We tour in a fifteen-passenger van. As challenging as it is touring this way, we take a lot of pride in what we've achieved with only the help of a small team of very special people and our friends, fans, and family. Our only luxuries are having our own audio engineer and a digital console with recallable mixes for monitors. You don't want to be one of ten people on stage trying to get monitors right during a quick soundcheck, believe me. Bathroom breaks get out of hand occasionally with so many people in the van—we've had to learn how to calculate "Suffers time" for each drive. But after the first few days of a new tour we start to sync back up. Even when we're worn out, missing home, and sick of each other, we have fun. No one has forgotten how lucky we are to have this job.
MD: What's your current setup?
Nick: On the last tour I brought our keyboardist's 1967 Ludwig kit, which was what I used on the last album. It's a 12″ tom, a 16″ floor, and a 22″ kick. I also brought a Yamaha John "JR" Robinson signature 5.5×14 birch snare and a Pork Pie 6.5×14 brass snare, and I used Remo heads. I have 14″ A. Zildjian & Cie hi-hats, a 22″ Bosphorus ride, a 19″ Zildjian K Custom Hybrid crash, and an 18″ Sabian HHXtreme crash. Advertisement
I play Innovative Percussion sticks—usually either their Legacy 5A or the Ed Soph signature model, and I've fallen in love with their yarn-wrapped bass drum pedal beater. I'm so sensitive to the way a bass drum feels, and that beater has a great weight and balance for me. It's a little thing that I didn't experiment with for so long, but now I'm realizing how significantly it affects my playing.
A couple of months ago I was very generously loaned a kit by the guys at A&F Drum Company for a show in Austin, and now I'm completely rethinking my rig. The kick was a 10×24 that felt and sounded perfect. The snare was a 5×14 raw brass shell with single-flange brass hoops. It spoke to me. I'm saving up.
​