On Tour with Hayley Cramer of Pop Evil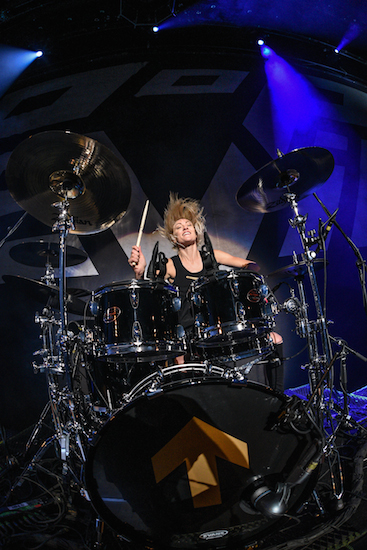 by Ben Meyer
British drumming phenomenon Hayley Cramer recently took over the drum chair in the established rock powerhouse group Pop Evil, quickly finding herself playing for tens of thousands of fans while the band opened for the likes of Disturbed and Rob Zombie. As Pop Evil currently continues its own U.S. headlining tour through this February—and as Cramer starts reeling in some pretty pristine endorsement deals—it looks like the drummer's career is heading in quite a positive direction. Modern Drummer Online recently spoke with Cramer about her new stateside gig and more.
MD: It seems like the past few months have been rather eventful for you. What was the process like when you joined Pop Evil?
Hayley: It's been crazy. It came about at the end of last year through a mutual friend of ours, who knew that I wanted to get back to the States. I was stepping in and out of bands in England and throughout Europe, and I felt like I couldn't find anything. I was like, "You know what? I'd really like to go back to the States, so if you hear of anything, let me know." He called me a couple of months later and said, "Pop Evil are looking for a drummer. You should apply." So I applied, and through various FaceTime and other online conversations, they took the chance and flew me out.
We had one rehearsal and then went straight out on the road. I wasn't playing the shows—the previous drummer [Josh "Chachi" Marunde] was, and I was playing the soundchecks. And I spent a couple of weeks watching the shows and hanging out with them. It was pretty obvious that we hit it off straight away. It just felt really good for all of us. Chachi sort of said, "You know what, Hayley, it's yours now. I can see that the rest of Pop Evil are happy and you seem happy, so take over." That was at the beginning of the Disturbed and Rob Zombie tour, which had some of the biggest shows for both the band and me. So they were pretty important shows, and it was important to do a good job. I'm a great a believer in diving into the deep end and either sinking or swimming. And usually I swim! [laughs] Advertisement
MD: It's wonderful to have that sort of soft changeover between players. Usually it's not quite that friendly.
Hayley: I'm blessed to have experienced that. There was no bad blood and no falling out. It was all very positive and encouraging. Then again, going on the Disturbed and Rob Zombie tour, all of those guys were so supportive as well. They were really great to me. I had a good transition.
MD: What were you doing before Pop Evil came along?
Hayley: My first real band was called McQueen, and that's were I got to tour Europe and Australia. We did okay, but it kind of ran its course, and we all got sick of each other. I kind of stepped away from original bands for a while because I wasn't ready to commit to one thing. I love so many different types of music, and I love playing with different people. So I was just in and out of bands, and I did quite a bit of teaching. Last year I started feeling that I might want to find a band to commit to. I was sick of being the new guy all the time and thinking at every show, Oh, God. Am I going to remember this song? That's when I started to look to America. I've toured Europe quite a lot and I wanted some new scenery, new people, and new cultures again. And that's when Pop Evil happened.
MD: Had you toured much in the States prior to that?
Hayley: I'd done a few shows but not any extensive touring. I'd played a fair bit in Los Angeles and a couple of shows in New York. I'd also played a bit with Camp Freddy, which was the Matt Sorum and Dave Navarro band. My previous band was managed by the same guy who signed Guns n' Roses and Mötley Crüe. That's how that link came about. Advertisement
MD: What's your impression of the country now, having seen some of the less-shiny parts?
Hayley: I love all of it. I love meeting people and hearing their stories. There are parts of America that are fairly far removed from the shiny parts [laughs], but I love all of it.
MD: At this point, you haven't had the opportunity to record with Pop Evil yet, correct?
Hayley: Right. That's happening in March of 2017. We're starting to put pieces together on the road, and we'll jam little bits at soundcheck. We'll sit on the bus and exchange ideas. We're collecting all the pieces, and then in March we'll knuckle down and try to make all of those into songs. It's been really exciting. I think my energy coming into the band has picked things up a little bit. For a band that's been going for ten years, you get to a place where you ask, How do we boost ourselves up? Having the new energy around is definitely good in the long run.
MD: How long will the current album cycle continue?
Hayley: We've got one more headlining tour, which goes through all of January and February.
MD: Who's out with you for support on those shows?
Hayley: We've got Red Sun Rising as main support, and we've also got a band called Badflower. I checked them out the other day and they're pretty good. It's going to be a really good lineup. The drummer from Red Sun Rising covered one of my shows with Pop Evil when I had visa issues. They're friends and they've toured together, so he stood in for the show I couldn't make. We got on like a house on fire. We're always warming up together.
MD: Were you with Pop Evil at the Louder Than Life festival this year?
Hayley: Yes! That was one of my favorite shows. It really stands out. I also got to meet Jen [Ledger] from Skillet that day. Two British female drummers on the same bill, and we played back to back. When does that ever happen? [laughs] That was pretty cool. She checked out our show, and then I got to see the back end of theirs. It was great playing to that size of a crowd after I felt more comfortable in the band. Disturbed was there, and having been out on tour with them and seeing them again was great. I felt like it really wrapped up my first chapter with Pop Evil. I'll always remember that show. And the crowd was absolutely great that day as well. Advertisement
MD: How many were in attendance for that show?
Hayley: We think it was around 30,000.
MD: What drums are you playing on the road?
Hayley: I'm playing Sakae drums. They're based in Japan. They used to make the high-end Yamaha drums, and then they set out and made their own company. They're all stunning, handcrafted Japanese drums. At the moment they're a very small company—they're still growing, and I'm still growing. So it's a good relationship.
Ever since I started playing, I've always had the Yamaha sound in my head. I started off playing a Yamaha Stage Custom kit and my brother, who's a drummer too, has an '80s Yamaha 9000 Recording Custom kit. That's always the sound that's in my ears. When I tried out the Sakae stuff, it was like, Okay, this is what I want to hear. I've also just signed on with Zildjian as well, which has made my life. For the last few months I've felt so blessed and so lucky, although I've been chiseling away for many years.
MD: What shells and sizes are you using?
Hayley: I'm using the Almighty Birch series kit with a 14″ bubinga snare, 10″ and 12″ toms, 16″ and 18″ floor toms, and a 24″ kick.
MD: What drumheads do you use?
Hayley: My heads at the moment are the Evans 360 G2s. I don't have a head endorsement right now, so I'm trying a few different things on the snare. I usually use a Remo Controlled Sound Reverse Dot Coated. But our front-of-house engineer is a drummer, and he's always used certain Evans models. We kind of go back and forth, trying to find the right thing for the past Pop Evil material while thinking about the future. Advertisement
MD: What Zildjian models are you using at the moment?
Hayley: I'm using 18″ and 19″ K Dark and 18″ K Custom Dark crashes, a 21″ A Sweet ride, and 15″ K Light hi-hats. I'm switching between two Chinas at the moment. I've always used the 18″ FX Oriental China Trash, but I thought I'd also try out the K Custom China as well.
MD: How about sticks?
Hayley: I use Promark Shira Kashi Oak 5Bs.
MD: Have you had any specific musical challenges adapting to Pop Evil's material?
Hayley: No. When I first applied for the job, I played through their entire back catalog, back to back, on my own at home. I was thinking, This just feels so right. You know when you just play along to a band and you think, This is right for my body. This is right for my brain. I can see myself playing this every night and feeling good about it. From the first rehearsal, I turned up and they expected me to play a few songs. I did their entire set. I felt like that was a pat on the back and a sign that it was right that we were playing together. Both personally and musically, it just seemed to jell very quickly. Of course, there were a couple of songs that took a bit more work. It's not that they were technically difficult. It's just that I needed to sit on it for a bit longer with the guys, like the tempo just didn't quite sit right with me. The last single, "Take It All," was the song I found hardest, yet it's possibly one of the easier drum patterns of the lot.
MD: Will the new recording you're working on this spring be a full-length?
Hayley: Yes, it's supposed to be quite extensive. Without going into too much detail, there are big plans for making it a special album to really grow from where Pop Evil has come.