Heavy Metal Musicians and Music Executives to be Honored at Ceremony
Musicians and music industry executives will join together to be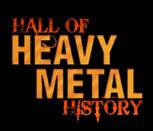 inducted into the annual Hall of Heavy Metal History during a ceremony on Wednesday, January 18, 2017 at the Anaheim Expo Center. Television and radio icon Eddie Trunk will host the event.
Proceeds from the event are being donated to the Ronnie James Dio Stand Up and Shout Cancer Fund. Sponsors include knac.com, Pepsi, TD Bank, Promark, Drums and Disabilities, Evans, and Modern Drummer.
The 2017 Hall of Heavy Metal History inductees include Ronnie James Dio, (Rainbow, Black Sabbath, and Dio), Rudy Sarzo, (Ozzy Osbourne and Whitesnake), Frankie Banali (Quiet Riot), Lemmy Kilmister (Motörhead), Ross "The Boss" Friedman (Manowar), Vinny Appice (Black Sabbath and Dio), Don Airey (Deep Purple), Randy Rhoads (Ozzy Osbourne), and Andy Zildjian, president/CEO of Sabian. Additional artists and music industry executives will be announced. Advertisement
"The Hall of Heavy Metal History is dedicated to preserving the legacy of those legendary metal musicians who are often forgotten," said Hall of Heavy Metal History president/CEO Pat Gesualdo. "This event is something the fans have been wanting for a long, long, time. As a non-profit organization, we are also dedicated to working with Wendy Dio and the Ronnie James Dio Stand Up And Shout Cancer Fund."
A press conference and general admission entrance will commence at 6:30 pm and the induction ceremony will take place from 8 pm to 9 pm. A VIP meet and greet with the celebrity inductees will take place after the ceremony. Live bands will perform throughout the night.
Tickets are $25 for general admission, and $75 for a meet and greet with the inductees. A general admission ticket is required to attend the meet and greet event, which includes pictures and autographs with the inductees, a gift bag with a VIP pass, limited-edition autographed poster, event t-shirt, program, and additional sponsor items. Advertisement
The Hall of Heavy Metal History is a non-profit organization dedicated to enshrining legendary musicians, music industry executives, DJs, journalists, and producers who are often overlooked, but responsible for making heavy metal music what it is today.
For tickets, please go to www.thehallofheavymetalhistory.org/store.