Video Demo! Natal – Café Racer Series Drumset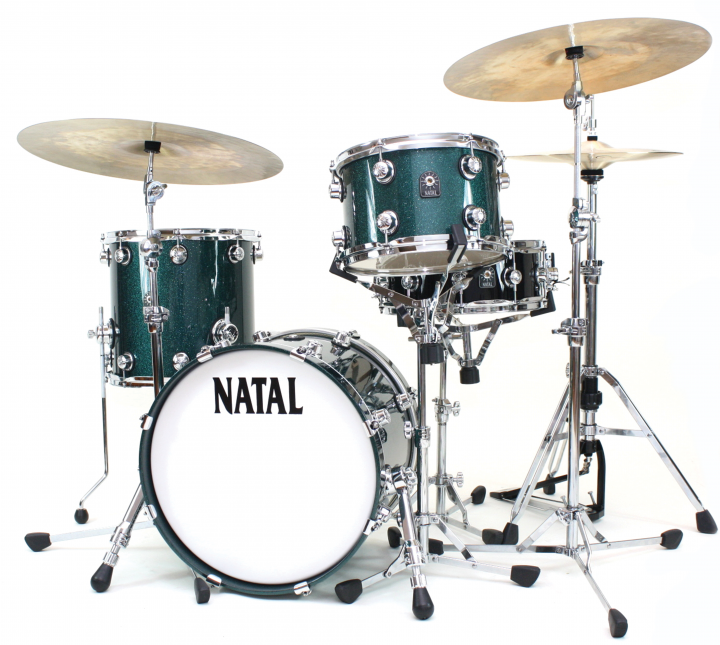 This excerpt is taken from the complete article that appears in the February 2017 issue, which is available here.
Product Close-Up
Natal
Café Racer Series Drumset
A compact, bop-size kit with a big, buttery sound.
Natal was launched in 1965 by British percussionist Alan Sharp after he spent seven years assembling instruments that he wanted but couldn't find in the U.K. Sharp's fiberglass congas were favored by many top rock acts of the time, including Santana, T. Rex, Led Zeppelin, Fleetwood Mac, Deep Purple, and the Rolling Stones. Marshall Amplification purchased Natal in 2010 with the aim of expanding the brand to include a range of professional drumsets, snares, and hardware while maintaining a strong connection to the company's heritage.
Natal's initial drum catalog included metal and stave-shell snares and ply-shell drumkits made from ash, birch, maple, bubinga, and American walnut. In early 2016 the company released a new series, Café Racer, which features North American tulipwood shells. Like Natal's other ply-shell drumsets, the Café Racer is made in Taiwan but is quality-controlled by the company's team in the U.K. Tulipwood, which is also known as tulip poplar or yellow poplar, is a softer wood with a yellowish brown color, and it has been used in drum making for many years, most notably for the center ply in the highly coveted 3-ply shells made by top American companies in the 1950s and '60s.
Michael Dawson
For the complete review, check out the February 2017 issue, which is available here.