On the Beat with Tom Ogden of Deaf Havana: Talks Influences, Setup, and New Record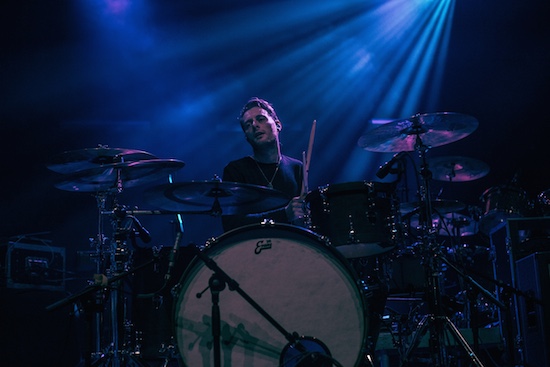 Hi, Modern Drummer readers. Let me start by saying how thankful and honored I am to be writing an article for such a great magazine and online community. So many drummers from so many styles have influenced me—I'm a massive Travis Barker fan since the age of twelve, and that's where my love for drums began.
Since I starting playing sixteen years ago, I've been influenced by loads of different styles, although my heart has always been very close to the rock world. I'm a massive Ilan Rubin fan, along with Taylor Hawkins, Charlie Watts, Dave Grohl, Tony Royster Jr., to name a few. I've also recently started to attempt my drum grades; I actually took my grade five this morning (wish me luck). I've always wanted to reach grade eight since learning about the exams, and something last year just made me go for it.
The equipment I'm currently using sounds so good for the type of music I'm playing, especially the sound we went with for the new record. I use a Truth maple kit, 24″ kick drum, 12″ and 16″ toms, and a 14″ snare. I've also recently changed my cymbal setup to suit the new record. I'm currently using Sabian 15″ Artisan hats, two 19″ Artisan crash cymbals, a 20″ Legacy ride as another crash, and a 21″ Legacy ride. They're the best sounding cymbals I've ever used, and sound amazing on the record. Advertisement
Our new album, All These Countless Nights, comes out in the UK on January ‪27, 2017. It's definitely the happiest I've ever been with any of our albums. I feel as far as the drumming is concerned, our producer Adam Noble and myself tried to capture a lot of it live. I found out by recording the album that I actually play better when playing with other musicians, rather than just a click. I'm incredibly proud of what the band has achieved with this record—we definitely gave it everything, and hopefully we will bring a tour over to America soon.
I hope everyone that reads this gets a chance to check out my band and listens to the new album when it's released. Thanks for having me.
For more, visit www.deafhavanaofficial.com.
Photo by Caroline Quartier