On the Beat with David Cyrus MacDonald of Paper Lions: Talks New Approach, Show, and Setup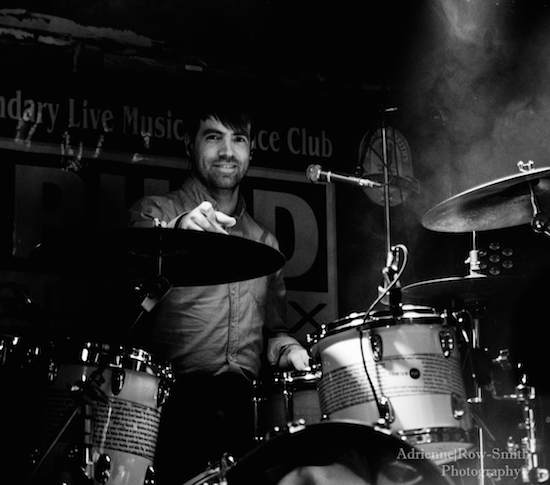 Hello everyone! I'd like to talk about our latest record Full Colour. It's the first album we released in which the drums were primarily written in the studio, largely built from sampled sounds and custom beats that I would then learn to apply to the drums. This was a very different process from our previous records and allowed me to think about my drumming in new ways. Many of the beats I would never have thought up in my practice space, but thanks to this approach I am now able to serve the song with less creative limitation, regardless of how natural they felt to play at first.
This, along with having a more complex live show, has really changed the way I perform. Most of the show is now tied to midi lighting, timed projections, etc., which means I play with a click. I also introduced triggers on my snare and kick so I can use tones from the recording in the live show. This has changed my level of responsibility in the show, which in some ways is more difficult, although it's also really comforting for me to have that tempo reference readily available.
I used to do a lot of things during the show, like four-stick drum solos, that would really set the crowd on fire. While that was fun to do, it's a little less of my focus now, partly because I don't want it to become an expectation that a big bombastic solo will be happening. If I bring it back sometime I'd rather it be a surprise—or just so musical and powerful that people want to hear that particular piece of drum music time and time again. So right now I can travel with a really simple but effective setup. Advertisement
My main kit is custom built by Amiel Leblanc at East Coast Drum Craft. The maple shells are wrapped with art that looks like a pattern from a distance, but it's really my father's poetry. I picked out some of my favorite poems that relate to my childhood. One called "Chicken Legs," for example, was about me acting tough in the hockey dressing room, only to get out of my gear and walk away as the fragile little boy I really am.
I'm using a 20″ kick that is also 20″ deep; it has a great bottom end to it. I've mainly been using the 12″ and 14″ toms, tuned fairly low and quite open for a boomy '80s sound. I use a thin 18″ or 20″ ride (usually a Sabian Manhattan) as a crash, because I like that big washy sound. And I'm using a Sabian Vault for my ride, which I don't feature a lot, but it shows up here and there.
These days I've mostly been using a Pearl 6.5″ deep snare for that dry, deep '70s punchy sound, but have been finding myself trending back toward a cleaner snare sound and have been reintroducing my Yamaha Maple Custom Absolute on occasion. I accent the snare and bass drum with samples on a Roland TM-2 module. Advertisement
I just wanted to wrap up by saying how honored I am to be part of "On the Beat" with Modern Drummer. This is a really big deal for me personally as a reader, and is motivation for me to keep pushing my craft, working on my chops, and building drum sounds that I hope will please the listener and inspire the next generation of drummers.
For more on the band, visit www.facebook.com/paperlions and www.twitter.com/paperlions.