On the Beat with Amadeus of Trey Songz and Drummer at Drais Night Club in Las Vegas: Talks Tours and Residency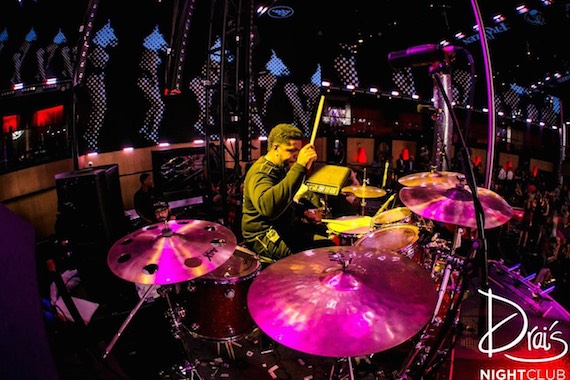 Hello! Hope all is well, my Modern Drummer family! I would like to say thank you and that I'm humbled and honored to be featured in this "On the Beat." I'm known as Amadeus, and I'm blessed to be a multi-platinum record producer, musical director/drummer for Trey Songz, and most recently, a residency drummer at Drais Night Club in Las Vegas.
I'm from NYC (South Bronx), and have been playing the drums since I was ten years old (by way of church and school). Drums have always been my beat to life, from banging on desks during my school days to my first record placement (Cradle to the Grave soundtrack) during my high school career.
Since then I have been fortunate to produce over sixty major artists—J. Lo, Trey Songz, Chris Brown, 50 Cent, Justin Bieber, Fabolous, T.I., Keyshia Cole, and more.
I have been the musical director and tour drummer for Trey Songz for the past ten years, traveling the world three times on tour with him. Again, I am blessed and humbled to say that.
Being the resident drummer at Drais Nigh Club in Las Vegas has truly been fun. I'm playing the drums and providing energy by dazzling the crowd during the drummer versus DJ set; it's the first of its kind, so it's amazing to see the club and audience react to me playing drums. Advertisement
I'm also touring the country with my educational Music 101 College Tour, educating students on the music business/industry. I have been happy to uplift students from NYC, Philadelphia, Chicago, DC, Dallas, San Jose, and Las Vegas, to name a few.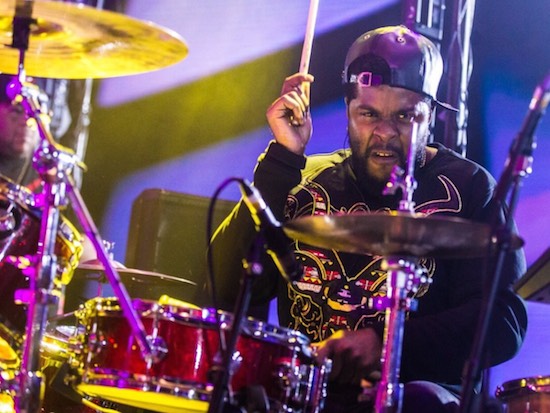 Thank you Modern Drummer for this opportunity, and to my fans: Thank you, thank you, thank you for all your support!
If you are in Las Vegas, stop by Drias Night Club, and if you are at Trey Songz's concert, stay after and I will say hello and give you my drumsticks. If I'm in a town near you with the Music 101 College Tour, please come by. Thanks for checking me out!
For more info on Amadeus, please visit www.platinumboymusic.com, www.instagram.com/amadeuspbm, and www.twitter.com/produceramadeus.