Taylor Hawkins Mentors Students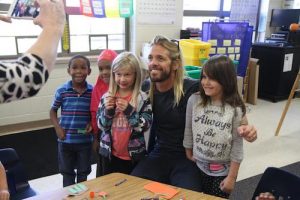 Taylor Hawkins of the Foo Fighters drummed with students at Riverside Central Elementary School in Rochester, MN on November 3. The visit was a celebration of the school's new infusion of arts and music education, through President Obama's Committee on the Arts and the Humanities' Turnaround Arts program.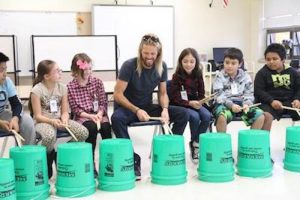 Turnaround Arts empowers sixty-eight high-need, low-performing schools in the US with resources, art, music, theater and/or dance programs, musical instruments, arts integration across subject areas, and a Turnaround Artist mentor, as a strategy to
address challenges and turn around struggling schools.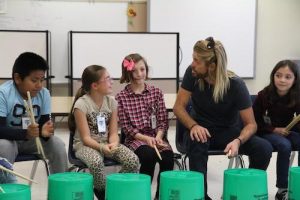 Turnaround Artist mentors such as Hawkins, Jack Johnson, Sarah Jessica Parker, Chad Smith, Elizabeth Banks, and many more, are each paired with a Turnaround Arts school to offer guidance, inspiration, and encouragement throughout the school's journey with the arts. Advertisement
Photo credit: Keli Retzlaff (Rochester Public Schools)