January 2017 Issue of Modern Drummer magazine featuring Chris Dave

(Available in print and digitally November 30, 2016)
Volume 41 • Number 1
On the Cover
Chris Dave
"I try whatever I can think of. There's no limit on anything."
The drummer refuses to commit to one kit setup—there are simply too many ideas he wants to explore. What he does commit to without fail is the music— just ask Adele, Robert Glasper, Meshell Ndegeocello, Kenny Garrett, or anyone else whose work he's elevated sky high. By Ken Micallef.
FEATURES
SNARE DRUM EFFECTS
Some people say you can never have enough snare drums to choose from. But not all of us have such deep pockets. These sixteen off-the-shelf products could provide the answer. By Willie Rose.
GUNS N' ROSES' FRANK FERRER
The ten-year GNR vet stays hot and hungry by keeping his earliest experiences top-of-mind and close to his heart. By Jamie Blaine.
WEEN'S CLAUDE COLEMAN
The world's a better
place now that his main band has ended its long hiatus. But that's far from all that the industrious drummer's been up to lately. By Patrick Berkery. Advertisement
FRANK ZUMMO
The latest stop on this journeyman drummer's career path is Sum 41. Currently he's hitting
it hard on the road behind the pop-punk band's latest album, 13 Voices. By Billy Amendola.
AT THE DRIVE-IN'S TONY HAJJAR
The profoundly influential post-hardcore band is back and burning, and its drummer is still finnding new ways to slam its musical messages home. By Ben Meyer.
UP & COMING: JONATHAN BARBER
He's appeared on cutting-edge albums by Kris Allen, Jeremy Pelt, and Kendrick Lamar producer Terrace Martin. And he's been equally impressive leading his own groups on Manhattan's legendary jazz scene. By Ken Micallef.
Lessons
Basics – The Swampy Double Groove
Grease Up Your Phrases ~ by Rich Redmond
Strictly Technique – Swiss Rudiments
Basel Drumming, Part 3 -~ by Claus Hessler
Rock 'n' Jazz Clinic – Groove Construction
Part 9: Split Grooves ~ by Jost Nickel
Jazz Drummer's Workshop – Papa Jo Jones Drum Fill
Incorporating a Classic Jazz Lick – by John Xepoleas
Rock 'n' Jazz Clinic – Groove Construction
Part 8: Three-Note Variations – by Jost Nickel
Rock Perspectives – A New Perspective
Displacing Two-Over-Three Polyrhythms ~ by Aaron Edgar
Concepts – A New Year, A New You?
Reviewing and Renewing Your Goals, Part 1 ~ by Russ Miller
EQUIPMENT
Product Close-Up
• DW Collector's Series Cherry/Mahogany Drumset
• Istanbul Mehmet Sahra and Kirkor Signature Rides
• RBH LED System
• Tama 6×14 Poplar Prestige Snare
• Latin Percussion Americana and Matador Cajons, Cajon Saddle, and Percussion Pack
Gearing Up: Van Halen's Alex Van Halen

New and Notable
DEPARTMENTS
AN EDITOR'S OVERVIEW – Adapting To Change

by Willie Rose
Readers' Platform: Which Grip Do You Use?

News:
New albums by the Outlaws and Radian, John Sherman on tour with Red Fang, and more
Retailer Pro file
Main Drag Music
Showcase Featuring Drum Market
Critique:
Rod Morgenstein with the Jelly Jam, Eric McPherson with the Fred Hersch Trio, Barrett Martin with Tuatara, and more
Kit of the Month – Spirit of America

Contest – Enter to win a DW Design series setup worth more
than $9,600!
---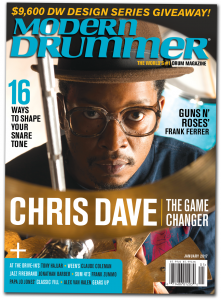 Get the January '17 issue!