On the Beat with Emily Estefan: Talks Musical Passions, New Album, and YouTube Channel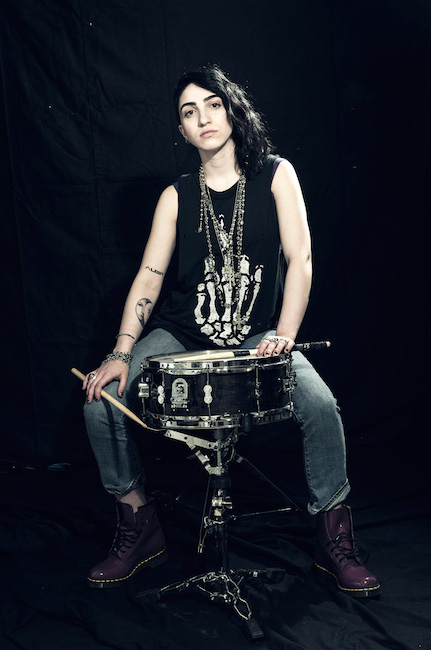 Greetings, earthlings! Emily Estefan here wanting to share a little bit about my musical journey. I grew up on the sides of stages watching some of the most incredible musicians playing their instruments for the world to hear—I was literally feeling the vibrations under my feet from a thunderous live band.
There wasn't a moment in my life that I can remember not wanting to make music. I often questioned whether I was good enough, but never if it was my passion. I was watching a video the other day of me at two years old banging on stuff with drumsticks and it cemented in me even more that it's been my passion since day one; it's my happiness.
Starting at the age of eight, I would play drums on tour with my mom in the middle of her show. As I grew older I was the drummer for my high school band. I would also gig around Miami with a local band. The drums were my safe place and my freedom all at once. My passion for music continued to grow and I went on to graduate from Berklee College of Music with a degree in contemporary writing and production and a minor in philosophy, with my principal instrument being the drumset. Advertisement
I finally decided to step out from behind the drums when I was eighteen and give my voice a chance. Following my singing debut, I decided to develop my own Emily Estefan YouTube channel and create "Fairy Light Fridays," where I cover songs and create videos, releasing them on Fridays for all to see. I understand the responsibility and importance of sharing thoughts of empowerment and self-worth through my music and lyrics.
In 2015, my original song and music video "F#ck To Be," celebrating individuality and the importance of not acquiescing to society's expectations, premiered on Entertainment Tonight. I had the privilege later that year to perform another original tune, "I Just Want It To Be Over" at the Miami Beach 100 Concert. That same year, I decided to create my own record label, Alien Shrimp Records, in the hopes that it will not only be a home to my original music but also for new and emerging talents and be a place for those artists to thrive and truly express themselves creatively.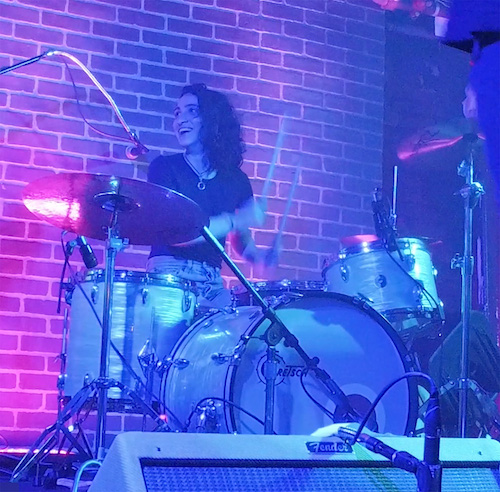 In 2016, Alien Shrimp Records signed a multi-year distribution deal with Sony Red in order to help spread "Music for the Planet," the mantra of the label which expresses my belief that music not only reaches across cultures and oceans, but space and time as well. Advertisement
While in college I wrote, performed, and produced my soon to be released first album, Take Whatever You Want, and recorded it in my college apartment (aka Fairy Light Studios). My newest single, "Reigns (every night)," is out now. It has a very light-hearted feeling, but a lot of underlying plot and something that you may not feel at first. You can check out the video on my YouTube channel to see my perspective of the song, but I say it all the time: I love the fact that music can truly mean completely different things to the people that listen to it and I think that's part of the magic of music.
Right now I'm looking forward to my first solo concert on February 2, 2017 at the University of Miami Music Festival, just telling my stories, putting out good energy and love to the world, and not being afraid to be my true self in my music. Drums are the backbone of communication through music. Traced back as far as we can go, drums were always present in humanity. To me, drums are not only safety and expression, but will always remain an integral part of my music and musicianship.
No matter what doors open in the future, it is because of my initial connection to music and protection behind the drumset that I took my first leap, barely reaching the pedals. I'm inspired to never stop reaching and will always stand on my tiptoes at shows to spy on the person holding down the band selflessly and with power behind the skins. If you want to follow me on this crazy musical journey you can check out my info below. Thanks for reading along and hope to see you all out on the road soon! Advertisement
For more on Emily Estefan, visit www.emilyestefanmusic.com.
Twitter: @emily_estefan
Instagram: @emily_estefan
Facebook: Emily Estefan Music
YouTube: Emily Estefan
Watch Emily Estefan's "Try a Little Tenderness" at
a flashback video clip
and her 2015 drum solo with the Groovedogz here:
Portrait Credit: Omar Cruz
Live Shot Credit: Estefan Enterprises