On the Beat with Adam "A-West" Bannister of Death Valley High: Talks New Album and Kit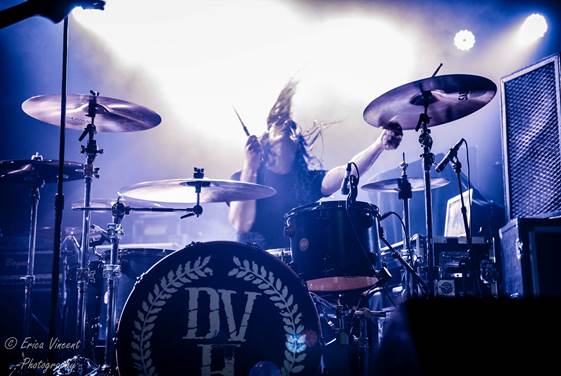 Hello, MD! Adam "A-West" Bannister of the band Death Valley High here. We are a "death disco" act with thousands of miles and hundreds of intense shows behind us. In the last few years we have toured the US, UK, and Europe with bands such as Filter, Mindless Self Indulgence, Crosses, Orgy, and Sonic Syndicate.
We recently finished tracking our latest album CVLT [AS FVK] with producer Ulrich Wild, known for his work with Deftones, White Zombie, Dethklok, Static-X, and more. It was a thrill to be in the same bat cave that Gene Hoglan has tracked in!
I recorded on my trusty DW Collector's Series that I also use for touring. I'm a heavy-hitter and I lean toward the larger side for drums and cymbals. I use 13″, 16″, and 18″ toms as well as an older Pearl Free-Floating maple 8×14 snare. My 24″ kick is there to drive the graveyard stomp that is vital in our death-rock meets dance meets hardcore sound. I use Sabian cymbals all the way around. I use 14″ HHX Stage hats, a 22″ HHX Stage ride, a 20″ AA Rock crash, a 20″ AA Medium crash, and a 20″ AAX Ozone crash. Anything smaller doesn't cut through the volume of my necros with the guitars. Advertisement
Our first single from CVLT [AS FVK] is called "Warm Bodies," which starts out with a creaky synth line before dropping some samples to introduce the dirty bass and buzz saw guitars. We used drum samples many places on the record to make it sound larger than life. I purposely down-tuned my snare as I felt it would mesh better with the overall tone of the album, even doing takes with a Big Fat Snare Drum in place.
Live, I play to a click to stay aligned with the tracks that I run from Logic on a laptop behind the kit. I also have a secondary computer in my rack that acts as a video server for shows where we run projections. It runs software listening for midi triggers from Logic to call up certain video clips, all of which we have created ourselves.
Below is the preview video for "Warm Bodies" to give you the chills. The full NSFW video by Brian Cox of Flarelight Films came out the first week of September and was premiered by Bloody Disgusting! We will also be heading out on tour this fall and winter. See you on the road! Advertisement
Watch "Warm Bodies"
and "How2Kill": 
Connect with DVH:
www.facebook.com/deathvalleyhigh
www.instagram.com/deathvalleyhigh/
www.youtube.com/user/deathvalleyhigh
Photo by Erica Vincent