Video Demo! Zildjian – Avedis Series Cymbals
This excerpt is taken from the complete article that appears in the December 2016 issue, which is available here.
Product Close-Up
Zildjian
Avedis Series Cymbals
A retro refit of classic '50s designs for today's applications.
Given the great success of the vintage-style Kerope line, which was launched at the 2014 Winter NAMM Show as a tribute to highly coveted Turkish-made K cymbals, it comes as no surprise that Zildjian would do a similar reworking of its seminal brighter-sounding A series.
The A series was Zildjian's initial offering when it opened shop in Massachusetts in 1929, and those clean, bright, breathy tones can be heard on many landmark pop, R&B, jazz, and rock 'n' roll records throughout the twentieth century. The Avedis series pays tribute to those original cymbals and is named in honor of Zildjian USA founder Avedis Zildjian III. These new old-school cymbals are available in limited sizes (14″, 15″, and 16″ hi-hats and 18″, 19″, 20″, 21″, and 22″ crash/rides). All Avedis cymbals feature a special aged-patina finish, a hollow late-'70s-style Zildjian logo on the underside, a '50s-era trademark stamp, and a small logo on top that was generated from Avedis's passport signature. The bell shape and bow curvature used on the Avedis series is similar to those of cymbals made in the '50s. We were sent a complete setup to review, so let's check them out.
Michael Dawson

For the complete review, check out the December 2016 issue, which is available here.



---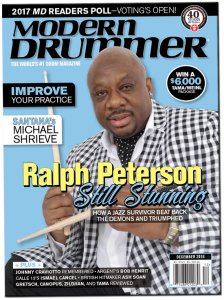 Get the December issue!