Regina Drum Festival 2016: The Beat Goes On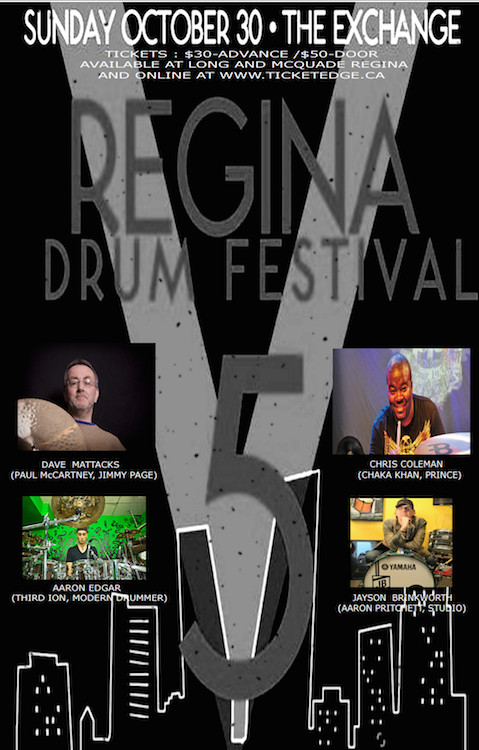 The 2016 Regina Drum Festival is excited to celebrate year five as a world class, international drum event on Sunday, October 30 at the Exchange. As the first four years and the 2015 Education Series have proven, Regina is on the global music map as a place for drumming inspiration and motivation. As with the past years, the 2016 lineup extends to players from across the world and a variety of musical styles and backgrounds.
From London, England, Dave Mattacks (Paul McCartney, Elton John, Jimmy Page, Fairport Convention) will speak about what it takes to work with legendary artists and what they need from a drummer. Chris Coleman (Prince, Chaka Khan, Israel and the New Breed) from Los Angeles, California will discuss what it takes to stay busy in the music industry as well as working with top artists. From Winnipeg, Manitoba the metal giant Aaron Edgar (Third Ion, Drumeo, Modern Drummer) will educate on releasing yourself to be the most creative player you can be and current metal drumming techniques.
Rounding out the event is Regina's own Jayson Brinkworth (Aaron Pritchett, Studio, Modern Drummer Education Team). Jayson will be performing with JJ Voss (guitar, vocals) and Brian Kelly (bass guitar and vocals). He will discuss the importance of dynamics, listening, and overall communication and trust when playing with other musicians. Advertisement
Ronn Dunnett will be on hand to talk about Dunnett Classic Drums and the George Way Drum Company.
Along with the festival education events, there will be a tradeshow featuring booths from Long and McQuade Music, SaskMusic, EPEK Drums, Stickman Drum Experience, and more.
More than a drumming event, the Regina Drum Festival is a chance for music fans to get a glimpse into music history, hear amazing stories, and enjoy great performances.
Tickets are available at Long and McQuade Music Regina and online at www.ticketedge.ca and are $30 in advance or $50 at the door.
For more information, visit www.jaysonbrinkworth.com/2016-international-regina-drum-festival/.