On the Beat With James Michael McLester: Help, Hope, Live: A New Lease on Life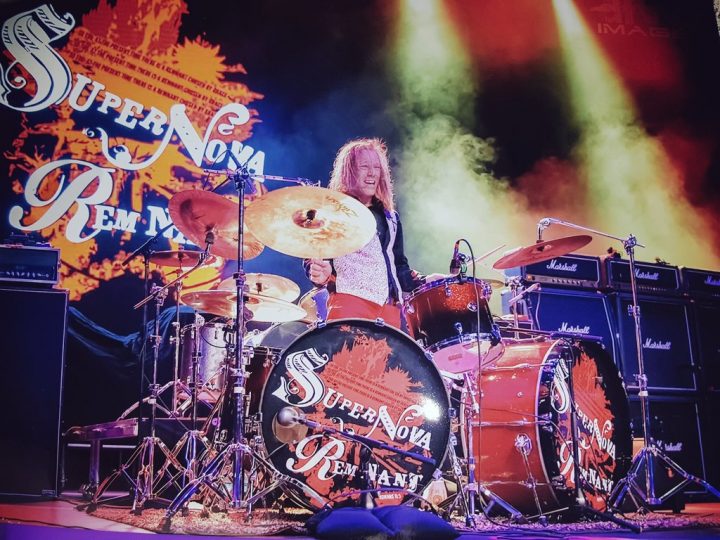 Hi everyone! Modern Drummer first featured me in a blog in 2010, and my last one was in 2014 (see link below). Since then, here is a bit of what's been going on.
My original project Supernova Remnant released our CD Rockets' Red Glare in 2015. Rockets' Red Glare enjoyed heavy rotation on FM and Internet radio stations across the globe. Their popularity has elevated since they performed at TBN television studios during our trip to NAMM in California.
We had tour dates in February of 2016 with Scott Stapp of Creed, Tom Keifer of Cinderella (May 2016), and George Lynch of Dokken (June 2016). Supernova Remnant will also perform a Christmas show in Dallas featuring some of the '80s top hard rock acts. We were nominated in five categories for the GMA (Gospel Music Association) Forty-Fourth Annual Dove Awards in Nashville, Tennessee and we are currently in pre-production for our upcoming CD Worship & Warfare.
I am grateful to be mentored by Dan Shinder of Drum Talk TV on branding my image and message to reach a diverse, global audience. Troy Luccketta of Tesla, Bryan Hitt of Reo Speedwagon, and Tommy Aldridge of Whitesnake have all been very supportive of my campaign Help, Hope, Live. Advertisement
My other musical projects of importance are being an integral part of gospel music at Crossroads Tabernacle, and performing in tribute bands such as Houses of the Holy (Led Zeppelin), Saints & Sinners (Whitesnake), Everybody Wants Some (Van Halen), Texas-Modern Day Cowboys (Tesla), and the '80s cover band Chaza Retta.
I am co-founder of Temple of Boom with DJ Drue Mitchell of JUCE TV/Mannafest and other worship events. I want to thank Bert Leahy, Neil Berthelot, Calvin Mims, DFW Images, and all my bandmates and their significant others. A very special thanks to Help, Hope, Live (Susann, Fran, Emily, Claudia, Shannon) and Texas Transplant Institute (Javier, Jewelya, Lisa, Dr. K., Dr. Bingaman, Dr. Wong) for keeping me rolling. Thank you to Modern Drummer and Drum Talk TV, and I am especially thankful to the wonderful fans and gear companies, including Tama, Vic Firth, LP, Zildjian, SKB, and DW, for being the best!
My hope is to inspire and enlighten my audience through Help, Hope, Live. One in ten people worldwide have life-threatening chronic kidney disease (CKD) and most don't even know they have it. I once had advanced CKD from mercury poisoning through mercury-laden fillings in my teeth. Thanks to Laura Suarez and the good Lord above, I received a successful, living kidney transplant December 9, 2015 and now work and tour full-time in music. Advertisement
Read James' MD 2014 blog here.
For more on James and his inspiring story, check out his interview from RiseUpEight here.
For more on James, please visit www.jmclester.com.