On the Beat With Terry Bozzio: Talks Artistry, Music, and 2016 Tour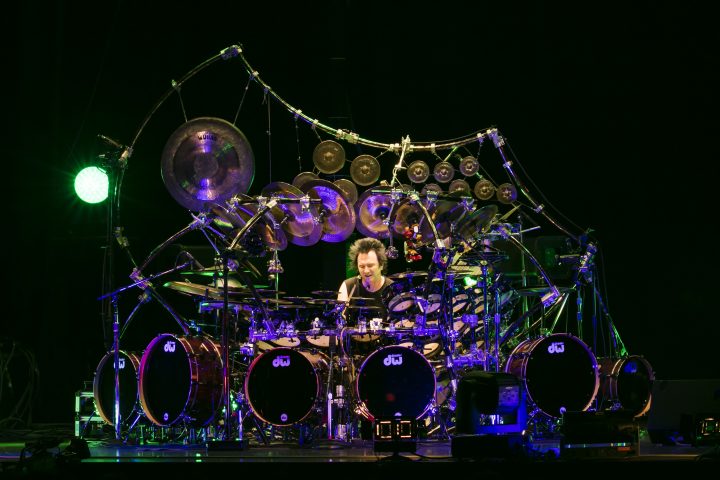 Hello my dear drum brothers! Some of you may not know who I am or what I've done for the past few years, or may not follow me because I don't fit into the popular music scene much these days. Many of you younger drummers may not even know who the most important guys I ever played with were (Frank Zappa, Jeff Beck, Missing Persons, and Mick Jagger might be some of the most well known). But for the last few years I've been touring as a solo drum artist, all on my own with no support except for a booking agent, PR guy, and my tech (both ex-drummers).
I'm able to do this because I'm trying to play music on the drums. To do that you have to use musical elements like melody, harmony, dynamics and orchestration, in compositional forms and structures, with contrasts in feels, moods, tempo, and styles. It's not like your or my idea of a two-hour traditional drum solo! Yes I've got a big kit and I have a hard time getting people to get past that "Come see the biggest kit in the world" circus act aspect of it, but does anyone ever think about why it's big? Well, when you think of any other melodic instrument how many notes do they have? Two, four, eight octaves? To play melodies you need to have enough notes to have enough variation to play something substantial, melodically. I can do that on a four-piece kit—but only for five minutes. Two hours of the same four notes is not my idea of an audience's good time.
So, my kit has thirty-six drums tuned diatonically and chromatically so I can play bass notes with my bass drums and melody lines with my hands (like a pianist can play a bass line or chords with one hand while playing a melody with the other). My influences are improvisational like Miles Davis, Joe Zawinul, and Weather Report, classical like Stravinsky and Debussy, and come from ethnic percussion styles worldwide. Advertisement
Some people say my performance is like a spiritual experience, or evocative of film music or dreams, still others say it's like "time traveling" (a two-hour show goes by like fifteen minutes), or I'm a "story teller." For me it's all about going inside and drawing the audience into my world, to try to find something beautiful or authentic or meaningful, and share it with others. I think that is the true ideal of all creative artists.
Somehow, I've gotten non-drummers to come to see me do this. I'm actually a bit surprised and disappointed at how few drummers come to my shows. (It's hard to explain how I play seven and five at the same time to normal people!) Now, I say the following in all humility, because there are many drummers technically better than me in a traditional sense, and all of us have a unique soul and manner of expression whether simple or complex, but, I taught my concepts for over twenty years at clinics thinking that everybody and anybody would be doing this by next year and no one has seemed to follow me!
So, if you are interested in seeing something totally different from what anybody else has ever done on the drums, come see me. I'll be at the City Winery, in New York City, September 25, and all over the US this fall. You might learn something new about drumming! And at least you might enjoy it like normal non-drummers. Like all of us, I do this because I must. Even if I didn't have to work for a living I would still want to play and practice drums everyday, and I seem to have found a way to enjoy creative processes in composition and art as well. I really believe it's culturally important (the drumset and jazz are unique American inventions), and to be honest, I think it keeps me sane. Advertisement
A few of my latest releases are the Terry Bozzio Composer Series, a box set of four CDs, Blu-Ray with a full size book featuring more than sixty paintings to go with each composition, and a DVD of a solo drum performance (Ward Records Japan and iTunes). Also out, Heavy Metal Bebop Reunion Band—live in Japan with all original members (Ward Records Japan and iTunes).
And coming in November is the History of Terry Bozzio live concert DVD, featuring me singing and playing favorites from my past with an all-star Japanese band (Ward Records Japan: http://wardrecords.com).
"An Evening With Terry Bozzio" US Tour 2016
September 7, St. Louis, MO, 2720 Cherokee
September 8, Springfield, MO, Nathan P. Murphy's
September 11, Nashville, TN, City Winery
September 14, Melbourne, FL, Studio Theater at King Center
September 16, Largo, FL, Largo Cultural Center
September 19, Raleigh, NC, The Pour House Music Hall
September 20, Washington, DC, Hamilton's
September 22, Philadelphia, PA, World Café
September 23, New Hope, PA, Havana
September 24, Newton, NJ, The Newton Theatre
September 25, New York City, NY, City Winery
September 27, Stafford Springs, CT, Stafford Palace Theater
September 28, Kingston, NY, Woodstock Music Lab
September 29, Fall River, MA, Narrows Center for the Arts
October 3, Detroit, MI, The Token Lounge
October 6, Omaha, NE, UNO Strauss Performing Arts Center Recital Hall
October 10, Chicago, IL, City Winery
October 11, Milwaukee, WI, Shank Hall
October 13, Minneapolis, MN, The Dakota
October 18, Seattle, WA, The Triple Door
October 19, Portland, OR, Doug Fir Lounge
October 20, Eugene, OR, WOW Theater
October 23, Oakland, CA, Yoshi's
October 24, Sacramento, CA, Harlows
October 26, San Diego, CA, (tentative)
October 28, Whittier, CA, Center Stage Theater
Booking by MAXIMUM Booking: info@MAXIMUMBooking.com
Publicity by Glass Onyon PR: glassonyonpr@gmail.com
For more on Terry, visit www.terrybozzio.com.