Drummer/Programmer/Producer Steven Wolf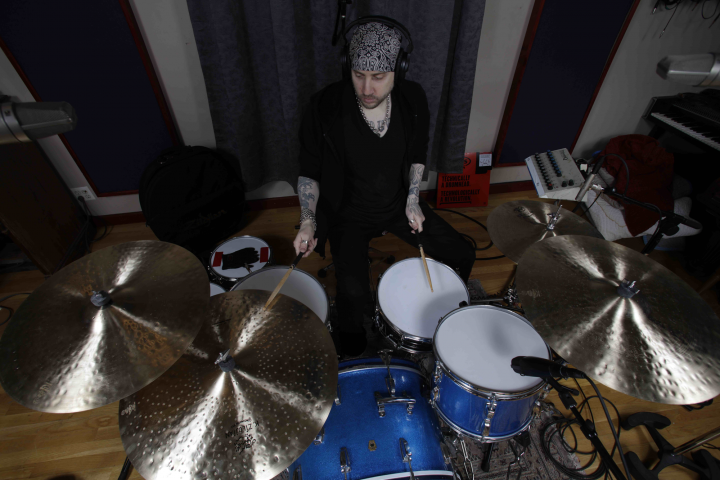 "Chops are impressive, but a deep groove will give people an emotional reaction and that's what will leave a bigger impression, especially when it comes to getting work."
We had so much more to talk to Steve about that we're continuing our interview from his MD October 2016 feature here online.
By Billy Amendola
Steven Wolf is, without doubt, truly one of today's modern day drummers. He has all the technique and chops, he can groove like a feel-good metronome, and his programmed drum parts make you think, are these real drums or not?
He's played on countless hit records, three of which are considered to be the biggest in the last decade: "I Kissed a Girl," by Katy Perry, "Girlfriend," by Avril Lavigne, and "Wrecking Ball," by Miley Cyrus. In the course of his twenty-five plus years playing professionally, and ultimately being comfortable staying behind the scenes, a handful of artists Steven has worked with include Alicia Keys, Beyoncé, Annie Lennox, Kelly Clarkson, Britney Spears, Pink, Celine Dion, Aretha Franklin, Chaka Khan, Cher, Joss Stone, Natalie Imbruglia, Leona Lewis, the B-52's, the Bee Gees, Johnny Cash, Rufus Wainwright, Daryl Hall, Sugababes, the Veronicas, Hiram Bullock, Oz Noy, Screaming Headless Torsos, Tribal Tech, Larry Coryell, Lenny Pickett, Patti Austin, Alex Bugnon, Helen Reddy, the Saturday Night Live band, Grover Washington Jr., and more.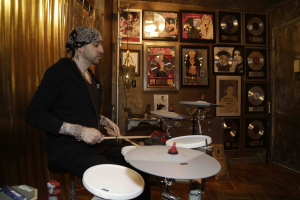 MD: Let's pick a few of the many popular songs you played on and dissect them a bit.
Steven: One of the most popular records I've worked on is probably "I Kissed a Girl" by Katy Perry. That song has become a part of pop culture. At the time of the recording, I was doing a lot of records with Dr. Luke and Max Martin. Luke and Max would either play me an idea, or possibly a fully formed song, ask me to flesh out the programming, or they'd talk about a concept and have me do some programming from scratch. Advertisement
The first song he had me work on was "I Kissed a Girl." Luke already had all the programmed parts, but he wanted live drums, mostly for the verses. The concept was to do the opposite of what he (and pretty much everyone else) had been doing on other records, where the verse would be a programmed part, and big live drums would come in for the chorus. For "I Kissed a Girl," he flipped it and wanted the verses to be a live kit, playing a glam rock shuffle, fill into the choruses, and then the choruses would be all electronic. Beat detecting is crucial for that type of record, where the live drums are blending with programmed drums and programmed synth.
I booked studio time at Mike Caffrey's place, Monster Island, and I set up one of Mike's house kits with his 6.5×14 Ludwig Blackrolite (I love that snare). I usually don't set up more than a four-piece kit and often will just set up a kick and snare without any toms, but I wanted to have a few fill options, including some multi-tom fills, for this track. We got sounds, tracked the verse groove a few times, and then I went back and tracked a bunch of fill options for going into the choruses. Luke stopped by at some point and he dug it, so Mike and I edited a few options for forms together, and then Mike beat detected everything and sent the stems to Luke. We edited together the final form for the live drums, and that's what ended up on the record. That single ended up being one of the biggest selling records of the decade and it made Katy a household name.
MD: Another popular record from around that time was "Girlfriend" by Avril Lavigne. How was that recorded?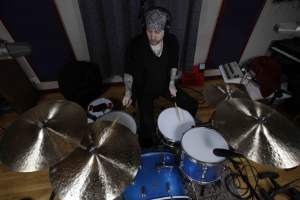 Steven: I worked on a bunch of tracks on that album—not just drums and programming—but production in general. In the case of "Girlfriend," they had a chorus written and an idea for the verses, so he told me the tempo, the form he wanted, and the vibe. The vibe was Green Day-sounding drums, and the form was very specific, right down to breakdowns on the first two bars of each verse, and the drums entering with a big fill on the second of the two bars, and the intro fill on the second break should be twice as big as the fill on the first one. Also, the pre-choruses should go to half time, and then fill back into double time for the choruses. At the time, I was still doing everything in the MPC, so I programmed fake live drums, with samples of my own kit and programmed the whole song to sound as organic as possible to the point that when I sent it to Luke he was the only one who knew the drums weren't actually played live. For two of the songs, Avril wanted Travis Barker to play drums, so he learned my programmed parts and played them live in LA. I played the drums on the rest, including "Girlfriend." Advertisement
"Wrecking Ball" by Miley Cyrus is an example of something extremely basic. There are no drums except for the chorus and it's just kick and snare, and it's a very simple groove, no fills. That song was already programmed when Luke sent it to me. He wanted a live kit doubling the programmed kick and snare. I tuned the kick and snare to the track, and then I tuned the toms to the track so when I hit the kick and snare, the whole kit rang in key and there was a lot of air. I did a pass of just kick and snare and then kick, snare, hat; then kick, snare, ride; and then kick, snare, crash-ride (riding on the edge of the crash). Then I did passes of just hats, just ride, and just crash-ride, and then hit some isolated crashes. Luke asked me to track those specific parts so he could put them all in the session, and then use whichever parts he wanted. On the record, the drums are blended with the electronic sounds and they're tucked into the mix, so they don't really stick out much. It's the kind of thing where you don't necessarily notice the live drums in the mix, but if you muted them, you'd definitely miss them.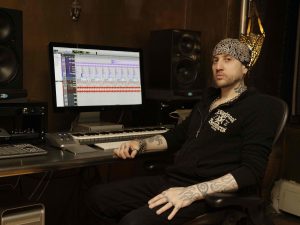 "Hot N Cold" by Katy Perry was pretty much done when Luke sent it to me and a bunch of my sounds were already on it. He asked if I could think of any other cool sounds to add. The way my sounds ended up on that was from other tracks I'd been working on at Luke's. He would regularly have me add drums to works in progress for all kinds of songs. One song in particular was a four-on-the-floor electro track, and he asked me to come up with something different than the typical EDM sounds. I got rid of the upbeat 909 hats and added an electro tom sound I'd designed on the upbeats. The sound was something I made on one of my synth modules at the time and I wanted it to sound like a sound I'd heard Sly Dunbar use when he programmed reggae tracks. It's like a low electro tom with a heavy envelope filter. I made a few versions of that sound, sampled them all into my MPC, and then loaded the sounds into Luke's MPC and I programmed that part.
Up until that time, I'd only ever heard that sound used in half time reggae tracks, with the sound playing all upbeats. I'd never heard it in a four-on-the-floor EDM track. Luke dug it and kept it in the track. I don't even remember what that original track was, or who it was for, but he ended up using that Sly Dunbar-esque part I programmed in the "Hot N Cold" groove, which is the same feel as the other track we didn't use. That's how music evolves—people listen to different styles of music and occasionally they work elements from other styles into new styles. It's rare that I get to do something so left of center on a pop record though. Advertisement
MD: Any other memorable sessions come to mind?
Steven: "People" by Aretha Franklin. It wasn't a hit, or even a single, but it was a memorable session. I got a call from Ann Mincieli, the owner of Jungle City Studios and Alicia Keys' engineer and producer, and she asked if I was in NYC or LA. I was in NYC, so she asked if I wanted to do a session that afternoon. I said yes, without even asking who the session was for, because if it's at Jungle City, you know it's going to be worthwhile. A typical day there, Alicia is recording in one room, Justin Timberlake is in another room, Jay Z, Timbaland, Pharrell, Beyoncé, U2, Depeche Mode, anyway, you get the picture.
So, I go to the studio to get sounds and I find out it's an Aretha Franklin session (with Babyface producing). I was beyond psyched. Aretha is one of my favorite singers of all time. They were working on Aretha's covers album and it was a cover of the Barbara Streisand ballad "People."
MD: Anything you would you like to address to our younger audience?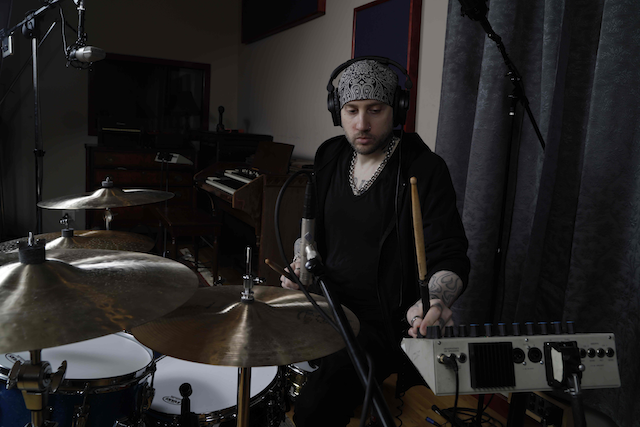 Steven: I envy kids coming up today, because it's all there on YouTube (laughs). And not only are there countless instructional and performance videos of their favorite drummers, but there are also countless videos of people breaking down the techniques of their favorite drummers. On top of having all that access to that music and information, they can get a Skype lesson with their favorite drummers. Advertisement
On the other side of that, there's far less individuality with today's young drummers. Because the information is so easily accessible, they don't have to work as hard to get the info. Back in the day, if you wanted to see Tony Williams play, you had to travel somewhere to go see him or show up at the venue early and hopefully get his attention or his tech's attention. I did those things to get into shows; you had to really want it. And if you were able to get in, then you savored it because it was a once in a lifetime opportunity. Also, because so many of us used to learn from records, without access to instructional videos, etc., you'd usually end up getting certain things wrong—like the exact sticking. But because of that, you'd end up playing something in your own unique way and that kind of thing led to developing your own style.
These days there's a whole generation of young drummers who play all the same way—they even set up their kits in the same way—right down to the cymbal stacks. Yes, this new generation has more chops overall than any previous generation, but it's very homogenous and in many cases their chops are more developed than their groove and overall musicality. So, while I envy the younger generation of drummers in some ways, I also feel for them in other ways. But don't get me wrong, there are some amazing new young drummers out there!
You can read more about Wolf in the October 2016 issue of Modern Drummer magazine.
For more on Steven, visit http://www.wolfedelic.com.
Photos by Paul La Raia