On the Beat With Davide Compagnoni: Project KHOMPA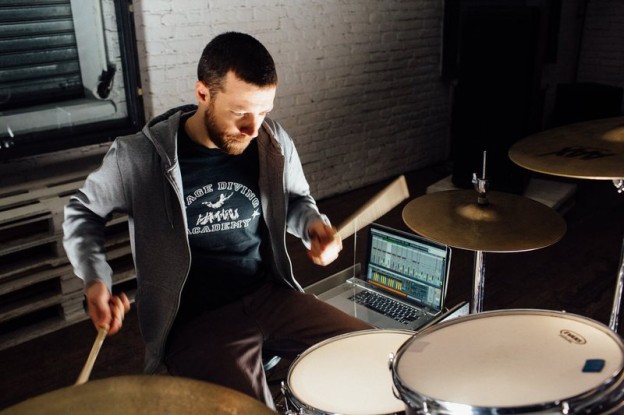 Hello, MD readers! I am Davide Compagnoni from Torino, Italy and I'm here to present my new adventurous drum-triggering project KHOMPA, which was launched on the Ableton Live website a few weeks ago!
Thank you Modern Drummer for this great opportunity. When I started playing drums I never thought that one day I would be featured in the bible of drumming, it is such an honor!
I started studying piano when I was eight, then guitar, and finally drums at the age of fourteen. I studied drums for several years as a private student, and then moved to London to attend a Master in Contemporary Music Performance at the renowned Drumtech Institute, where I was awarded "Best Overall Student, 2006." It was a wonderful learning experience.
I've been drumming with my instrumental band Stearica for the past twenty years and touring Europe countless times (I love touring). I also played with many underground bands, served as a session player for several Italian acts, and recently joined forces with the eclectic trumpet player Roy Paci in his main project, Roy Paci and Aretuska. For this project, I use three triggers (on bass drum, snare drum, and floor tom) and one drum pad. These triggers control a series of synths/samplers in Ableton Live, and thanks to an advanced step sequencer that I developed with Max for Live, I can set groups of notes for the various sections of the song (e.g., verse, chorus, etc.) to be triggered into the synths/samplers. Then to move from a section of the song to the other, I send a change-pattern signal to the step sequencer through a pedal that I modified specifically for this project. I use no click, no backing tracks, and no loops (so I can slow down and accelerate whenever I want). Every single note is triggered live on the fly. Advertisement
KHOMPA was a big challenge from the very beginning. At one point it really became a challenge with myself, and now I can proudly say that I won that challenge. I spent countless nights programming the step sequencer with my friend GUP Alcaro—a skillful sound designer from the Superbudda Creative Collective (Torino, IT)—and it wasn't quick, not at all. Then it was the time to find the right trigger setup, and if you've ever used drum triggers, you probably know they are definitely not easy to use; you really need to find the right hardware, right settings, etc. In addition, I am definitely a heavy-handed drummer and that was another challenge, as the more you play hard, the more triggers give you problems. But after trying several drum triggers brands, trying countless settings and really analyzing the way triggers reacted to my playing (using a dedicated MIDI monitoring software), in the end everything was working!
So, I decided to write some songs and I quickly realized that I could actually write an entire album, and here we are. The album is called The Shape of Drums to Come (a tribute to the Refused's masterpiece album The Shape of Punk to Come, one of my favorite records ever) and it is going to be out on September 2 via the mighty London label Monotreme Records. An entire album recorded live by one single drummer, with no automations, no overdubs, just like the live video you see below.
At the moment, I'm also working on the live show, experimenting on the visual part of it—with more news on that coming soon.
Thanks very much for reading and never stop experimenting!
For more, check out www.facebook.com/khompaofficial/, www.instagram.com/khompaofficial/, and soundcloud.com/khompa.
Watch the "Nettle Empire" video (premiered by Ableton) below: