Sabian Announces Crescent Clinic Tour
The Crescent Clinic Tour will take place at Sabian Hand Select Cymbal Boutiques, which are the exclusive dealers of Sabian's new Crescent line.
The tour sees Crescent stalwarts Jeff Hamilton and Stanton Moore set off separately across America to present clinics in their respective cymbal lines, Hammertone and Stanton Moore. Drummers will be able to demo the new lines.
Jeff Hamilton Tour Dates
August 15 – Columbus Pro Percussion, Columbus OH
August 16 – Professional Drum Shop, Hollywood CA
September 20 – Sim's Music – Columbia SC
September 21 – Fork's Drum Closet – Nashville TN
September 22 – Lone Star Percussion – Dallas TX
September 23 – Memphis Drum Shop – Memphis TN
Stanton Moore Tour Dates
August 16 – The Drum Shop – Portland ME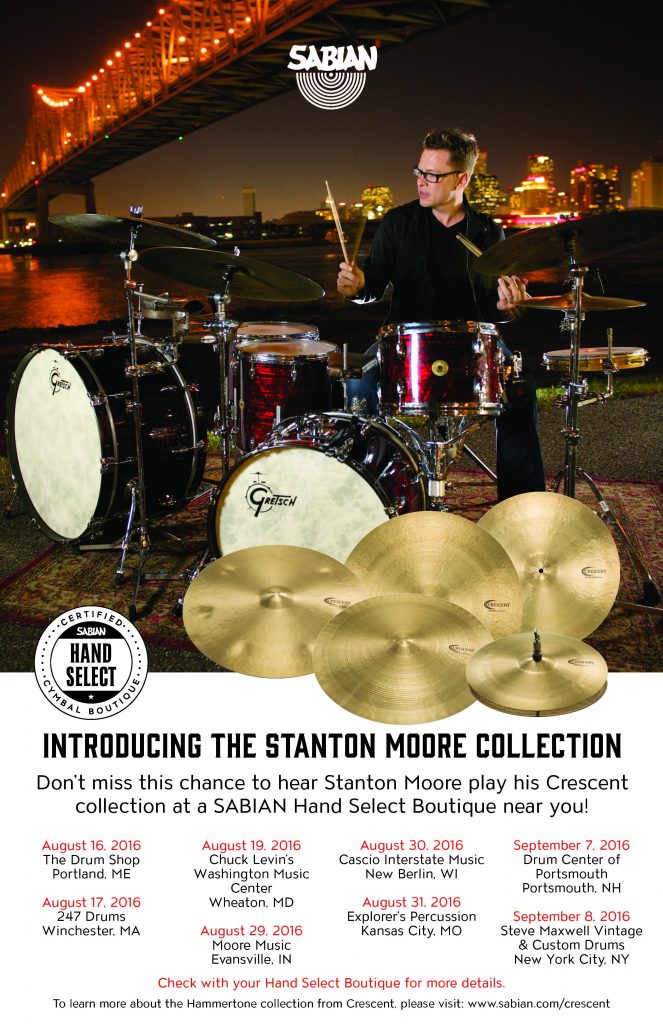 August 17 – 247 Drums – Winchester MA
August 19 – Chuck Levin's Washington Music Center – Wheaton MD
August 29 – Moore Music – Evansville IN
August 30 – Cascio Interstate Music – Milwaukee WI
August 31 – Explorer's Percussion – Kansas City MO
September 7 – Drum Center of Portsmouth – Portsmouth NH
September 8 – Steve Maxwell Drums – New York City NY
For full details, including start times, please contact your local Hand Select Cymbal Boutique. A full list of Hand Select Dealers is available at sabian.com/en/dealers/hand-select-dealers.