James Muschler on Moon Hooch's <i>Red Sky</i>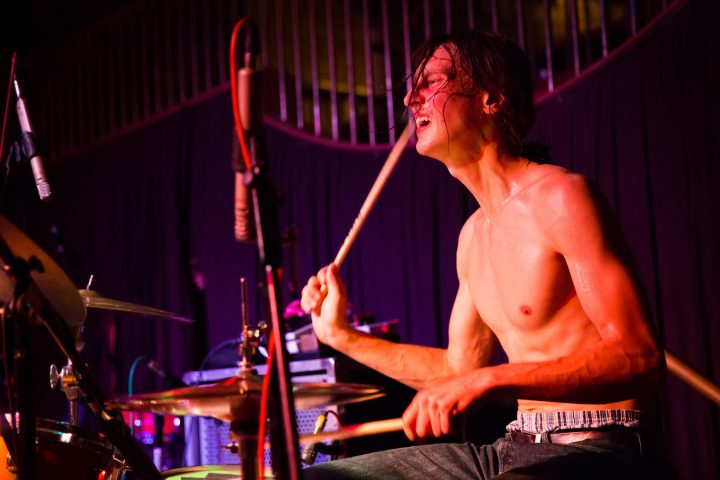 Jazz-meets-house trio Moon Hooch's third album, Red Sky, expands the group's danceable sound while maintaining a spirit of spontaneity. Modern Drummer Online asked drummer James Muschler about making the record and bringing its electro-acoustic blend to a live audience.
by Willie Rose
MD: A lot of the music on the new record maintains a groove-driven, electronic vibe in an acoustic setting while mixing in improvisation. Is there a balance between getting a listener to move and pushing the music forward in an intellectual way?
James: I'm always searching to find that balance, between playing what's needed to inspire movement, and playing what's needed to create something that's beautiful and unexpected. I think I'm finding that balance mostly through trial and error. Advertisement
MD: How much improvisation is involved in the drumming with Moon Hooch live? Is there a difference between playing with the group in a recording session versus a live setting?
James: There's quite a lot of improvisation. Every moment of the live set feels a bit on edge and very spontaneous. However, there's a framework that can't be ignored for the duration of the performance. We play the entire show to a metronome because every microphone on stage is processed by Ableton, and automations have been designed to occur at specific times. The dynamics need to be consistent because the mics have been mixed according to the way the set has been recorded. So it's a rigid structure. However, within that rigid structure, there's a lot of spontaneity. At a live show, there's an energy feedback loop happening between the three of us and the audience, which results in a more integrated experience and thus the potential for a more powerful and profound one.
MD: Who are your drumming influences? Are there any specific songs on the new record where you drew from any of them?
James: I would say that my top drumming influences include Elvin Jones, Tony Williams, Dan Weiss, Tyshawn Sorey, and Samir Chatterjee. Although they're not drummers, John Coltrane, Morton Feldman, Györgi Ligeti, and Karlheinz Stockhausen have been a big source of inspiration for me as a drummer. Hindustani Indian classical music has also made a big impact on me. On the new album, after the buildup of "On the Sun," I play a groove that's based on a tabla composition from the Delhi gharana in tintaal (a 16-beat cycle), which includes a backbeat and some ornamentation.
MD: What's the concept behind Moon Hooch in terms of instrumentation? Does the band have to compensate for anything live or on recordings, in terms of sonic composure? Or is there a freedom in not being tied down to a more "traditional" lineup? Advertisement
James: There was no preconceived concept for the instrumentation, because Moon Hooch was an accidental project. We were just playing down in the subway so that we could pay rent. After doing that for a while, we built up a repertoire and fans. There was, however, an initial concept behind the sound, which was based around house music, with a bass line played by a saxophone and melody or harmony played by another saxophone. We performed for years in subways with this concept and instrumentation. The saxophone has a lot of overtones, so two of them together can cover a large sonic spectrum. The drums produce sounds that are very low to very high, and because the sound of the subway is so reverberant, this stripped-down setup of two saxophones and a drumset was quite massive.
Once we moved to performing in venues, we were playing in a totally different acoustic setting, with large sound systems and no natural reverb. So exploring the possibilities for this new setting became important. We've steadily been adding a lot of instruments, including the clarinet, contrabass clarinet, bass saxophone, soprano saxophone, flute, electric wind instrument, bass synthesizer, tabla, and vocals. So there's a lot of freedom with this setup.
MD: Are there any lessons or concepts that were developed while studying at the New School for Jazz and Contempory Music in New York City that you apply to Moon Hooch, or to your drumming in general?
James: I studied privately with Dan Weiss while attending the New School. He exposed me to a lot of cool, creative concepts and ways of thinking about the drumkit that I draw a lot of inspiration from. One concept he exposed me to is taking an interesting rhythm and orchestrating it around the kit, either as a fixed composition or as a pattern that may repeat itself after some cycles. Then, see how creative you can get with aesthetics and dynamics. I've found practicing this to be fun, and the result is always very interesting. Advertisement
MD: Do you have any specific memories from your years busking in New York subways?
James: It was beautiful—spontaneous dance parties happened all the time. Halloween 2011 is my most vivid memory. We were down there for nearly twelve hours. At one point in the night, over a hundred people dressed in amazing Halloween costumes came pouring into the subway and started raging to the music. There's actually a YouTube video of this. It was really something special, how contagious it was. It really united people in a special way.
MD: Do you incorporate any electronics into your setup? If so, how? Or are there any techniques you use to replicate electronic sounds on acoustic drums?
James: All of the microphones on stage, including the drum mics, are processed, and we manipulate the live instruments to create dimension, depth, textural variety, and contrast. The sound of any and all the drums and cymbals—and all the instruments—can thus be affected at any time in any way.
There are also some techniques I've used to get electronic timbres out of the drums by purely acoustic means. One of them is to stack a few cymbals on drums to create a noise-wave sound. Every cymbal has different shapes, sizes, and overtones. So when you stack two or three cymbals on top of one another you can create some cool and unique "electronic" timbres. I've found that in general, lighter cymbals or bells placed on top of heavier cymbals create more desirable sounds. Advertisement
MD: Can you describe your setup and the gear you use?
James: Currently, and for the last three years, I've been using a Tama Starclassic kit with an 18×22 kick, a 10×10 rack tom, and a 14×14 floor tom, and a 5.5×14 Ludwig Acrolite snare. I'm playing 16″ Sabian AAX hi-hats and a 16″ flat ride with a 15″ Zildjian K crash on top. On my right side I have a broken 22″ Zildjian Dry Complex ride on top of a 22″ Jack DeJohnette Signature ride, a 12″ UFIP crash, and a 22″ Wuhan China cymbal.