On the Beat With Nate Walker of Another Lost Year: Talks Philosophy and New Album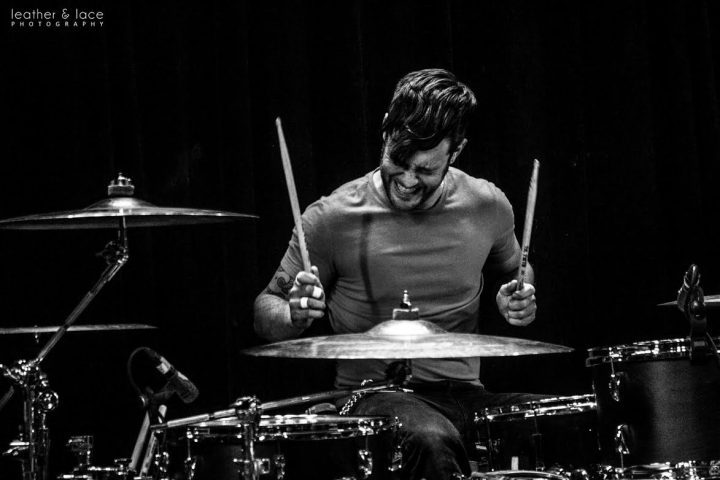 Hello, Modern Drummerville! I'm Nate Walker, the drummer of Another Lost Year. We're a rock band from Charlotte, NC and I've been in our lovely and always freshest of the fresh band van since April of 2013, originally as our FOH sound engineer/tour manager, then joining the dudes onstage in June 2014.
I had a very different musical upbringing than most people who end up life-long rockers. I grew up on my parents' southern gospel, jazz, country-western, old school R&B/soul music, and some other random stuff like Lionel Richie and Kenny G. For several years in my early teens I played for both my mom and dad's church praise bands—both live and on some studio recordings.
Our marching band program was basically a crash course in touring: long weekends on a bus hours from home, two-to-three-day trips, living out of duffel bags, all-day sweaty sun with thousands of music lovers and, of course, antics that will remain unspoken here. Looking back, I see that my philosophy on music was formed during these years—real instruments move air, speakers move more of it; the value of unheard notes; warm ups; practice makes permanent; and joy. Advertisement
During my senior year I started a pop-punk band and we started playing out immediately—before we had a demo, a thirty-minute set, and a vehicle that would haul our gear. We were traveling and playing with nationally touring bands as soon as marching band was over.
Since 2010, I've logged around twenty-five studio-drumming sessions with local and regional artists from Charlotte, Chicago, and Nashville. I've also co-produced a handful of studio projects for local and regional artists in Charlotte.
Most recently, the Another Lost Year guys and I have been up to our ears in our latest full-length album Alien Architect, which the band co-produced and I co-mixed, all under the direction of the infallible mastermind Jose Urquiza (3 Years Hollow) at the Attic Recording Studio in Illinois. We stayed true to what we do, and to what we loved about music in the first place: fun. I've always been amazed at the way some fans of other subgenres are basically at war with each other because of how their favorite music sounds. What!? So I feel like we've built an album that will hopefully be seen as an olive branch within the rock community. Advertisement
I've always been a stickler for gear that sounds clean, looks clean, and takes a beating in stride. Right now I'm lucky enough to be playing on basically all of my dream gear: Gretsch Marquee series in red satin 18×22, 8×12, 14×16, with a 6.5×14 Pork Pie Little Squealer, and Sabian AAXplosion all the way around—14″ hats, 16″/18″/19″ crashes, and 21″ ride (I'll also admit I play a 18″ Zildjian A Custom China). I swear by my Vater Power 3A's for their balance and driving power and I'll take Evans EC2 heads with me to the grave (on the stipulation of an unlimited supply of Drumtacs in the afterlife) for their crisp attack and warm body that sounds AHHH-maziiiiiing on my maple shells.
We are back out on the road to support Alien Architect so check our Facebook, website, and socials in your area to see when we're in your neck of the woods!
You can watch the video for our latest single "Wolves" here:
For more on the band, visit www.facebook.com/anotherlostyear, www.twitter.com/official_aly, and www.instagram.com/anotherlostyear