On the Beat With '60s Pop Idol Bobby Rydell: A Teen Idol's Seven-Decade Love Affair With the Drums
Hello MD! Bobby Rydell? Yeah, that's me! I was that teen idol guy in the early '60s who sang all those pop hits like "Wild One," "Volare," and "Forget Him." You know, the one with the huge pompadour haircut who was always on Dick Clark's American Bandstand, and then got to kiss Ann-Margret on-screen before he punched out Conrad Birdie in the film version of the hit musical Bye Bye Birdie.
That's the image of me that people most remember. But when I started out, I didn't want to be a singer or an actor. All I ever wanted to do was play drums for the rest of my life.
When I was five years old, my Dad took me to the Earl Theater in Philadelphia to see the Benny Goodman band. Every time his drummer took a drum solo, the audience went crazy. I turned to my father and said, "Daddy, I don't know who that man is, but I want to be like him." So if my grandmother, who lived with us, wanted to blame someone every time her pots and pans became my first drumset, she needed to yell at Benny Goodman's drummer, Gene Krupa.
A few years later, my Dad went to a local pawnshop and bought me a cheap set of red sparkle drums built by a company called Revere. They were pretty bad, but in the basement of our South Philly row home, I'd sit behind that drumset for hours playing those Revere drums to recordings of big bands and other popular music of the day. I didn't know what the hell I was doing but I had a good sense of time and picked up a lot by ear. Advertisement
In the mid-'50s, an unfortunate incident sent my drumming on a more focused path. My Dad lost one of his fingers at work when he was operating machinery. The company gave him $3,000 as compensation and he took some of that money and bought me a first-class set of black, oyster-pearl Ludwig drums—the same type of set Rin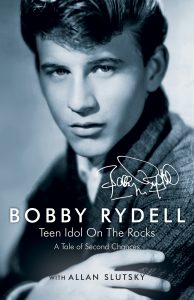 go Starr played a decade later with the Beatles. With a decent set to play on, I started taking lessons from Sam D'Amico, a guy in South Philadelphia that everyone studied with. But after a year or so he said to me, "Bobby, I taught you everything I know. I can't teach you any more. You need to go up to New York and study with Sam Ulano. He teaches some of the best players in the world."
In hindsight, I wish I'd taken Sam's advice but I wanted to get out and play and start gigging. By my early teens I was already a pro, playing clubs all over Philly and South Jersey at a popular spot down the Jersey shore called Bayshores in Somers Point. I was sitting in with a band called Rocco and the Saints that Frankie Avalon was playing in (that other teen idol). A guy named Frankie Day walked up and said he'd like to manage me. Within a year, I was signed as a singer to Cameo Records, a small, independent label that was on the verge of ruling the record charts for the next five years.
My dreams of being the next Gene Krupa were put on hold, but for the first two decades of my singing career I always worked a drum feature into every performance. Eventually, my onstage drum performances fell by the wayside, but at seventy-four, I still get a huge kick out of climbing back behind a set of drums, even if it's only in my basement—just like where I started. Advertisement
You can read more about my life in my recently released autobiography, Teen Idol on the Rocks: A Tale of Second Chances. Thanks to Modern Drummer for including me On the Beat!
Watch this exclusive MD video of Bobby here: 
Color Photo Credit: Scott Weiner