Tony Thaxton Returns to the Road with Motion City Soundtrack…One Last Time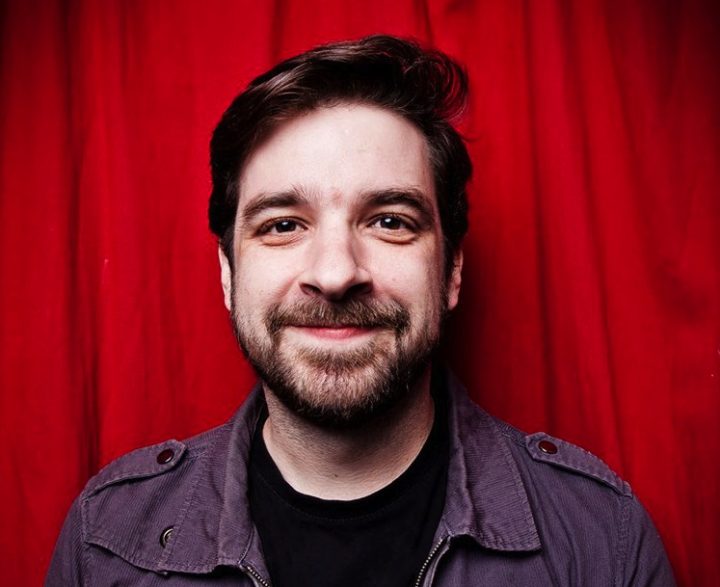 by David Jarnstrom
It's not a stretch to say Tony Thaxton's drumming is just as vital to Motion City Soundtrack's DNA as frontman Justin Pierre's infectious melodies and neurotic internal monologue. Trust me—my band shared a Minneapolis practice space with Motion City in the early aughts, when they cycled though timekeepers at a Spinal Tap-esque clip, searching in vain to find a rhythmic match to their curiously jagged, sugar-soaked songs. You could hear the potential, but the band was not quite awesome—mainly due to constant rhythm-section turnover.
It wasn't until Pierre and band cofounder Joshua Cain (guitar) hooked up with the Richmond, Virginia, based duo of Thaxton and bassist Matt Taylor that everything clicked for MCS. (Not to mention the addition of Moog specialist Jesse Johnson, before which Pierre did his best Geddy Lee impersonation, juggling vocals, guitar, and keys.) Thaxton's blend of propulsive punk energy, creative musicality, crisp execution, and math rock chops provided a crucial spark the band sorely needed, and laid a solid foundation for eleven-plus years of inspired recordings and legendary live shows.
Unfortunately, the rigors of non-stop touring ultimately led Thaxton to relinquish his drum throne just over three years ago. New drummer Claudio Rivera (formerly of Saves the Day, and Thaxton's longtime tech) did an admirable job in succession, but there's no substitute for an original, as they say. Thus, it was bittersweet when the news broke this spring that Thaxton was finally returning to the MCS fold—but only just in time for a victory lap with his old bandmates. Sadly, the nearly twenty-year-old pop-punk institution is finally calling it a day, but not before crisscrossing the globe one last time. Advertisement
MCS's "So Long, Farewell Tour" kicked off in May, and continues throughout the summer and fall, with dates all over the US, UK, Japan, and Australia. Modern Drummer Online spoke to Thaxton while he was at his Los Angeles home, preparing to depart for tour.
MD: How did you come to rejoin Motion City Soundtrack?
Tony: Well, I stayed in touch with everybody after I left. Matt [Taylor, bass] has been my best friend for twenty-plus years, and Jesse [Johnson, keys] is living in LA now, so I talk to both of them a lot. I heard that the idea of calling it quits was being tossed around, so I gave it some thought, like, "If they asked me to do one final run, would I do it"? Motion City was over eleven years of my life, and I played on all but one album. The more I thought about it, the less I could imagine not doing it.
So when the breakup was becoming more of a reality, I just threw it at Matt: "If you want to do a final tour, I'm open to it." So I guess they all talked and decided that's what should happen. I think everybody, including me, felt bad about the situation with Claudio [Rivera, drums], who came in and did such a great job taking over for me. I don't think he was necessarily thrilled about it, but we talked and there's no hard feelings. Advertisement
MD: Your inclusion on this tour will help give a proper sense of closure for the band and the fans. I have to imagine they're ecstatic about it.
Tony: Yeah, last year when the Commit This to Memory ten-year anniversary tour got announced, I was getting all kinds of Tweets and Facebook messages asking if I was playing, which I wasn't. It feels a little egotistical to say this, but I was like, "This is going be ten times what that was like." And that's exactly what happened. Within hours of the announcement going out, I was at home crying just reading what everybody was saying. People have been so nice over the years, but man, you want to hear some really nice things, tell people your band is breaking up. [laughs] Immediately I was like, "This is going to be a lot tougher than I thought." In a good way, though. It feels good to know we've affected so many people in such a positive way.
MD: Why did you leave the band in the first place?
Tony: I was burned out from being gone all the time, and I was also starting to really struggle with depression. It was just a bad combination. I was becoming very, very unhappy. I remember getting an email from our manager that was laying out our entire upcoming year, and I got sick to my stomach—just like, "I can't do this anymore."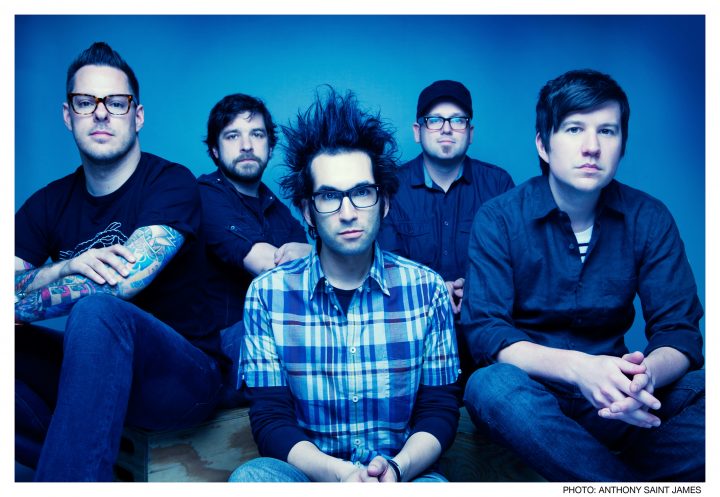 Motion City Soundtrack, from left: Jesse Johnson, Tony Thaxton, Justin Pierre, Joshua Cain, Matthew Taylor
I called Matt that same day and talked to him about it, and he talked to everybody else, and the next day we had a big conference call. That was one of the most difficult conversations I've had in my life. I barely said anything—because I couldn't say anything. We were a week away from doing a bunch of international dates and I was like, "I'll do this tour, but I think I have to be done after that." It had all been brewing for a while, but when it actually started happening it went down really fast. Advertisement
MD: Did you regret it at any point?
Tony: No. It was what I needed to do at the time. I'm in a much better place now. I made a lot of changes that I needed to make for myself—changes I don't know I could have made had I still been on the road. I needed to recharge my batteries. When music becomes your job, it can really wear you down. You don't ever get to go home, you know? I was recently playing drums with a friend of mine for a music video he was doing here in LA, and I finally had that realization of, "Oh, yeah, I do like this." Drumming is the one thing in life that I ever felt I was really good at. And it was weird thinking about how I hadn't been doing it very much lately.
MD: Was it hard making the transition from full-time touring musician to civilian life?
Tony: It wasn't easy, and I'm still dealing with it, to be totally honest. Being in a band sort of stunts your growth as an adult, you know? [laughs] I think I was twenty-three when I joined MCS, and then I was just always on the move for the next decade-plus. So when suddenly that's all gone… I got home and I didn't know what I wanted to do, and I didn't feel like there was anything I really could do. Thankfully I had a nice cushion that I'd saved up over the years, which gave me some time to figure it out. I feel that all the changes I made in life are now finally starting to work out, and opportunities I never even considered are starting to come my way.
MD: What have you been doing lately?
Tony: I have a lot of friends in the comedy scene out here, and I record podcasts and live shows for all these really funny people. A while back I came up with this idea for my own podcast that was based around Christmas, called Feliz Navipod. The loose concept is I'm sitting around, and suddenly there's a knock on the door, which is usually one of my comedian or musician friends. We talk about Christmas memories that person might have, and somebody might say something that would inspire me to write a dumb little jingle to add in postproduction—sort of like the cheesy old Christmas specials where they're talking and suddenly it breaks out into song. Advertisement
So that led to me writing music for other people. I wrote something for a TV show recently, which I never imagined I'd get to do. It was for No You Shut Up, hosted by Paul F. Tompkins from Mr. Show. It's a political show with a bunch of Henson puppets, which is beyond cool, because I'm a lifelong Henson nerd. I also helped arrange a song with Kate Micucci from the comedy duo Garfunkel and Oates. We shot a video for it—which also featured puppets—that got picked up by Nerdist. So it's taken some time, but cool things that I enjoy are starting to come my way, and that's made a huge difference.
MD: You've also been playing drums in the Pride of Erie, PA, a band fronted by Bill McShane of Ultimate Fakebook.
Tony: Yeah, that project started when I was still in MCS, but there's never been any intention other than, "Let's just write some songs and have some fun." Bill will write some songs now and then, send them to us, and we'll get together and practice them, learn them, and eventually record them. And every now and then we'll get an email from someone offering us a show, and we'll practice, go play the show, and then wait for the next one. It's very low-key. We're all old guys now. [laughs]
My girlfriend, Kailynn West [of Tiny Stills], is a musician, and we've been talking about doing more stuff together. I'd also love to do more session work. I'm just way more open to anything involving music these days—recording or playing more shows or whatever. Advertisement
MD: Did you ever sit in with MCS after you'd quit?
Tony: I did once during the Commit This To Memory ten-year anniversary tour, in Anaheim. I was just going to hang out, and Matt asked me if I wanted to play a song. My gut initially told me, "Nah, don't do it." I'd had a nice ending with the band. But then I was like, "It's just one song, and I actually get to go home at the end." It was the first time I'd been to a show since I left, and it was kind of crazy to watch—Claudio was playing everything exactly how I played it. I always felt bad that he was just setting my stuff up all those years when he was my tech, because he's a great drummer, and I knew he was totally capable with my parts.
So it was literally the last song of the night, and I played on "My Favorite Accident." Then the next day somebody had posted it on YouTube, and I'm not going to lie, seeing it made me tear up a little bit. The crowd got really loud when I came out, and after the song was over they were chanting my name, which I was not expecting at all.
MD: What was it like hearing a new MCS record with a different drummer?
Tony: I won't lie—it was sort of hard to listen to. I don't mean that as an insult to anyone, it was just different. I mean, I'd never heard these songs before, and I'm used to hearing them for the first time when the rest of the band is hearing them for the first time, you know? It was almost like I was listening to a different band—like a side project of Justin's or something. I'm not saying it bothered me or gave me feelings that I shouldn't have quit—it was just strange. Advertisement
MD: What do you have to do to prepare to get back into full-on tour mode after being out of the game for so long?
Tony: As far as re-learning the material, most of the songs are so ingrained in my brain, there's no way I could ever forget my parts. They'll haunt my dreams forever! [laughs] Beyond that, it's mostly just playing and building up my stamina. Thankfully I've been drumming a bit already, so I'm more prepared than when I sat in with the guys a year ago—I just did that one song and felt like I'd played an entire show! I mean, no matter how much you practice, shows are just a whole other beast, physically. But I've been taking better care of myself in general, so I honestly think I'll feel a lot better than I used to back in the day.
MD: Do you think you'll be at peace with everything when this all ends?
Tony: I already was—but this is going to be really special. I was in an okay place with my decision, but us doing this all together, knowing this is really it, and the fans all knowing this is really it…. You know, my last show previously was in Manila, in the Philippines. The guys knew it was my last show but nobody else did. So this all feels like it'll be a nice final chapter for everyone in the band and anyone who ever cared about the band. I think we'll all be crying like babies every night—good tears, not bad tears.
For more on Tony Thaxton, go to tonythaxton.com.  Motion City Soundtrack photo by Anthony Saint James.