On the Beat With Charles "Moose??? Allicie of Your Favorite Enemies: The Gift of Being and Belonging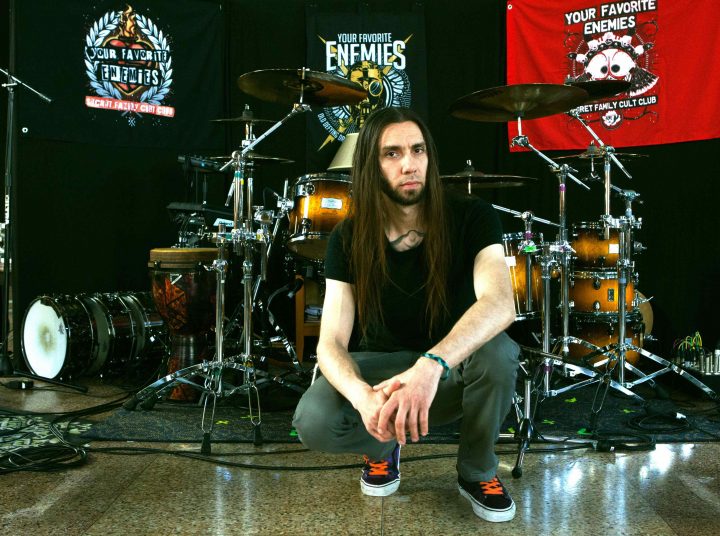 Hi MD, I'm Charles "Moose" Allicie from the Canadian alternative rock band Your Favorite Enemies.
Back in April 2006, while I was at a restaurant with some loved ones, my phone rang. I usually don't answer my phone during those moments, but this time, go figure, I did. It was one of Your Favorite Enemies' guitarists, Jeff Beaulieu. I could never have known that answering that call would forever change my life and the way I play music.
I couldn't have imagined that together we would tour in Japan, China, Taiwan, Indonesia, Australia, Europe, UK, and North America, that we would run our own record label (Hopeful Tragedy Records), own a merchandising company, and buy an 800-seat Catholic church and turn it into a world-class recording studio and filming facility.
I couldn't imagine that we'd film some of our music videos in Japan, Australia, and Spain. Couldn't possibly know that we'd end up being the first band to write and record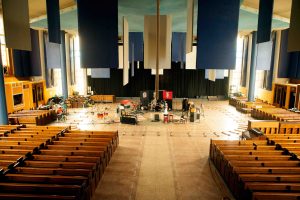 music for the iconic video game Final Fantasy (Square Enix), and that our album Between Illness and Migration would be nominated for Rock Album of the Year at the 2015 Juno Awards. Advertisement
And let's not forget, I never thought that one day I would be invited to write for Modern Drummer. In other words, what I live goes way beyond any idea I had of how my musical and life path would be; most of all, this journey became possible because we, the band, are together as what I call a clan.
Our relationships and what we built together shaped me more than anything else. I can hardly dissociate the man and the musician I am today from my band. Getting out of music studies in college and university, I thought I would be a freelancer, however these folks, who became my bandmates, triggered a deep change within me. With them I found a profound sense of belonging. I had nothing to prove through intricate grooves or fills, but I could simply "be"—now isn't that a great gift? It was like, "Don't let how you play define who you are, let who you are define how you play," and this turned out to be a cornerstone for me. Beyond becoming some kind of a one-man business, what truly made a difference was to meet them and build something bigger than myself alone. I acknowledge that fact very often, especially as this year we're celebrating Your Favorite Enemies' tenth anniversary!
Backtracking a bit, as a teenager I first began jamming to some Led Zeppelin, Deep Purple, Hendrix, Nirvana, Pearl Jam, and Red Hot Chili Peppers records on my banged up Rogers kit, as well as some old live videos from Rush's Neil Peart (A Show of Hands) and Manu Katché with Peter Gabriel, (Secret World Live), video tapes that I watched at least five hundred times each and from which I learned a lot. Advertisement
Beyond any influences, cool drum fills and grooves, music is and has always been a refuge, a place to let go and to grow. Coming from a very modest family, seeing more than what were a few hours drive from home was a utopian idea. But music opened many doors and then joining this band just blew it out of proportion. Don't get me wrong; everything you see and hear, everything that happens for Your Favorite Enemies, is done in-house, so we do put in the hours in order to craft our dream.
I think that art is a language far beyond words, so I would like to present to you our latest single entitled "1-2-3 (One Step Away)." To me, Your Favorite Enemies is more than six band members going on stage, and I think this video sums up a wide range of what can be done here at our HQ.
Another great example is our latest album Between Illness and Migration – Deluxe: Tokyo Sessions, which is released on June 17. Click on the video link below to get a peek at it.
Special thanks to Mapex Drums, Sabian cymbals, and Remo drumheads whose support is priceless.
Watch the promo for the latest release Between Illness and Migration – Deluxe: Tokyo Sessions here:

Check out the single "1-2-3 (One Step Away)" here:

For more on Moose and Your Favorite Enemies, visit the official website: www.yourfavoriteenemies.com, Facebook: www.facebook.com/yourfavoriteenemies, YouTube: www.youtube.com/c/yourfavoriteenemies, Instagram: www.instagram.com/yourfavoriteenemies/, Twitter: @yfeofficial, and Spotify: j.mp/YFEspotify. Advertisement