Carl Allen: Learning From the Giants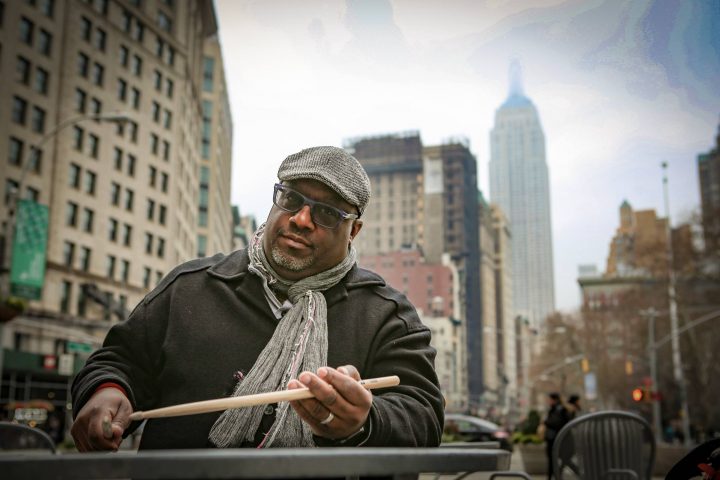 By Jeff Potter
In the August print issue of Modern Drummer magazine, on sale now, topflight jazz drummer Carl Allen is spotlighted in our "Catching Up With…" series, where he talks about one of his many ensembles, the Art of Elvin, a musical tribute to his mentors Elvin Jones and Art Blakey.
Allen is a revered figure in the field of forward-reaching, swinging jazz rooted in the tradition. When he first made waves in the jazz world, joining Freddie Hubbard's band in 1982 at the tender age of nineteen, elder giants took note. The newcomer was clearly a serious contender as a future torchbearer. Several notables stepped up to dole out some tough love, especially his idol Art Blakey. Here Allen shares tales of pivotal mentorship moments that changed him from a fledgling to an esteemed member of professional jazz drumming lineage.
MD: While coming up, you got lots of first-hand guidance, musically and professionally, from the greats.
Carl: And I'm very grateful for that. I remember being backstage and talking to Dizzy [Gillespie]. I told him, "I wish I was around in the '40s or '50s, when you guys created bebop." And he just looked at me sternly and said, "Carl, why would you say such a thing"? It shocked me because Dizzy was always laughing and joking—as he had been up until that very second. It seemed as if I had possibly offended him, which hurt me. He said, "That was an important time, but let me tell you something: the most important time for you or any of us is whatever time we're in. Because the way all great art is created is that there's a foot in the past and a foot in the future, and you're moving forward in a sense of tradition." Advertisement
And that's been my mantra ever since. Dizzy was a great example of that, as was Max Roach and many of the pioneers of bebop music. Roy Haynes is another example. These guys didn't become stuck in time. They were always about trying to push the envelope. But you've got to understand where it's coming from; there's got to be a lineage. Without that, you're trying to move forward without any sense of foundation, which would lack substance.
MD: Art Blakey was a mentor from an early point in your career.
Carl: I'll never forget seeing Art for the very first time in Milwaukee at the Jazz Gallery. Wynton, Billy Pierce, Bobby Watson, and Charles Fambrough were in the band at that time. A couple of years after I got to New Jersey, I would go hear them play all the time and hang around. I just wanted to be in his presence. Terence Blanchard and Donald Harrison joined the band, and I became friends with them. And shortly after that, I started playing with Freddie [Hubbard].
After playing Sweet Basil, we were hanging out after the gig and Art comes to me and says [raspy voice], "Come here. Terence tells me you're playing with Freddie now." I said, "Yeah, almost a year now." He said, "Oh, yeah? Freddie's a former Messenger [member of Blakey's Jazz Messenger band]. Once a Messenger, always a Messenger. You know what? Since you're playing with Freddie, you're now a Jazz Messenger." Advertisement
I thought I'd pee my pants. It was about three o'clock in the morning and I called my mother collect. You've got to understand the context. My mother was always terrified of me coming to New York. What I'd always heard was, "Everybody's crazy there, everybody's gonna rob you!"
I said, [hyperventilating] "Ma, Ma! I'm a Jazz Messenger! I'm here with Art Blakey and he told me!" She's like, "That's okay, baby. Call me in the morning and I'm gonna send you a bus ticket and you just come home." She was thinking, "My baby done lost it!" [laughs]
I got a lot of lessons from Art, but they weren't all necessarily from him sitting down with me at the drums. One night I was playing at Sweet Basil, and at that club you had to walk right pass the drums to go to the bathroom. Art walked passed me as I was playing, leaned over to my ear and said, "Your bass drum is not breathing." Advertisement
MD: What did that mean?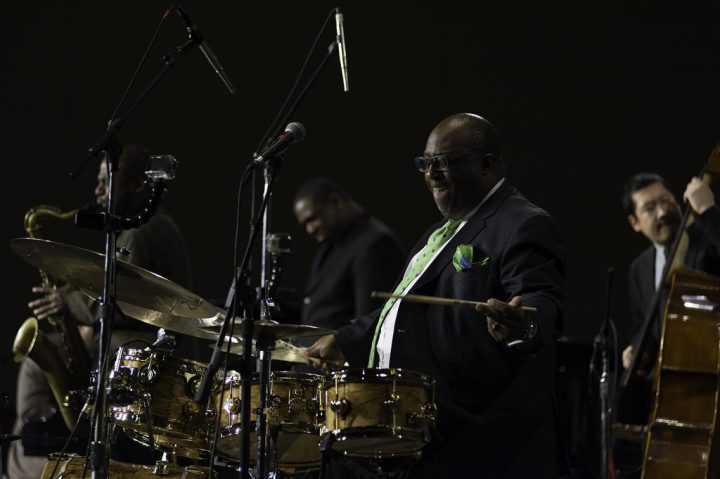 Carl: If Art told you something, you couldn't ask him what he meant; you had to figure it out. I'm like, "'Not breathing'? What the hell does that mean?!" Freddie was just the same: "I'll tell you something—just figure it out." Because if you have to ask, that means you're looking for a shortcut.
I'll tell you the biggest lesson that I ever got from Art. I'd been in Freddie's band for four or five years, and we were playing at the Blue Note. This was a life-changing moment. Art was there and I didn't know it. We finished the last set, and I see Art looking at me. I walked over to him. I said, "Hey, Art!" He didn't smile.
Normally, he'd give you a hug or hit you on the stomach or something. He just said, "Meet me in the dressing room." I get up there and he'd already kicked everybody out. And Freddie's standing there. As I go in there, I hear Freddie say, "Art, don't hurt him." And they weren't laughing. Advertisement
Art is pacing the room. And he's mad. He looked at me and said, "What's wrong with you"? I said, "Art, what do you mean"? He said, "What is wrong with you? I sat and watched you play that whole set. You weren't swinging, you weren't orchestrating, you weren't setting up the band, you weren't playing with Freddie or playing with dynamics. You were sitting, looking in the mirror, looking cute. I know what the problem is; I've already spoken to Freddie. I know you've been bored playing the same tunes. Hell, I've been playing 'Blues March' for thirty years. If you don't want to be there, get up. But you will not disrespect that bandstand."
At that point, I'm crying. This is one of my heroes and I was like a little boy around him. He said, "Carl, you're in my fraternity now. The moment you said you wanted to be a professional jazz drummer, that's what I do. That's what Higgins and Philly Joe and Max, Elvin, Tony…" And he went on mentioning all the guys. He said, "Man, you're in our fraternity. Some of us have died to do what we do. There are people all over the world who would love to have this drum chair. Every time you play is the most important time of your life. If I ever come to see you play"—and this is what really got me—"and you disrespect us again like that, I will kill you."
Talk about somebody shaking. I'm sobbing. I'm beyond embarrassed—I'm hurt. Because he called me on it and I felt like l let him down. Before we left the room, we hugged each other. My emotions went from embarrassment to appreciation. He didn't have to do that; he could have just let me continue to be a knucklehead. When we left, Freddie was just standing there. It was a moment I'll never forget. It taught me that you can't take anything for granted. Advertisement
It changed my life. When Art used to talk about how music washes away the dust of everyday life, that's what he was talking about. Every time you perform, somebody's depending on their life being changed. You can't be on that bandstand BS'ing. You can't. It's too serious.