Blue Man Group Boston Hosting Third Annual Drum-Off Competition
Blue Man Group Boston is hosting their third annual drum-off competition to find the most creative, talented drummers in the greater Boston area. This year's finals will be held July 16 at 1 pm on the main stage as part of the Outside the Box Festival on Boston Common. The winner will receive over $6,000 in prizes from Blue Man Group, DW, Sabian, Vic Firth, and AT&T.
The call for entries is open now through Tuesday, June 21 at midnight. Interested drummers are required to film two videos: a one to two minute solo jam session on a standard drumset and a one to two minute session accompanying either a live band or recorded music.
The selection panel, which is made of Blue Man Group Boston musicians and Blue Men, will select a group of semi-finalists from the submitted videos. Drummers will be assessed on the following criteria: musicality, ensembleship, creativity, and technical ability. The committee will notify semi-finalists on Friday, June 24 and they will be invited to perform a live three-minute session on Monday, June 27 from 6 to 10 pm at the Charles Playhouse. Advertisement
The selected finalists will each perform a two-minute session in front of the Outside the Box crowd on July 16. The judges and audience will determine the grand-prize winner and the winner will do an encore performance with Blue Man Group Boston.
"To celebrate our twenty-fifth anniversary this year, we decided to include all the finalists in a rehearsal process so that the winner can then perform with Blue Man Group during the finals at the Outside the Box Festival," said Jonathan Screnci, resident general manager, Blue Man Group Boston. "As a drummer myself, this is one of my favorite events we host and a great opportunity for Blue Man Group to engage with and showcase local talent."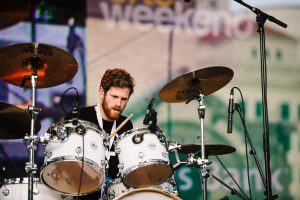 Blue Man Group Boston recently hired Kyle Harris, a drummer from Boston, who competed as a finalist in the 2015 Drum-Off. He is the founder of Boston Drum Lessons, an organization that offers in-person and online drum lessons for people of all ages. In addition to his Blue Man Group duties, Kyle also performs with multiple Boston-area bands including That One Eyed Kid, Colorgrave, the Timberfakes, and Ben Levin Group. Advertisement
Visit www.blueman.com/BostonDrumOff for more information and to fill out the entry submission and upload videos.