Purple's Hanna Brewer on <em>Bodacious</em>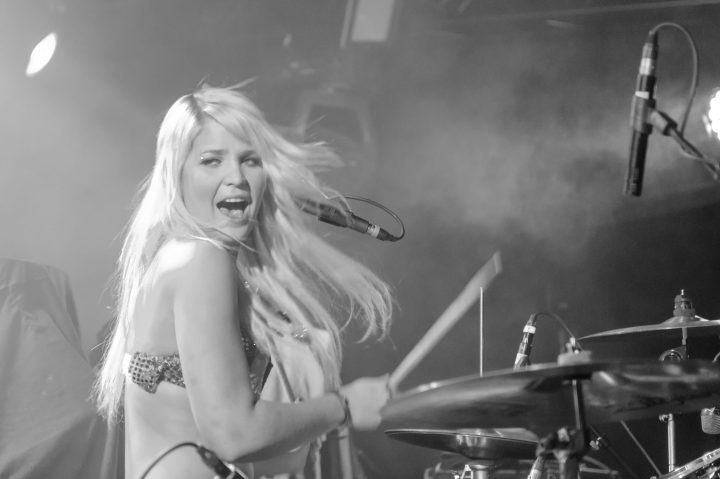 Texas trio Purple has released its second album, Bodacious, which makes for another great showcase for Hanna Brewer's many talents. Modern Drummer Online asked Brewer about the making of album, and about her background as a singing drummer.
MD: The songs on Bodacious show so many sides of the band—there's definitely a group vibe that you have, but you don't rely on one particular musical angle. How important is it to you as a band and as a singer and drummer to show different sides of your personality?
Hanna: I wasn't trying to show different parts of my personality, I was just trying to write good songs. We just jam and whatever happens, happens. We all listen to music from a lot of genres, so I think that they just naturally come out when we start jamming. Advertisement
MD: In your blog for moderndrummer.com last year, you talked about playing for the song, and you seem to have cracked that code really well—you come up with some great drum hooks and grooves, but you get to throw some pretty cool stuff in there too. Are there particular drummers you've listened to who provided a good example of that kind of thing for you? Chad Smith, for instance, comes to mind.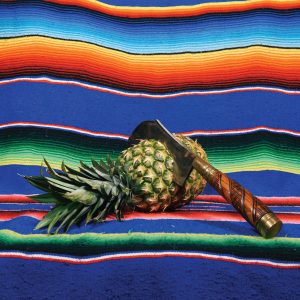 Hanna: Of course Chad Smith is a big influence to me. I would also have to say Mitch Mitchell.
 Andy Sturmer from the band Jellyfish is one of my main influences. He was a drummer/singer and played drums to fit his singing. Karen Carpenter is also an amazing drummer/singer. I feel like drumming while singing makes you play drums differently from the way you would if you were just playing drums. And vice versa with singing while playing drums. The drums and vocals really intertwine.
MD: You also mentioned your dad being an early influence in terms of playing along with you when you first started. Can you talk more about your father, and what kind of support you've had from your family to follow your musical dreams? Advertisement
Hanna: My dad was in rock bands since he was a teenager. My mom and dad had a jam room in the old house we lived in. They'd be back there writing music all day, and it would be so loud at my house. He would ask me and my sister to come sing on some songs. We also had a bunch of records in our jam room and I would sit back there forever and listen to them and try to learn songs and tap dance to them. My dad has helped me buy gear, he's helped me look over contracts, and he's gone to a lot of my hometown shows.
MD: Let's talk about some of the tracks on Bodacious. I love how the album opens up with a couple bars of solo drums on "Backbone." That must be fun to play live.
Hanna: Yeah. We've been opening up our set with "Backbone." It's really fun to just go off on the drums by myself and head-bang. It's a great start to the show.
MD: "Mini Van" has such a nice-feeling groove. Your control of open hi-hats and the crash-ride is smooth. The little percussion overdubs in the verse after the guitar solo are cool. And of course the back-and-forth vocals between you and [guitarist] Taylor [Busby] is classic. I'm guessing that one is fun to play live as well?
Hanna: Yes. Sometimes when we play it live I wanna laugh because the concept of the song is so ridiculous. People get into it, though, when we play it live. I like doing back and forth with Taylor because it almost feels like we're in a play. I'll look at him all sassy with my response to his line when we play it live. It's hilarious and fun. Advertisement
MD: The next song, "Bliss," is such a great change-up from the funky opening tracks—that four-on-the-floor bass drum, with the tom rolls and snare stabs in the intro, then the upbeat hi-hat and crashes. Did playing and singing at the same time on a groove like that come naturally to you? And how'd you come up with those offbeat tom and snare parts?
Hanna: Playing and singing did come naturally to me. For a while we couldn't find a good drummer when we first started Purple. I was playing bass [at the time] but then I just said, "Screw it, I'm doing it." I already had songs that I sang, so I just forced myself to play drums and sing. It was hard [at first], but once you stop thinking about it, it's easy.
I came up with the offbeat snare and tom parts from that song "Knocked Up" by Kings of Leon on their Because of the Times album. He does a similar thing on the drums.
MD: Your opening beat on "Money" is cool. Knowing that you were in marching band, it almost seems reminiscent of something you would have played there.
Hanna: Yeah, that beat is definitely influenced by my drum-line days. It feels good singing and playing that on the snare. It's just so stripped down, and I feel I can really show my singing voice instead of hiding behind loud crashing cymbals. Advertisement
MD: Then later you go into that awesome dub groove—pretty authentic-sounding too. "Pretty Mouth" has a reggae vibe as well. Was Jamaican music part of your musical upbringing?
Hanna: My dad really liked Bob Marley and bought me his box set when I was maybe thirteen years old. That was the first time I had ever heard reggae. When I met Taylor he was in a reggae band called the Shammies, and I was always at their practices and shows. I learned a lot from their drummer.
MD: "Medicated" features a bass drum "fill" in the middle of the second verse, before the pause that's a perfect example of less-is-more playing. Then later you do that nice variation of the beat—sort of New Orleans style thing. Great arrangement idea.
Hanna: I didn't really think of it as New Orleans style, but now that you mention it, I see what you're saying. When I went into the change in beat on the bridge I started to make it all complicated and our producer, Rick, told me, "No, just keep it simple"—as you always should, unless you're the Mars Volta, I guess. I basically played the same beat as the verses but just added a few more hits on the snare and played the crash instead of ride. Making a good song powerful usually means taking parts out. That's exactly what Rick did when he told me to chill. Advertisement
MD: That tom groove you do toward the end of "Bodacious" is cool—what are you playing there?
Hanna: I've been using that tom beat to warm up and do soundchecks because I hit all the drums on it. When we were jamming that song and writing it I was like, "Screw it, I'm gonna throw in my warm-up beat because it's so fun. And I think it really made the song more rocking. I never really play tom parts and take out cymbals, because I feel like it brings the song down a level, but it worked on this one.
MD: "Be Empty" has one of those grooves that has a nice built-in dynamic to it—it's like the opposite of a drum machine: in time, but definitely not clinical. Do you have any favorite groove drummers?
Hanna: I think Stephen Perkins from Jane's Addiction is pretty groovy. Especially on that song "Been Caught Stealing." The album Freaky Styley by Red Hot Chili Peppers is really groovy, and I feel like "Be Empty" has a similar feel to that album. Cliff Martinez was the drummer—pre–Chad Smith days. Advertisement
MD: Those little snare ghost notes in the beat of "She Know Me" are killer. Any tips for playing that kind of thing?
Hanna: You've just got to stay loose and relaxed. If you're tense when you play it, you'll speed up. And also it's all in the wrist. You can't have your arms flying around. You gotta keep it all close together. Flicka da wrist!
MD: Finally, you've talked about liking hip-hop music and playing those grooves on the drums, and "What a Job" seems to really highlight that aspect of your music. Which hip-hop artists have your favorite grooves to cop?
Hanna: "What a Job" is a cover of the song by Devin the Dude. He's my favorite rapper. I also really like A Tribe Called Quest. I recently did a show with the female rapper Lizzo. That was pretty hard learning those beats because the bass drum comes in on some crazy off beats. Advertisement
Interview by Adam Budofsky.