Asheville Rhythm Presents Percussion Festival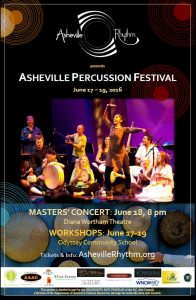 Asheville Rhythm's fifth annual Asheville Percussion Festival will take place June 17 through 19, 2016 at the Odyssey Community School, 90 Zillicoa Street, Asheville, NC.
This year's festival will feature teaching artists from around the globe, including NYC-based drummer and composer Allison Miller, Portuguese world music hand pan artist Kabeção, Vicki Genfan, multi-percussionist David Kuckhermann, Mo'Rhythm Percussion School owner and innovator Monette Marino, West African dancer and choreographer Barakissa Coulibaly, and the founder of the festival, Asheville's rhythm ambassador River Guerguerian.
The festival will include a wide variety of hands-on workshops such as Middle Eastern Drumming, Brazilian and Afro-Cuban Rhythms, the Art of Frame Drumming, Stylistic Approaches to the Drumset, and Rhythms of Indian Dance, to name a few.
The festival will also feature a series of wellness workshops sponsored by Four Seasons Compassion for Life, including Conscious Drumming, Introduction to the Role of a Music Therapist, and Music Therapy and Songs. Other events of interest include Friday night community drumming around the fire and a Sunday morning sound meditation. Workshops are for all levels, beginners through advanced, and for those who are just curious about percussion and want to learn while having fun. Advertisement
The Masters Concert, featuring the musical collaborations of the visiting residency artists, will be held on Saturday, June 18, 8 pm at the Diana Wortham Theatre. There will be vendors throughout the weekend displaying and selling an array of percussion instruments and local foods. This project is funded in part by the Grassroots Arts Program of the NC Arts Council, a division of the Department of Natural and Cultural Resources, through the Asheville Area Arts Council.
Tickets are available for individual workshops, the Masters Concert, day passes, or weekend passes. Ticket prices range from $20 to $120.
For more information and to purchase tickets online, please visit AshevilleRhythm.org.