News: Dave Weckl, Sonny Emory, Harvey Mason, and Will Kennedy to Judge Online Competition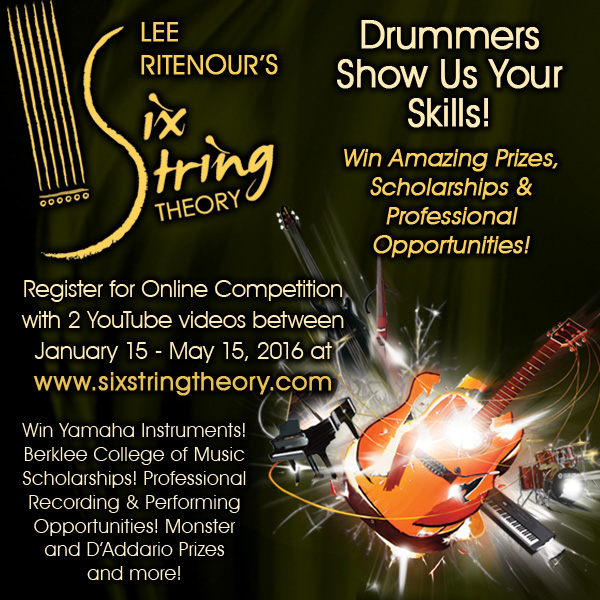 Simon Phillips, Sonny Emory, Dave Weckl, Will Kennedy, Chris Coleman, and Harvey Mason are among the judges in an online competition hosted by Grammy-winning guitarist/producer Lee Ritenour. The fifth biennial Six String Theory Competition is accepting applications accepted for guitar, bass, piano/keyboards, and drums. Registration is open until May 15, 2016 on the website by submitting two YouTube videos.
For drummers, any contemporary music style will be accepted, such as jazz, fusion, R&B, rock, blues, etc.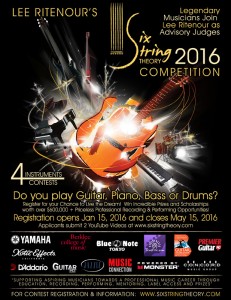 Partnering again with Yamaha, Berklee College of Music, Premier Guitar, Blue Note Tokyo, Crown Guitar Workshop and Festival, Monster, Jazziz, D'Addario, True Fire, and Guitar HD, the 2016 competition offers professional opportunities and a total prize package value of over $700,000.
Prize highlights for the 2016 competition include Berklee College of Music scholarships, performance at the legendary Blue Note Tokyo with Lee Ritenour and up-and-coming all-star musicians from Japan, recording on Ritenour's forthcoming album at the Woodshed Recording Studio in Malibu, and scholarships and performances at Crown Guitar Festival in scenic Montana. Other prizes include travel and hotel for performance and recording opportunities, Yamaha instruments and endorsements, professional mentoring with Lee Ritenour, Monster, and D'Addario prizes. Advertisement
Legendary advisory judges will work with Lee Ritenour to evaluate and determine the 2016 winners. Those judges include Joe Satriani, Joe Bonamassa, Keb' Mo', Vince Gill, Brent Masen, Pat Martino, John Scofield, Julian Lage, Guthrie Govan, Steve Lukather, Daryl Stuermer, John Patitucci, Dave Weckl, Harvey Mason, Patrice Rushen, John Beasley, Sonny Emory, Will Kennedy, Dave Grusin, Nathan East, and many others.
For contest registration and information, visit www.sixstringtheory.com.