Web Exclusive! JP Gaster of Clutch Talks Gear and More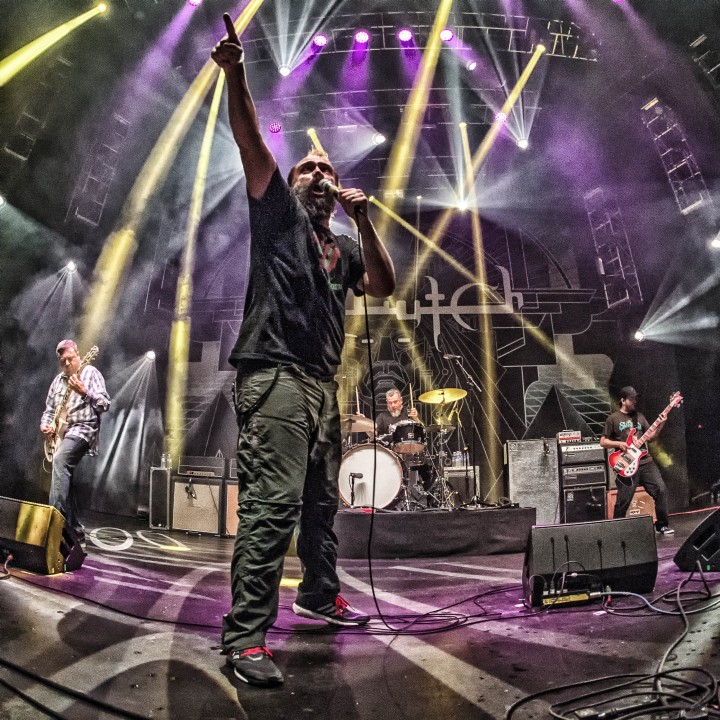 Clutch, one of the most respected and influential hard rock bands of the past twenty-five years, released its eleventh studio album, Psychic Warfare, this past October. The album debuted at #11 in the Billboard Top-200 chart and landed at #1 in the rock and hard rock categories.
On Saturday, April 16, Clutch released a 12″ vinyl featuring two previously unreleased tracks from the Psychic Warfare sessions ("Mad Sidewinder" and "Outland Special Clearance").
Clutch will be touring with metal greats Lamb of God starting May 3, and headlining dates will be announced soon.
We recently sat down with Clutch's powerhouse drummer, Jean-Paul Gaster, to dig a bit into the making of Psychic Warfare, including which song gave him the most trouble, and we got some insight on some of his favorite drummers and recordings.
Interview by Michael Dawson
MD: What drumkit did you use to record Psychic Warfare (drums, snares, cymbals)?
JP: For the Psychic Warfare recording sessions I played a Gretsch USA Custom kit. Dimensions are 16×26, 9×13, and 16×16. Snares included Gretsch USA Custom 8×14 and 5.5×14. I also recorded with chrome-over-brass 5.5×14 and 6×14 Brooklyn series snare drums. Chrome-over-brass shells are my go-to, but the wood-shell drums saw a lot of action this time around. Advertisement
I've played Meinl Byzance series cymbals for the last thirteen years. This time around I played 14″ and 15″ Vintage Pure hi-hats, 20″ and 22″ Vintage crash cymbals, and 23″ medium and heavy ride cymbals. My 20″ Sand ride got to see some tracking, as well as a Meinl Kenny Aronoff signature series cowbell.
MD: Did you track Psychic Warfare live as a band?
JP: We tracked as a band this time around. We started each day of preproduction by playing through the songs as if they were an album sequence. We took turns writing the sequence so that each day we had a slightly different perspective as to how each song related to one another. We also made a point to not micromanage each beat or bar when we played the sequence. The idea was to play the music rather than think about it.
We also included two or three new songs in the live shows leading up to the recording dates. Playing new songs live is a very important part of the process for us. I listen to the band and watch the crowd to get a sense of where to push and pull the groove. By the time we were in the studio, we could play the songs without having to think of the arrangement or specific parts. Advertisement
MD: Which of the songs on Psychic Warfare are your favorites to play live?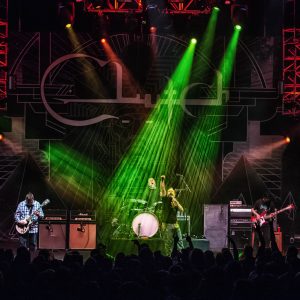 JP: Some of my favorite Psychic Warfare songs to play are "X-Ray Visions," "Your Love Is Incarceration," and "Our Lady of Electric Light."
MD: Which song was most difficult for you to record?
JP: Probably the most difficult song to record was "Noble Savage." The song itself is not that complicated, but the changes come quickly and the tempo is fast. One section sounds like a double-bass drum beat. In reality, I play 16th notes between the right hand on the floor tom and the bass drum. It's a beat I borrowed from Earl Hudson of the Bad Brains. Earl is one of my all-time favorite drummers. Sometimes onstage, I still get turned around in that section. (I should go practice it right now.)
MD: Do you play differently live versus in the studio?
JP: We are a live band more than a studio band, for sure. For me, it's difficult to generate the same kind of intensity in the studio as we do live. In the studio, I'm thinking a lot about how the cymbals sound in the overheads, or if the tuning on my snare is just right, or if I'm hitting the bass drum hard enough. Onstage, I am most comfortable. My only concern is rocking the house.
MD: Do you prefer one music delivery system to others (CD vs. download vs. stream vs. vinyl)?
JP: As a music fan, I like it all. Vinyl is my favorite way to listen to music. However, the occasions where I drop a needle onto a vinyl record are few these days. In my opinion, CDs still sound better than any streaming service, but the convenience of having so much music available at your fingertips is fantastic. Speaking as a record label owner and musician, however, the streaming services do not compensate the artists fairly. Advertisement
MD: What are you currently listening to?
JP: Last night I listened to Miles Davis's Cellar Door tapes, Tower of Power's first album, Mississippi John Hurt, and the Faces.
MD: What are your top-five favorite drummers and/or records?
JP: Some of favorite drummers and recording are:
Johnny Vidacovich—Check out Robert Walter's Cure All or Mike Dillon's Nolatet. Johnny has been a source of inspiration to me for many years. He can play the entire history of the drumset inside of one song. Johnny is easily the most musical drummer I've ever seen or heard.
Earl Hudson—Check out Bad Brains' Rock for Light. I got to see Earl play with the Bad Brains in 1989. That was a life-changing experience for me. It was then that I knew I wanted to be in a band and play the drums.
Bill Ward—Check out Black Sabbath's first album. I pretty much learned to play drums by listening and playing along to that album. The thing that knocked me out about Bill Ward's playing was how dynamically he played inside such bruising heavy music. Bill can swing as well as bring the funk. He was my first favorite drummer. Advertisement
Elvin Jones—Check out John Coltrane's A Love Supreme. When I first heard this recording, I was scared as much as I was inspired. Elvin's playing on it is intensely beautiful. His way of keeping time and interacting with the other musicians was like nothing I'd ever heard before. I had the opportunity to see Elvin play many times over the years. I once even changed out his bass drum pedal mid song during a gig at the Blue Note in New York City. (That is a story for another day though.)
Ginger Baker—Check out Ginger Baker's album Why?. After I got my driver's license, one of the first places I drove to was a Ginger Baker show in Baltimore. I called the club ahead of time to ask the owner if I could get into the gig since I was only sixteen. He said yes but I had to meet him at the front door. When I got to the club, the owner put two big black X's on my hands. He told me to stand close to the stage and to not go anywhere near the bar. I did as I was told and got a drum lesson of a lifetime.
For more info on Clutch, visit pro-rock.com/, facebook.com/Clutchband, twitter.com/clutchofficial, and youtube.com/user/OfficialClutch