On the Beat With Matthew Parkitny of Hands Like Houses: Talks Touring and Recording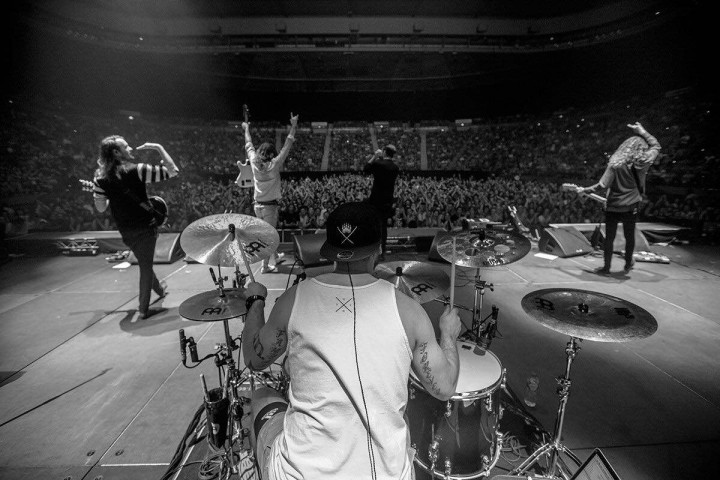 Hey guys and girls! My name is Matthew Parkitny and I play drums in the band Hands Like Houses. I'm super stoked to be writing a little number here on the Modern Drummer "On the Beat" feature, so here we go!
I first started playing drums in high school with mates of mine in music class and lunch breaks, covering all our favorite bands like Linkin Park, Sum 41, Blink 182, UnderOath, Funeral for a Friend, Saosin, and so many more. Some of the drummers I have and continue to look up to are Travis Barker (Blink 182), Alex Rodriguez (Saosin), Aaron Gillespie (UnderOath), just to name a few.
I took classes once a week over four terms and wanted to learn the basics of drumming. I remember I would go to class and start with my rudiments and other subjects but as I got the hang of them I started bringing in songs and asked my teacher to help me break down fills or beats that my favorite drummers played in particular songs. It was so much fun! That was back in 2007 or 2008 and since then everything I've learned has been by ear, watching videos online, or just by watching other drummers while being on the road and asking questions. Advertisement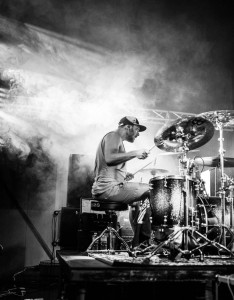 I've had my drumkit in the states since our band got signed in 2012 and she's holding up really well; it's a SJC custom kit made of maple shells but my latest addition is my hand-hammered brass snare, which I love. I'm hoping to get a new kit made sometime in the near future.
For warm ups before any live shows I usually run through single stroke rolls (LRLR), double stroke rolls (RRLLRRLL), and a few other rudiments, as well as stretching, which is a massive part of keeping your arms and wrists in shape on tour.
Touring is one of my favorite parts of being in the band as we get to travel to so many cool places, meet awesome people along the way, and play some of the most insane shows of our careers. It's such a rewarding feeling to be able to say that I've played at festivals such as Download (UK), Warped Tour (US and AUS), Slam Dunk (UK), Self Help Festival (US), and most recently, Unify Festival (AUS). I'm grateful for getting to play alongside and support some of the coolest bands and my (now) best friends. Advertisement
After touring usually comes recording; it's exciting but can also be a very challenging part of being in a band. You create and share ideas for songs with each other and producers not knowing how everyone will react. Fortunately, after playing with the guys for so long, we all have a pretty good idea of each other's musical tastes and writing styles. Creating music and hearing it played back, especially when recording beats and grooves on the fly, gives me such a great sense of pride while also pushing me to do better and work harder.
Our latest record Dissonants came out in February, and I'm especially proud of it. We have a couple of singles already released from the album, (see links below), and I hope you're able to pick up a copy of the album or just have a listen.
You can reach me on my socials at Instagram @mattyphlh and Twitter @mattybeatshlh.
Check out two songs from the band's latest release here: "Colourblind"

"I Am"

For more on Hands Like Houses, visit www.facebook.com/handslikehouses and www.handslikehouses.net.